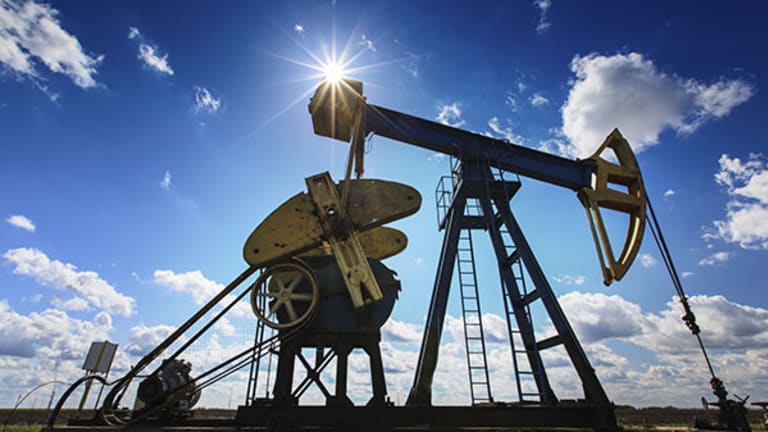 Publish date:
Helmerich & Payne Might Struggle Next Year, but There's a Silver Lining
The onshore driller faces threat of declining activity in its core markets, but Helmerich & Payne has a history of outperforming its peers in a down market.
The onshore driller faces threat of declining activity in its core markets, but Helmerich & Payne has a history of outperforming its peers in a down market.
NEW YORK (TheStreet) -- The U.S. land-based, or onshore, rig market could struggle next year as oil producers clamp down on their drilling budgets, impacting the growth of contract drillers such as Helmerich & Payne (HP) - Get Helmerich & Payne, Inc. (HP) Report .
But this could be an opportunity for the Tulsa, Okla.-based driller to expand its lead as the largest player in the U.S. land market in terms of market share, thanks to its fleet of modern high-specification rigs.
According to latest data fromBaker Hughes (BHI) , the total number of oil rigs in the U.S. has dropped from the peak of nearly 1,600 rigs on Oct. 10 to 1,572 last week, amid 30% drop in West Texas Intermediate crude oil futures since mid-October. And the future isn't looking any brighter.
The price of the benchmark American crude would average around $70 to $75 a barrel in 2015, says last week's report by Goldman Sachs. That's as opposed to the first nine months of 2014, when oil remained north of $90 a barrel.
In anticipation of lower crude prices, some exploration and production companies, such as ConocoPhillips (COP) - Get ConocoPhillips Report , have already decided to scale back their operations next year. Others, Goldman Sachs's Brian Singer estimates, will follow suit.
Eventually, capital spending by energy companies on North American onshore fields will drop by 6% in 2015, Singer predicted.
The number of U.S. well drilling permits approved has already dropped by 37% in November as compared to October, with between 28% and 38% decline in permits approved for Texas's Eagle Ford and Permian Basin and North Dakota's Bakken shale formation.
A decline in drilling permits usually translates into a lower number of drilling rigs in the next two to three months.
This potential drop in demand in the coming months could be alarming for Helmerich & Payne, since it has around 67% of its land-rig fleet operating in the Eagle Ford, Permian Basin and Bakken shale regions. It may also worry Helmerich & Payne's peers, such as Nabors Industries (NBR) - Get Nabors Industries Ltd. Report and Patterson-UTI Energy (PTEN) - Get Patterson-UTI Energy, Inc. Report .
Wells Fargo analyst Judson Bailey predicted in a November report that Helmerich & Payne's land rig count in the lower 48 states will fall to an average of 296 rigs for the three months ending December, down slightly from 298 rigs last month.
But this rig count could drop further on persistent weakness in oil prices. Bailey also said that company's average rig margin per day will drop by nearly 3% year-over-year by the fourth quarter of the current fiscal year, which ends in September 2015. The margin estimates could also fall further on weaker-than-expected crude prices.
Consequently, the growth of Helmerich & Payne's earnings per share from continuing operations could come to halt in this fiscal year, eventually dropping by around 10% next year, as Wells Fargo estimates.
That said, there is a silver lining here for Helmerich & Payne.
During the previous market slowdown, also related to plummeting oil and gas prices, the industry's rig count dropped by nearly 250 units between late 2012 and the fall of 2013. But in this period, Helmerich & Payne managed to increase its market share by 12% to 15%.
Bailey predicts that this will happen in the ongoing downturn as well.
Why? In a soft market, the demand for high-specification modern rigs, which represent more than 90% of Helmerich & Payne's rig fleet, remains resilient. Those rigs offer the most efficient drilling methods, which can translate into cost savings.
The Permian Basin producers, for instance, will increase their focus on pad drilling techniques through which multiple wells can be drilled with little rig mobility and minimum surface footprint.
To capitalize on this, Bailey says that the company will likely deploy additional newly built rigs in the Permian Basin "over the next 12-24 months." As a result, Helmerich & Payne's rig count could average 301 rigs in fiscal year 2015 in the lower 48 states, higher than 294 rigs in the previous fiscal year.
Helmerich & Payne's stock has dropped by 18% this year to nearly $69 a piece when markets closed on Thursday. Wells Fargo's Bailey has a neutral rating on the stock.
Helmerich & Payne did not respond to messages from TheStreet requesting comment.
At the time of publication, the author held no positions in any of the stocks mentioned.
This article is commentary by an independent contributor, separate from TheStreet's regular news coverage.