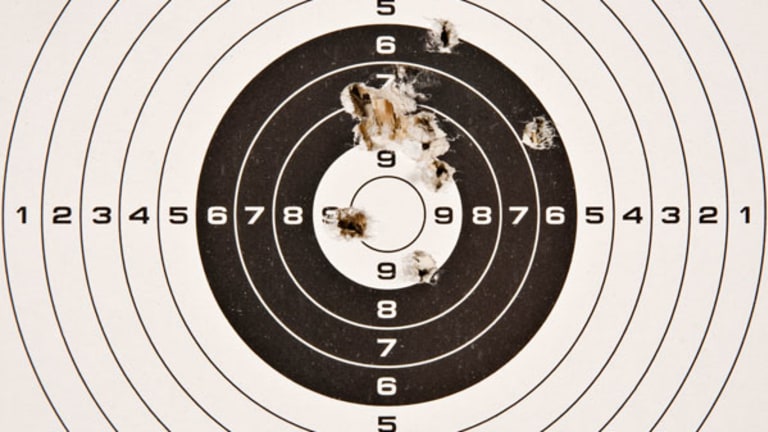 Heller: Observations from the Ammo Line
Lock, stock and something to put in the barrel.
NEW YORK (TheStreet) -- We've all heard about the run on ammunition across the country these past few months. We've seen the long lines, the groans of short supply and ire over higher prices.
I just had to see it for myself, first-hand what it's like waiting to get to the front on the ammo line.
The word was that the local
Dicks Sporting Goods
(DKS) - Get Free Report
store receives shipments of ammunition on Tuesday and Thursday evening, for sale on Wednesday and Friday mornings.
I was told by an employee, that if I wanted to buy ammo, I needed to be at the store 45 minutes ahead of the 9 a.m. opening, that there was a limit of 3 boxes, no matter what caliber or how many rounds in each box, and that the lines would be 25 or 30 customers deep.
data by
That depiction is about as accurate as it gets. I was tenth in line at about 8:30, and it was bitter cold. For some reason, it reminded me of waiting in line for Van Halen tickets as a teenager more than 30 years ago. This crowd was quite interesting; very civil, seemingly from all walks of life, salesmen and corrections officers, male and female, African American, white, and Asian. There was one young couple that parked in a handicapped spot; which seemed a bit curious to me as they waited in line for 30 minutes in 30 degree weather to buy bullets; but who was I to judge, unshaven and wearing a hoodie the combination of which had me looking a bit like the Unabomber?
Once the doors opened, it was an orderly walk to the gun counter. Today's selection included (
Alliant Techsystems
(ATK)
subsidiary) Federal brand .22 caliber long rifle ammunition in boxes of 50, $5 each; a limit of three per customer. That caliber is seen as the "cheapest" way to get some practice in at the range. But at these prices? That's pretty expensive for .22 caliber ammunition.
Just a couple of months ago, you could purchase a brick of 500 .22 shells for about 20 bucks, but smaller quantities and better ammunition cost more. But I also have no idea how much today's ammunition was marked up. I've heard stories from reliable sources of some stores charging $12 for a box of 50 .22 caliber shells. Insane.
ATK
data by
This day, buyers were not limited to three boxes total, but were allowed to buy three boxes of each caliber of ammunition that was in stock. I saw one guy fork over more than $400 for 1000 rounds of something, but I could not hear what. It was not long before Dick's ran out of ammunition. Judging by some of the conversations I'd heard while in line, some of the folks will no doubt be back in line Wednesday morning, adding to their stockpiles.
In a sad twist of irony, this is the same Dick's location, where just over a week ago,
He'd asked to see a shotgun, but also wanted the trigger lock removed. When the salesman refused to remove the lock, the man pulled out a revolver, which turned out to be unloaded, and demanded that the lock be removed. He grabbed some shotgun shells, locked himself in the men's room, and later died of a self-inflicted gunshot wound.
Today, it was as if nothing had ever happened.
No doubt some of the ammunition purchased today will be used at the range; while some will be stored. It's hard to say for how much longer the ammo lines will persist; but the fervor will ultimately die down, however, as the balance of supply and demand is restored.
While the highly polarizing gun debate rages on, there is an economic lesson taught by the ammo lines. If the population at large believes that something might be taken away for them or will be in short supply, whether real, rumored, or imagined, they will line up and they will stockpile.
At the time of publication the author held no positions in any of the stocks mentioned.
This article is commentary by an independent contributor, separate from TheStreet's regular news coverage.
Jonathan Heller, CFA, is president of KEJ Financial Advisors, his fee-only financial planning company. Jon spent 17 years at Bloomberg Financial Markets in various roles, from 1989 until 2005. He ran Bloomberg's Equity Fundamental Research Department from 1994 until 1998, when he assumed responsibility for Bloomberg's Equity Data Research Department. In 2001, he joined Bloomberg's Publishing group as senior markets editor and writer for Bloomberg Personal Finance Magazine, and an associate editor and contributor for Bloomberg Markets Magazine. In 2005, he joined SEI Investments as director of investment communications within SEI's Investment Management Unit.
Jon is also the founder of the
, a site dedicated to deep-value investing. He has an undergraduate degree from Grove City College and an MBA from Rider University, where he has also served on the adjunct faculty; he is also a CFA charter holder.