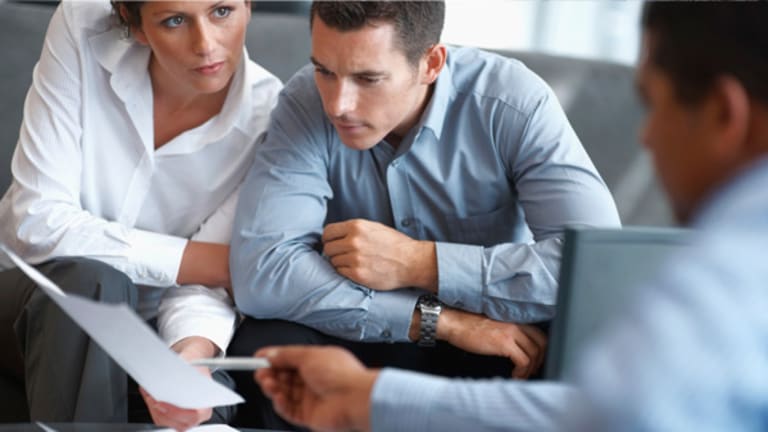 Hedge Timber Exposure Against Inflation
Behind drab foliage lies solid, low-risk sector.
NEW YORK (TheStreet) -- There's something to be said for looking outside the box in terms of considering including asset classes in your portfolio. In the past, I've espoused the potential benefits of exposure to water, as one example.
Timber, a positive in portfolio construction, has historically had low correlations with more traditional asset classes, is another outside-the-box item.
As an asset class timber has outperformed the
S&P 500
over a bevy of time periods, and several challenging market environments, typically with a lower level of risk than equities.
In 2008, for instance, while the S&P 500 fell 38%, the value of timberland rose 9.5%. There's also plenty of evidence to suggest that timber is a good hedge against inflation, a phenomenon that I'm afraid we'll be experiencing in the near future (and already are to a certain extent as consumers), given the fact that the government has been running the printing presses at full speed.
There are a few ways that investors can get exposure to timber. Exchange traded funds such as the
I Shares Global Timber & Forestry Index
(WOOD) - Get iShares Global Timber & Forestry ETF Report
or
Guggenheim Timber ETF
(CUT) - Get Invesco MSCI Global Timber ETF Report
offer exposure to portfolios of both U.S. and international timber related names.
Or, for more direct and concentrated exposure, there are publicly traded timber REITs. Like other companies that are organized as REITs, by law these companies must pay out at least 90% of taxable income to shareholders, so the yields are typically decent.
These companies also own vast amounts of land, presenting opportunities to sell off those properties that potentially have a higher and better use than for timber.
Plum Creek Timber
(PCL)
is the largest private landholder in the U.S., and the first ever publicly held timber REIT. The company owns 6.6 million acres in 19 states, with the largest concentrations of property in Montana, Maine, Michigan, Arkansas, Mississippi, Georgia, and Florida.
For perspective, consider that 6.6 million acres is more than 10,300 square miles, or an area 101.5 miles by 101.5 miles. That's larger than the area of 8 individual states, and roughly the size of Maryland.
About 900,000 acres are of "higher and better use," which the company intends to divest over the next 15 years for conservation, residential or recreational uses.
Last year, timber accounted for about 49% of the company's $1.167 billion in sales.
Over the past 10 years, Plum Creek shares have an average annual return of 12%; while the S&P 500 is up an average of about 5.7%. The past four years have been less than stellar in terms of performance, with shares up less than 3% per year.
Rayonier Inc.
(RYN) - Get Rayonier Inc. Report
, which is the seventh largest owner of private timber land in the U.S., owns about 2.1 million acres, in 10 states and New Zealand, and leases an additional 600,000 acres.
About 200,000 acres, between Savannah, Ga., and Daytona Beach, Fla., are considered high value real estate.
The company's primary business, Performance Fibers, which manufactures cellulose specialties used in packaging, plastics, yarn, cosmetics, food products, and cigarette filters to name a few, generated more than 68.5% of last year's $1.49 billion in revenue.
Unlike Plum Creek, Rayonier generates just a fraction of its revenue from actual timber sales, 14.4% in 2011.
Over the past 10 years, Rayoneir shares very quietly delivered an average annual return of 22%. Not bad for a company that many investors may not be familiar with.
data by
While it certainly does not seem like a very exciting sector, it could be another cog in the wheel of an inflation hedging strategy, if, like me, you believe that inflation is on the way. QE1, QE2, and now QE3; is there a QE 4 in our future?
At the time of publication the author held no positions in any of the stocks mentioned.
This article is commentary by an independent contributor, separate from TheStreet's regular news coverage.
Jonathan Heller, CFA, is president of KEJ Financial Advisors, his fee-only financial planning company. Jon spent 17 years at Bloomberg Financial Markets in various roles, from 1989 until 2005. He ran Bloomberg's Equity Fundamental Research Department from 1994 until 1998, when he assumed responsibility for Bloomberg's Equity Data Research Department. In 2001, he joined Bloomberg's Publishing group as senior markets editor and writer for Bloomberg Personal Finance Magazine, and an associate editor and contributor for Bloomberg Markets Magazine. In 2005, he joined SEI Investments as director of investment communications within SEI's Investment Management Unit.
Jon is also the founder of the
, a site dedicated to deep-value investing. He has an undergraduate degree from Grove City College and an MBA from Rider University, where he has also served on the adjunct faculty; he is also a CFA charter holder.