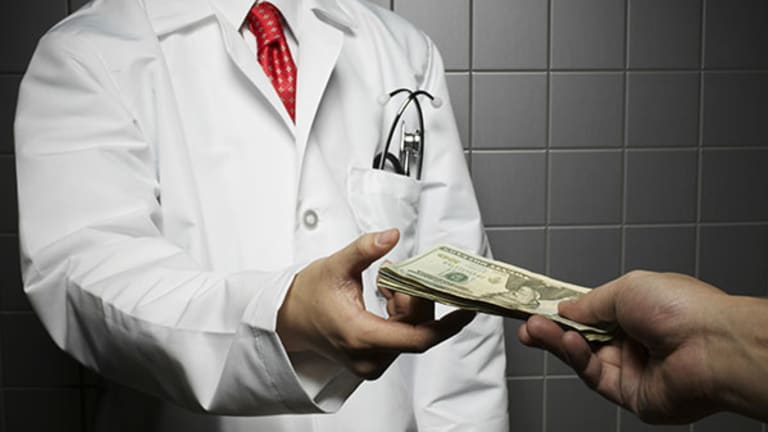 HealthEquity Helps Relieve Pain of High Health Care Costs, Safe for Your Portfolio?
The provider of health care savings accounts and related services offers a solid investment opportunity.
The provider of health care savings accounts and related services offers a solid investment opportunity.
NEW YORK (TheStreet) -- HealthEquity (HQY) - Get Report delivers an unusual service for consumers by providing triple tax-free health savings accounts, lower health premiums and an easily accessible application. 
This has given HealthEquity a diverse revenue stream and helped foster long-term relationships with more than 3.2 million consumers. The company will report its latest earnings Sept. 8. Investors will find a solid opportunity in the Draper, Utah-based company. 
HealthEquity offers an innovative cloud solution to help build health savings. The company counts more than 270 large employers and 70 health plans as its customers. They include the likes of Google (GOOG) - Get Report , Anthem (ANTM) - Get Report , Roche and Blue Cross Blue Shield.
The company has been able to sustain a 98.3% HSA member retention rate among its customers. Moreover, the company has the base to scale up rapidly.
HealthEquity has three primary sources of revenue: account fees, custodial fees and card fees.
Each of these streams has tremendous growth potential as medical expenses continue to rise. Since 2013 assets under management and revenue have increased 42% and 38%, respectively. More impressive is that adjusted EBITDA has grown more than 50% year over year as the company continues to expand its services.
The beauty of a cloud-based platform is the relatively low levels of reinvestment required to expand its customer base. A cloud-based platform is simply more efficient and provides a competitive advantage.
In the first quarter, more than 85% of the assets under management for HealthEquity was held in cash.
As balances begin increasing we can expect customers to begin using HealthEquity's investment advisory services, which will eventually increase its revenue stream.
With no long-term debt and its cash-rich position from its recent IPO, this technology company has an advantage vs. regional banks in the same field. If you are looking for a growth stock in health care technology then HealthEquity can be the ideal company for your portfolio.
With its high growth potential and solid relationships, investors can expect positive news from the company this month as it leads the health savings market.
Health savings accounts can help consumers save money.
HSAs have been instrumental to cutting medical expenses for the average family while also increasing their monthly cash flow. The closest comparison for opening a health savings account can be an individual IRA or college fund, where families are investing for the long term.
The lack of exposure to HSAs has been challenging for banks, but provides an upper hand to a technology company like HealthEquity. For investors looking for growth, HealthEquity offers a fast-growing consumer portfolio.
There are only two health savings companies in the public markets that an investor can potentially invest in.
HealthEquity is one of the two. It offers flex spending accounts and bill-paying services, among other services. 
Then there is Webster Financial (WBS) - Get Report , the nation's largest provider of health savings accounts. This regional bank recently acquired JPMorgan Chase's (JPM) - Get Report health savings account business.
Kerrisdale Capital recently took an activist stake in Webster hoping to spin off the health savings account segment. Kerrisdale believes the HSA segment can be a full-fledged bank using Webster's back office, but there may be too many regulatory hurdles to overcome.
The health savings market has been consistently growing due to uncertainty from the Affordable Care Act and the Cadillac tax that will be forced upon employers. When it comes to health savings, few banks across the country publicize their HSA options to consumers and employers. This lack of marketing has given HealthEquity an advantage and will be worth watching the next few quarters.
This article is commentary by an independent contributor, separate from TheStreet's regular news coverage.
At the time of this commentary Vijar Kohli, his family and/or clients ofGolden Door Asset Management held no positions in the stocks mentioned above.