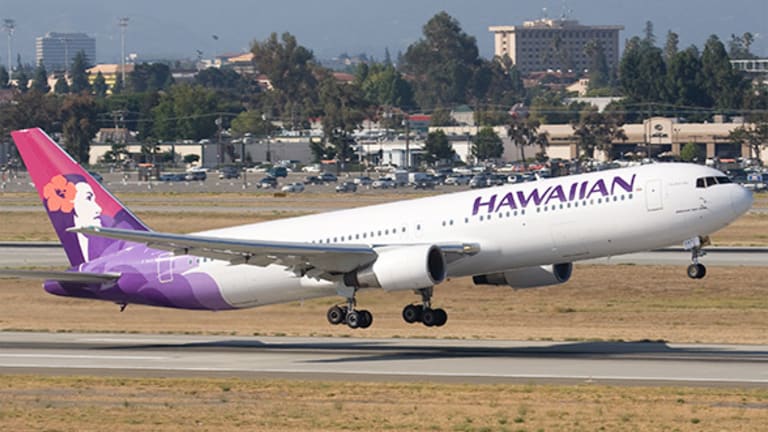 Hawaiian Airlines Has a Way to Avoid the 'Brexit' Impact - Don't Fly to the U.K.
Hawaiian Airlines has the best way to avoid the impact of 'Brexit': Don't fly to the U.K.. Meanwhile, American, Delta and United shares all decline again.
For the second straight day, shares of U.S. airlines registered steep declines as a result of Great Britain's vote last week to leave the European Union. But there was one significant exception.
Shares in Hawaiian Airlines (HA) - Get Report rose $1.22, or 3%, to close Monday at $36.84. The stock has risen 4% year to date.
Credit Hawaiian for totally avoiding any impact from "Brexit," which is a result of not having a single route to Great Britain or the European Union.
Meanwhile, shares in American (AAL) - Get Report closed at $25.27, down $1.78 on Monday, down 17% since Thursday's close, and down 40% year to date. American has 5.3% of its capacity in the U.K.
Delta (DAL) - Get Report shares closed at $33.36, down $1.82 on Monday, down 13% since Thursday's close and down 34% year to date. Delta has 2.8% of its capacity in the U.K., or 6.7% if given credit for half of partner Virgin Atlantic's capacity.
United shares closed at $37.75, down $3.31 on Monday, down 16% since Thursday's close and down 34% year to date. United has 5.4% of its capacity in the U.K.
The recognition of Hawaiian's Brexit immunity and the rise of its shares was triggered by an upgrade from Deutsche Bank analyst Mike Linenberg.
In a report issued Monday, Linenberg upgraded Hawaiian to buy from hold. Linenberg, who has a price target of $41, listed a half dozen reasons for the upgrade.
No. 6: "Exogenous risks such as Brexit and/or Zika likely to have no impact on travel to/from Hawaii."
Additionally, Linenberg said, Hawaii-U.S. capacity is likely to decline for the remainder of the year, the yen is rising, and 13% to 15% of Hawaiian tickets are bought in Japan. The analyst also said international fuel surcharges have reached a low point, Hawaiian has fuel hedges in place that will protect it from fuel cost increases, and free cash flow should be close to $440 million, the same as in 2015.
Linenberg noted that Hawaiian shares have fallen from just above $50 a share in mid-April due to a decline in both merger speculation and in fears that Southwest will enter the West-Coast Hawaii market.
As for other carriers, Linenberg said he has hold ratings on American, Delta and United because he sees "potential downside EPS risk" due to Brexit. He said he prefers primarily domestic carriers including JetBlue, Southwest and Spirit.
Meanwhile, Credit Suisse analyst Julie Yates wrote Monday that American's 11% share price decline on Friday was likely an overreaction. "However, we expect Brexit-related uncertainty to continue to weigh on network carriers," she wrote.
One problem, Yates noted, is that scheduled seat growth in the Transatlantic continues to outpace demand. "Capacity cuts are needed to stabilize pricing particularly since U.K. GDP is likely to slow even further," Yates wrote.
Transatlantic capacity cuts could come when the carriers report earnings in July. Or they could come even sooner. In the airline industry, aircraft assets that do not produce sufficient returns get moved, sometimes very quickly.
This article is commentary by an independent contributor. At the time of publication, the author held no positions in the stocks mentioned.