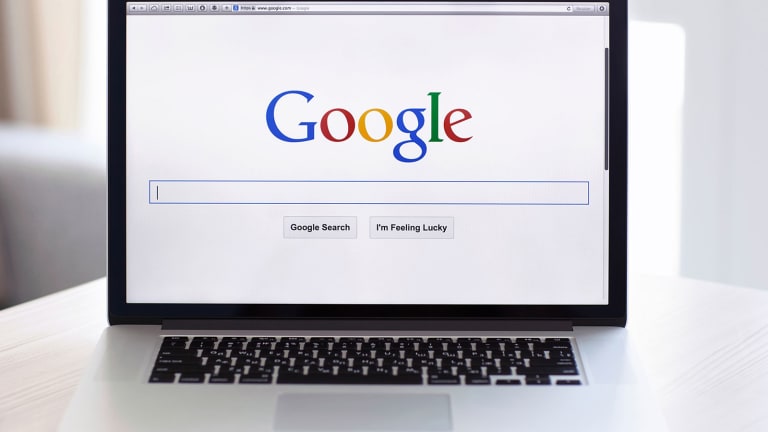 Publish date:
Have Jim Cramer's FANG Stocks Lost Their Bite in 2016?
Despite the group's stellar performance last year, these Internet stocks are facing a mixed bag for 2016.
Despite the group's stellar performance last year, these Internet stocks are facing a mixed bag for 2016.
2015 was the year of the FANG stock, a term coined by TheStreet's Jim Cramer to denote a group of powerful Internet stocks. This group of tech giants -- Facebook (FB) - Get Report , Amazon (AMZN) - Get Report , Netflix (NFLX) - Get Report , and Google (now under parent company Alphabet) (GOOG) - Get Report  -- delivered outstanding returns last year, despite a mostly flat performance by the overall S&P 500. Is 2016 shaping up to be another banner year for these trendy tech companies? Or have the FANG stocks lost their bite in 2016?
While the S&P ended the year down around 1%, the four FANGs averaged yearly returns of 83% among themselves. They were among the top 10 performers on the index, with Netflix leading the way with 134% gains. Amazon also came in with triple-digit gains, 118%. And Alphabet and Facebook showed steady, market-beating returns of 47% and 34%, respectively.
data by
However, the first two weeks of 2016 proved not so rosy. Only Netflix outperformed the plunging S&P, but with losses of more than 2.5%. The other three stocks fell into the worst-performing half of the index, with Amazon's 10% loss placing it among the S&P's bottom 75.
With such a lousy start to the year, it looked as if the heady days of FANG optimism were coming to a quick close. As the overall markets spiraled toward a bear market, the stock market "saviors" of 2015 looked more likely to drag it down.
data by
However, earnings season has now hit full swing, and the FANG stocks are looking like a mixed bag. While they won't be the worst performers for 2016, these Internet stocks won't be the darlings of Wall Street, either.
Netflix missed on revenue (delivering $1.82 billion rather than the $1.83 billion expected), but won big-time with earnings-per-share of 10 cents, compared with the 2 cents analysts had forecast. The video-streaming company is still down since the beginning of the year.
data by
Amazon, the other triple-digit winner for 2015, widely missed on its earnings expectations this week, posting earnings per share of $1, versus the expected consensus estimate of $1.56. Its stock fell as much as 15% in after-hours trading yesterday.
So far the biggest positive light has been Facebook, whose surprise fourth-quarter results sent shares shooting up 15% on Thursday. The company announced estimate-beating revenue and earnings. Year over year, revenue increased 44%, to $17.93 billion, for all of 2015. Along with other stocks in the tech sector, Facebook's announcements lifted its fellow FANG stocks -- after the closing bell yesterday, Amazon gained nearly 4%, Netflix jumped by 2.5%, and Alphabet rose by nearly 2.7%.
data by
On Monday, Alphabet will reveal its quarterly results, and we'll wait with baited breath to see how the tech giant's stock will react. With a market value of $515 billion, Alphabet is on pace to oust Apple as the world's most valuable company.
Even the best possible news out of Alphabet, however, won't keep FANG at the top of the charts. In fact, based on the disappointing results from Amazon and Netflix, it appears that the band is breaking up. Facebook and Alphabet, which had been the group's lesser performers in 2015 -- are poised to be market leaders for 2016, leaving Amazon and Netflix in the dust.
If you're looking for new ideas, I've found a small company that has the potential to surge at least 100% in 2016. This is a growth story with major momentum, so it's important to learn the full details as soon as possible inside my free report. The stock is trading under $8 a share, and its long-term prospects have never been better, making it a great value at today's price. Make sure you click here now to learn more.
You see Jim Cramer on TV. Now, see where he invests his money and why Facebook stock is a core holding of his multi-million dollar portfolio. Want to be alerted before Jim Cramer buys or sells FB? Learn more now.

This article is commentary by an independent contributor. At the time of publication, the author held no positions in the stocks mentioned.