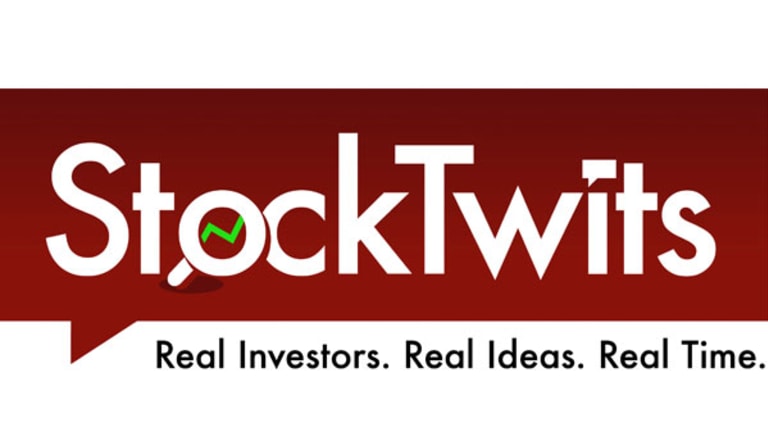 Have Investors All Gone Completely Mad?: StockTwits
In spite of brutal declines for recent high-fliers, sentiment scores for some individual names remain astonishingly elevated.
NEW YORK (TheStreet) -- A wild ride in stocks today saw more brutally painful losses for the names hit hardest recently -- yet also powerful bounces far off the day's lows.
A quick perusal of sentiment scores for some popular names leads one to ask: who's right?
Many stocks have witnessed ugly declines in recent weeks, yet bullish sentiment remains stubbornly elevated. Something's got to give. Are the remaining bulls about to capitulate and send these stocks even lower? Or have the weak hands already puked, leaving these stocks in the stewardship of the smartest and strongest (read: non-leveraged, better capitalized) remaining players?
Let's discuss some stocks in need of more definitive signals:
Facebook (FB) is 22% off highs set in early March. The stock broke to its lowest levels since the peak this morning. Yet sentiment scores in at 82% bullish, in fact higher than two weeks ago!
Twitter (TWTR) is 45% off highs set in December, and also touched new "bear market" lows this morning. Yet bulls have actually been increasing their level of bullishness in recent weeks -- weighing in today at 73%!
Sentiment has been eroding slightly in FireEye (FEYE) . Yet that sentiment is far less harsh than the gut-wrenching way in which its share price has plummeted -- down 60% since its highs less than eight weeks ago!
Granted, Plug Power (PLUG) had an astonishingly fast run-up in price from December through early March. But today, investors are smarting from a 60% pullback since those early March prices. Yet, bullish sentiment clocks in at 75%!
Much has been written about John Q. Public and his general apathy towards the stock market since the 2008 to 2009 financial wipeout. This obviously doesn't jibe with stock market indices more than doubling during the five years since then.
On the flip side, we're seeing individual stocks maintaining rather bullish sentiment scores, despite suffering extremely painful losses.
Who's right? Is everyone wrong? Have we all lost our minds?
Follow me on StockTwits: @chicagosean
At the time of publication, the author held no positions in any of the stocks mentioned.
This article represents the opinion of a contributor and not necessarily that of TheStreet or its editorial staff.