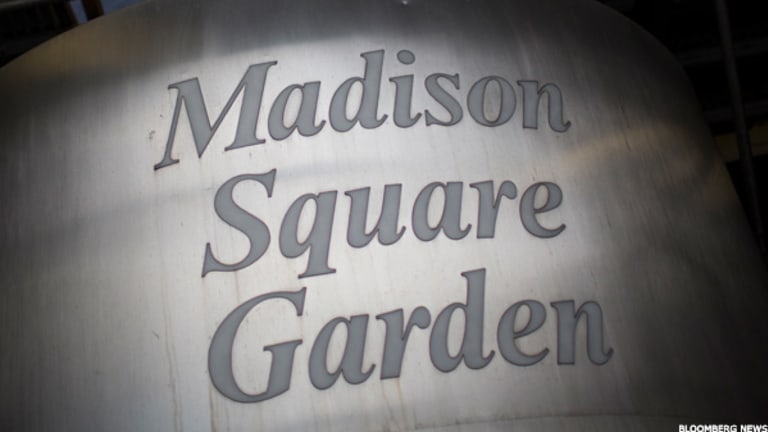 Have Big Media Stocks Run Too Far?
It's the most overlooked bull story in the stock market: Massive gains in big, old guard media names.
NEW YORK (TheStreet) -- Between my articles at TheStreet and my model portfolio in the options investing newsletter I publish with Robert Weinstein, I have been all over big media stocks for more than a year.
They have been on a freaking tear. This brings up an obvious question: With many of these names at or around all-time highs, should you bank profits?
I'm of two minds on this.
First, when you consider the massive gains over the last year -- nearly 66% in
Madison Square Garden
(MSG) - Get Free Report
, 54% in
Time Warner
(TWX)
, 49% in
News Corp
(NWSA) - Get Free Report
and, on the relatively modest end, an almost 16% pop in
BCE
(BCE) - Get Free Report
(formerly Bell Canada) -- it's tough to argue against taking profits. In fact, you probably should have been writing covered calls
and
and taking profits all along.
Also see: Here's How Reed Hastings Will Bankrupt Spotify >>
The great Jeff Macke did an excellent piece for
on Wednesday about not getting fleeced
like so many Apple (AAPL) - Get Free Report shareholders with big gains did over the last several months
.
Use trailing stops
. Take profits.
Don't call tops or bottoms!
(That might be the best one). And I would add start writing in-the-money covered calls on winners as profits surge. Classic, but solid advice too many investors fail to take. Emotion enters the equation; they get crushed. It seemingly takes a fraction of the time for profits to evaporate that it took for them to build.
data by
So, no doubt, a battleground name such as AAPL or
like the names on the chart, requires, at the very least, a look at strategies designed to take some money -- and risk -- off the table.
Also see: Paulson on T-Mobile: Debt Over Greed >>
However, at the same time, there might not be a healthier sector to invest in than big media. As
Netflix
(NFLX) - Get Free Report
continues to rise on
, the old guard media actually has leverage regarding content. This, not to mention the cash and relatively reliable revenue lines these companies have behind them, makes them sustainable long-term investments, even at these highs. They're not speculative, ride-the-wave trades like NFLX.
Every name on that chart owns and/or controls premium content, ranging from sports to movies to the best primetime television shows. Time Warner, News Corp,
Disney
(DIS) - Get Free Report
and
CBS
(CBS) - Get Free Report
, along with
Comcast
(CMCSA) - Get Free Report
, control practically "everything." That's really not much of a stretch.
In Canada, BCE and
Rogers Communications
(RCI) - Get Free Report
enjoy carte blanche from regulators that an American company could never dream of.
The name I left out -- MSG -- is a special case. Despite the lofty valuations, you have to think MSG, as well as
AMC Networks
(AMCX) - Get Free Report
, is ripe for takeover by a News Corp, Time Warner or
Viacom
(VIAB) - Get Free Report
. These types of companies represent missing puzzle pieces as the major media conglomerates look to develop key regions of the country and assemble sports and original programming empires.
Also see: Jaguar Land Rover Sees Big Sales Gains in 2013 >>
It's the most overlooked bull story in the stock market: Massive gains in big, old guard media names. It's not a fluke. It's not merely the product of a bull market. It's real and, while it's always wise to exercise caution via profit taking, the long-term narrative across the sector remains firmly intact, warranting confident price-to-earnings ratios.
--
Written by Rocco Pendola in Santa Monica, Calif.
Rocco Pendola is
TheStreet's
Director of Social Media. Pendola's daily contributions to
TheStreet
frequently appear on
CNBC
and at various top online properties, such as
Forbes
.