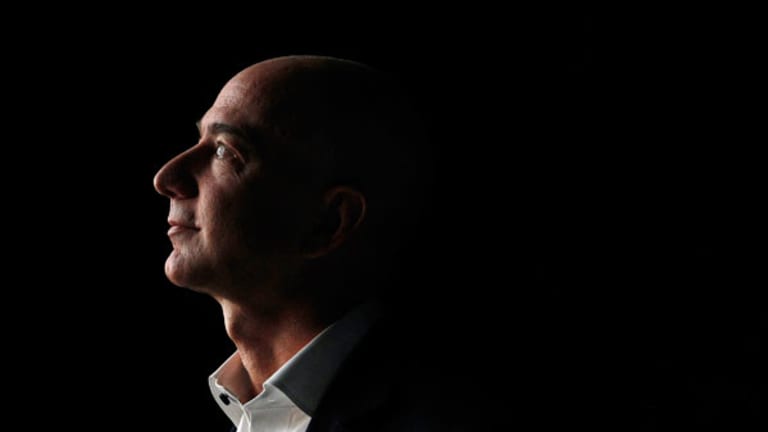 Hating Amazon Is Not Only Stupid, It's Anti-American
Jeff Bezos runs Amazon.com the way we say we want American businesses to be run, yet people criticize.
Jeff Bezos runs Amazon.com the way we say we want American businesses to be run, yet people criticize.
NEW YORK (TheStreet) -- I'll never understand some people.
First, the obvious. Nearly every quarter the same thing happens with
Amazon.com
(AMZN) - Get Report
. I've been repeating myself on this for more than a year. Way back in April 2012, for example, over at
:
AMZN tends to retrace old highs after a considerable price decrease.
That's been my mantra for what feels like ages. And everything about it -- as recorded in the above-cited article -- went off just as described. Right down to the admission that AMZN recovered to lower highs for a while, but, over the long term, that pattern would change. Now the stock hits all-time highs as hobby.
I called AMZN's rise to and through $300 and stand by the prediction that
Amazon will pass Apple (AAPL) - Get Report
. Like it or not, AMZN is one of the most resilient stocks on the market because
Wall Street has confidence in Jeff Bezos
. Apple remains a woeful underperformer because the big money has no confidence in Tim Cook.
TheStreet's
Chris Ciaccia wrote
where he chided Amazon for the information -- or lack thereof -- they provide on their earnings conference call. While I disagree with every word Chris wrote, I can call it an excellent article because he articulated his position well and took a perfectly snarky approach that kept me reading to the very last word.
That said, Chris is one of the people I don't understand.
Even if he and other bears are right about Amazon (
they're not!
), you'll never win fighting reality no matter how irrational you think it is. See my decision to
tout Netflix (NFLX) - Get Report stock while remaining ultra-bearish on the company
. But don't take that statement too far.
Quite quickly, comparisons between AMZN and NFLX fall apart. AMZN is a healthy company with not only massive, but obtainable long-term opportunity; NFLX is not. On the surface, however, you can't bet against either stock. However, AMZN will not crash; NFLX will.
Which leads to point number two I just can't comprehend about some people.
How can anybody hate -- or even dislike -- Amazon?
Jeff Bezos runs the sort of company the country ought to rally behind. Yet we see sentiment like this from people:
Right. Punish Bezos and Amazon for having the foresight -- about a decade before everybody else -- to go pure play e-commerce. We should be rewarding Amazon's innovation, not finding ways to deter it.
From its beginnings to the incredible point Amazon is at now and -- amazingly -- will pass, this company epitomizes everything we apparently love about American capitalism. Amazon generates massive amounts of revenue and uses it to expand its business in multiple logical directions. Why would anybody root against one of the few companies that doesn't bitch about political and economic environments and spends to get things done?
Of course,
nobody actually shorts the damn stock
, but they sure love to talk trash.
This article will be met with the same tripe as the others I have written on AMZN. People will continue repeat the same things they have been saying for quarters. Just as I have. But with one big difference. I'm on the right side of Amazon
and
AMZN; the critics are not.
--
Written by Rocco Pendola in Santa Monica, Calif.
Rocco Pendola is
TheStreet's
Director of Social Media. Pendola's daily contributions to
TheStreet
frequently appear on
CNBC
and at various top online properties, such as
Forbes
.