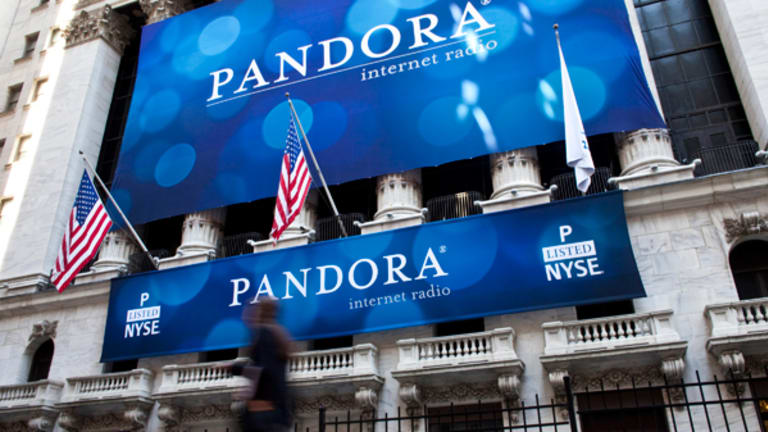 Haters Have Reason to Trash Pandora
Twitter Music takes the lead on big data. Pandora investors should want to heave.
NEW YORK (TheStreet) -- On the back of its core business model, Pandora (P) stock could continue to climb. Because there are no two ways about it, a winning narrative underlies the Pandora story. For the most part, this has not changed.
That said, I can't, in good conscience, refrain from urging caution with respect to Pandora's lack of action regarding data. Neglecting this part of the story now would be akin to me having gone with the crowd when Pandora wallowed in the single digits. It never pays -- financially or intellectually -- to go with the crowd, particularly on Wall Street, because, more often than not, analysts operate with rearview mirror genius.
So, on to updating my initial (above-linked) treatment of the matter with the latest ...
It's nothing short of a sin that the head of Twitter (TWTR) - Get Twitter, Inc. ReportMusic, Bob Moczydlowsky, talks his book on big data as it relates to the music industry to Billboard while Pandora remains, for all intents and purposes, absent from the conversation:
We're developing a data set specific to music ... There's a ton of new information and conversations about music that we have never let out of the building before. Some of that data have to do with timing or geography ... It has the potential to help the (music) industry figure out how to best invest in artists or how to direct their marketing campaigns.
Whereas Twitter Music appears to have failed thus far, the larger Twitter platform contains, as Moczydlowsky put it, "a fire hose of data" that can show the industry tech companies can not only be their friends, but the key to driving an era of unprecedented prosperity in the "record" business.
But, for whatever reason, data -- unless it helps the company sell advertising -- is not a priority at Pandora. Pandora appears to have no problem using its data to draw a crowd at advertiser-backed events. However, it's curiously hesitant to unlock the mine to not only self serve, but benefit the greater musical good. 
Though it was not his intended message, Pandora CTO Tom Conrad told us, albeit implicitly, that data is not a priority at Pandora in an excellent piece at First Round Capital's Web site.
Conrad discusses how Pandora prioritizes what it will do from a product standpoint. He describes an environment where everybody contributes ideas that go up on the wall. From there, the company decides what needs to get done now. The rest falls by the wayside; it simply wasn't meaningful enough to take up scarce resources.
It makes no sense that data continues to hit the cutting room floor. And it makes it difficult for me to continue to support Pandora in the royalty fight.
It's not because I think Pandora doesn't pay enough to license music. Cats who bash Pandora with the they don't pay out enough to musicians line miss the point.
The argument they should be making is the one I attempt to drive home as I raise this issue here at TheStreet.
OK great, Pandora feels as if it's treated unfairly vis-a-vis royalties when compared to broadcast radio or Sirius/XM (SIRI) - Get Sirius XM Holdings, Inc. Report satellite radio. It argues that it provides exposure and airplay for artists of all sizes they simply did not have prior to Internet radio's emergence. And, further, Pandora claims it can use its own "fire hose of data" to help artists, including unknowns, smaller acts and indies.
As I explain here, Pandora Chief Strategy Officer and co-founder Tim Westergren has been talking about the power of Pandora's data since, like yeah, 2008. But he has yet to make it a priority ... to harness it for the benefit of brands, bands and the larger music industry at any meaningful scale we can see.
Show us, don't tell us.
That should be the music industrial complex's message to Pandora. Not the standard, you're not paying us enough. That's short-sighted crap. It ignores the value Pandora, led by Westergren, continues to (for some reason) hold back.
If I'm at a label or other big-time music industry entity, I'm telling Pandora that I'm more than willing to lay down my arms on the royalty front when and only when, if and only if Pandora does the right thing with its data.
And that's, throughout the organization, make it a priority.
--Written by Rocco Pendola in Santa Monica, Calif.
Disclosure: TheStreet's editorial policy prohibits staff editors, reporters and analysts from holding positions in any individual stocks. Rocco Pendola is a columnist for
TheStreet
. Whenever possible, Pendola uses hockey, Springsteen or Southern California references in his work. He lives in Santa Monica.