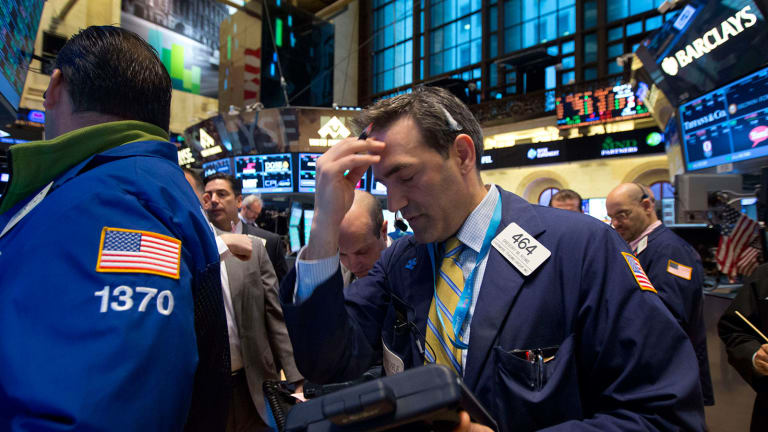 Hate Wild Gyrations in the Stock Market? Blame Technical Trading
Trading by computers that make decisions based on seemingly arbitrary formulas, rather than on the economic fundamentals of companies, is heightening the volatility of stocks as China hammers markets.
NEW YORK (TheStreet) -- Volatility is back in the stock market in a big way, and it isn't going anywhere quickly. 
Why? A big part of the story is so-called technical trading by computers and analysts who care little for the economic or business fundamentals of the companies that are bought and sold. Instead, many decisions to buy or sell securities are being driven by changes in stock prices using what can seem like arbitrary "rules."
"This phenomenon is here to stay," says Milton Ezrati, senior economist and market strategist at Lord Abbett. "The problem is that it is automatic and it involves massive amounts of securities."
The result has been that the so-called I:VIX or volatility index, which measures projected volatility in the S&P 500 as well as the SPDR S&P 500 (SPY) - Get SPDR S&P 500 ETF Trust Report exchange-traded fund that tracks the index, has more than doubled since mid-month as stock markets tumbled around the globe. Volatility had remained low for the prior six months as stocks mainly traded in a range. 
Ezrati points to so-called trading rules that can compel money-management firms to dump stocks, which in turn create further falls. For instance, some funds may require stocks to be ditched if the market drops by a certain percentage. Alternatively, sell orders can be triggered if a stock's market capitalization (the value of all its shares outstanding) falls below a certain level. 
Such actions tend to cause further declines, and then more metrics can be triggered. "It creates a momentum within itself," he says.
Although analyzing the markets using so-called technical analysis is typically ranked alongside astrology, it is widely used on Wall Street and hence has the potential to move stock prices. One of the most common tools used is the moving average, which measure a stock's closing price over a specified period. If the major indexes stay above both their short- and long-term moving averages, they are said to be in a so-called uptrend. Likewise, when indexes trade below both, they are said to be in a downtrend. The most commonly quoted are the 50-day and 200-day moving averages.
Given the recent plunge in the major indexes, few stocks are trading above either of these averages. The result has been that decisions to trade are now being made very quickly, says Jeremy Hill, managing partner at Old Blackheath Companies. That's partly due to fear that stocks may remain in a longer term downtrend. 
Quick decisions can also lead to sudden rallies, like Wednesday, when both the Dow Jones Industrial Average I:DJI and S&P 500 undefined surged close to 2% in the two hours before the closing bell.
All of these snap decisions on buying or selling are created out of a mood of fear which is in turn creating more volatility and yet more fear.
Such anxiety is currently a major presence in the trading rooms of Wall Street. The recent fall in the market, including a 1,000-plus point drop in the Dow Jones Industrial Average at the opening bell on Monday, was alarming to traders and investors alike, says Woody Dorsey, a behavioral finance specialist who writes the Market Semiotics newsletter. "It was a shock to the system," he says. "We were very complacent earlier in the year."
Dorsey says the new apprehension is being driven by massive uncertainty about what will happen to stock indexes both here and overseas.
In addition, September is approaching. For many people, that just means the kids go back to school. But for Wall Street, it is a "terrible month for stocks," he says. "The appetite for taking on the risk of buying more stocks is not that great." 
So when does this whipsawing end? Eventually the analysts and managers who do actually care about the underlying strength of the businesses being bought and sold will decide that stocks are cheap enough to warrant buying again. Until that happens, expect a wild ride.
This article is commentary by an independent contributor. At the time of publication, the author held no positions in the stocks mentioned.