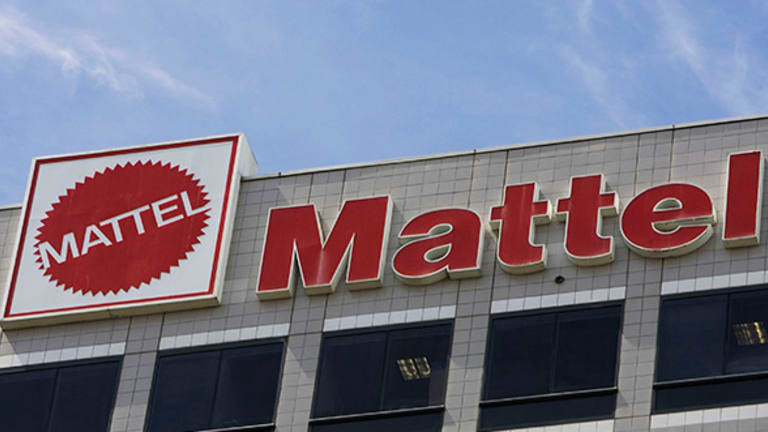 Hasbro vs. Mattel: Who Will Win the Next Battle in the Toy War?
If we turn to the charts, the winner of the next battle in the Hasbro-Mattel toy war is clear.
If we turn to the charts, the winner of the next battle in the Hasbro-Mattel toy war is clear.
The price action in toy makers Hasbro (HAS) - Get Report and Mattel (MAT) - Get Report has been unusually disassociated for two stocks in the same sector. Hasbro has outperformed Mattel by 38% over the past year -- but it has underperformed its counterpart by 22% over the last three months.
The daily charts help to visualize the inversely correlated relationship and highlight how both stocks have been undergoing a period of similar price consolidation over the last month. There are a set of technical indications that suggest how these consolidations should play out and who is going to be the winner in the next chapter of this toy war.
The Mattel chart shows the rise in the stock price leveling off in December below the $28 level and then dropping into lower Bollinger band range this month just above the $26 level. The vortex indicator is designed to identify the start of a new trend, and the red negative trend line has made a bearish cross below the green positive trend line. Moving average convergence/divergence made a bearish crossover at the start of the year and is tracking lower. Accumulation distribution is above its 21-period signal line, but the money flow index, a volume-weighted relative strength measure, has crossed below its signal average.
These indications reflect a loss in positive price and money flow momentum.
The Hasbro chart shows the stock consolidating after finding some stability above the $65 level in December and moving back into its upper Bollinger band range this month. The vortex indicator has made a positive crossover suggesting the start of a new uptrend and moving average convergence/divergence has made a bullish crossover. These readings reflect a shift to the upside in price momentum. On the money flow side, accumulation/distribution has crossed above its signal line, and the money flow index is above its centerline, clearly bullish indications.
The next battle in the toy war should be underway soon as the consolidation levels are breached -- and all the technical indications are that Hasbro will come away the victor. The stock is a long candidate after an upper candle close above $71, using a trailing percentage stop.
This article is commentary by an independent contributor. At the time of publication, the author held no positions in the stocks mentioned.