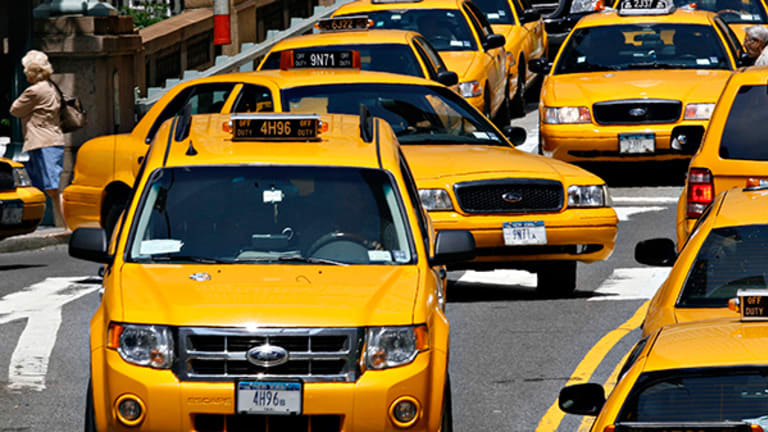 Has Uber Hit a Dead End in New York? Taxis Still Hog the Midtown
Demand for UberX may have peaked in New York, despite concerns from the taxi industry and its supporters that the driving service would take over the market.
NEW YORK (TheStreet) -- Despite claims that Uber Technologies is putting the taxi medallion financial industry out of business, recent data released by the company tells a different story -- that direct taxi competitor UberX may have peaked in New York.
As a result, all the hand-wringing over delinquent taxi medallion loans at taxi medallion financial institutions like Citibank (C) - Get Citigroup Inc. Report , Capital One (COF) - Get Capital One Financial Corporation Report , Signature Bank  (SBNY) - Get Signature Bank Report , New York Community Bancorp  (NYCB) - Get New York Community Bancorp, Inc. Reportand other smaller legacy lenders, could be overblown. Here's why. 
The number of yellow taxi medallions in NYC is 13,587. In NYC, UberX is the direct price competitor to taxis, whereas all other Uber services compete in the more expensive black-car arena.
In a study released earlier this year, there were supposedly 16,000 UberX drivers in New York, with another 10,000 to be added in 2015. It would not be unreasonble to surmise that the number of drivers has surpassed 20,000.
Uber admitted to some illuminating data recently. The New York Daily Newsreported last month on city congestion, and "Uber responded with its own data. An average of 2,000 Uber cars were in the city's central business district between 7 a.m. and 7 p.m. from June through July 19, the company said.
Read that last sentence again. 
How can UberX have more than 20,000 registered drivers, and yet only 2,000 are in the most heavily-trafficked part of the city's taxi Exclusion Zone -- between Wall and 96th streets during peak hours? Is this the best UberX can do after three years of generating huge market awareness in New York?
And it's unclear if those 2,000 cars are UberX. Where are the other 18,000 drivers?
Assume some of these 2,000 are full-time drivers. It would be reasonable to say that the rest are part-timers who cycle through the city only occasionally. It would also be reasonable to point to a 50% attrition rate, as underscored by Uber's own study.
A research paper, that showed NYC UberX drivers lose a ton of revenue to expenses underscores the notion of a high rate of attrition. 
The end effect is that demand appears to have maxed out. That may be because the use of the old, familiar yellow taxi remains robust. 
There are 13,587 yellow taxis in New York. Roughly half will run during each of the two daily taxi shifts. 
To be sure, most of those don't venture into the outer boros. That's why the Taxi and Limousine Commission created Green Taxis, and where black cars also serve. That's also where Uber could be picking up the majority of its business -- filling an underserved need.
Uber cannot flood the taxi Exclusion Zone with thousands of extra cars simply because there is not sufficient demand. This is in no small part because Uber drivers face a competitive disadvantage -- the street hail. 

You can often hail a cab in under 60 seconds, but you have to wait for UberX. This is in a city that wants its service extra fast. 
Uber is more likely to pick up a ride only when all cabs are filled. 
Excess demand has now been met.
Consequently, declines in taxi revenues should begin to level off.
The byproduct of this: Investors in taxi medallion financial institutions and other legacy lenders should be able to breathe more easily.
They can ignore bigger financial institutions that are crying poor in this business.
The delinquencies they are encountering from medaillion borrowers is due mostly to lax underwriting measures. 
That should level off.
This article is commentary by an independent contributor. At the time of publication, the author was long Medallion Financial Corporation (TAXI).