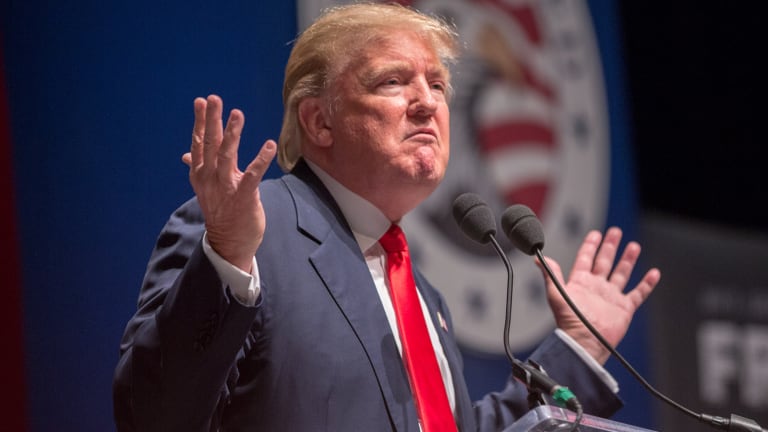 Publish date:
Has Trump's Presidential Bid Already Backfired? A Billion-Dollar Brand Turned Toxic
With big corporations backing away, has the billion-dollar Trump brand become toxic?
With big corporations backing away, has the billion-dollar Trump brand become toxic?
Update: Since this article was published, Macy's has reportedly also cut its ties with Donald Trump. 
NEW YORK (TheStreet) -- Why is Donald Trump running for President?
Is it for real? That he truly believes, as he has said many times, that he is the only person who can help rescue the failure that is the United States of America in 2015? Or, is it, as many have speculated, that he isn't a serious candidate and he's just running to make more money by elevating the status of his brand?
"The joke's on you," reads one headline on an article with that theory. Well, perhaps the joke is on Trump, because, so far, the move is backfiring. 
On June 17, Trump announced he was running for President at a political event at Trump Tower in New York, emphasizing the core values that brought him his wealth as selling points for his candidacy. One value that isn't adding to his wealth this week was his criticism of Mexicans. 
"I like Mexico. I love the Mexican people. I do business with the Mexican people, but you have people coming through the border that are from all over that are killers and rapists. And they're bad. They're really bad," he told CNN's Jake Tapper on June 28, as an explanation of his thoughts on the subject. 
The response has been swift and, financially, very bad for the candidate. 
First, there was Univision, which said it would not broadcast Trump's empire of beauty pageants, including Miss Universe. Days later, NBC (owned by Comast (CMCSA) - Get Report) followed suit, severing ties with Trump altogether, including axing him from his lucrative show, The Celebrity Apprentice (in fairness, he already said he would recuse himself from the show because of his presidential bid). Mexico's Televisa, the world's largest Spanish-language broadcaster, has also ended its relationship with Trump. In the case of Miss Universe, Trump has threatened legal action.
Some 700,000 people signed on to a petition to force Macy's (M) - Get Report to remove Trump products from its stores, including water with his name on it and a line of clothing. A day later, Macy's reportedly bowed to the pressure and made its relationship with Trump no more.
It's safe to assume these actions are being driven by business leaders and consumers who are less enamored of the Trump name this week than they were before he announced his candidacy. According to The Donald himself, this kind of pain hits him where it hurts the most. 
In a much-maligned financial disclosure, Trump pegged his own personal wealth at near $9 billion, with a staggering $3.3 billion coming from his personal brand alone. 
It's likely that number has now diminished. Or, if you believe Forbes, arguably the leading publication when it comes to billionaires and their net worths, it already was much diminished. 
"We value his brand at just $125 million," contended a Forbes article. "We give him another $128 million in management fees for Trump-branded hotels."
From billions, to just $125 million, to less, Trump's critics are celebrating. 
"In the last few days, Donald Trump has proven what Macy's should have already known for years. Donald Trump's brand of bigoted bullying is simply bad for business," said Angelo Carusone, who created the moveon.org petition that is trying to get Trump booted from Macy's. "After three years of allowing Donald Trump's toxic brand to turn off thousands of customers, it's time for Macy's to follow the lead of NBC and Univision and finally dump Trump."
To be sure, this attention is nothing new for Trump. And his brand won't suffer in the long run, say people who have a long-standing familiarity with him via his real-estate career. 
"This is not the first time Donald has expressed himself in an unfiltered manner. If his remarks were going to diminish his brand, it would've happened a long time ago," said Amir Korangy, publisher of The Real Deal, a top real estate publication. "If anything, his social following seems to be enjoying a great boost."
Since June 16, the day before officially announcing his bid for President, Trump's follower count on Twitter (TWTR) - Get Report has jumped by over 100,000 followers to just over 3 million.
A former Trump employee agreed, saying that the controversy will do little damage to the Trump brand.
"He's such a masterful brander that if his brand would've been toxic it would've been toxic a long time ago," said Steve Christmann, a former construction company owner who worked for Trump and runs Christmann & Properties, a real estate brokerage. "He bounces back from any situation. Like his bankruptcies. He has multiple bankruptcies, including one famous bankruptcy and he became wealthier from it."
According to a Vanity Fair report, Trump has gone bankrupt four times with billions in debt -- twice in Atlantic City in 1991 (Taj Mahal) and 1992 (Trump Plaza Hotel) and twice more in '04 and '09 -- each time emerging richer coming out.
Korangy has praised Trump's ability to reinvent himself in the past.
"Jon Lo from Predictiv, which values brands such as Coca-Cola (KO) - Get Report and other big companies, says that everything with the Trump name adds roughly 17% to the value, that's a significant boost to any product," Korangy said.
Even though that percentage may dwindle in the wake of the news, he's still getting the job done.
"Whether you love or hate the guy, he is getting more press than any other presidential candidate right now. He is extremely skillful at remaining relevant," Korangy said.
This article is commentary by an independent contributor. At the time of publication, the author held no positions in the stocks mentioned.