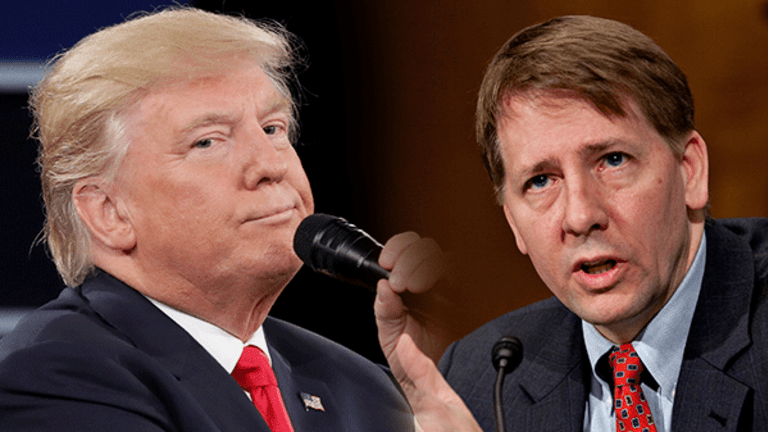 Has Trump Already Developed Amnesia About 'Forgotten Man and Woman' Investors?
Trump wooed voters with a promise that he wouldn't forget the 'forgotten' electorate. But early signs are that he's taking care of Wall Street, not Main Street.
Trump wooed voters with a promise that he wouldn't forget the 'forgotten' electorate. But early signs are that he's taking care of Wall Street, not Main Street.
Which Donald J. Trump will be calling the shots on matters that affect small investors?
If we're lucky, it will be the guy who vowed in his victory speech that he'd have the backs of "the forgotten man and woman." That would be the same Trump who said earlier this year that he was "not going to let Wall Street get away with murder" and that he'd like to bring back Glass-Steagall, the post-Great Depression reforms that separated depository banks from investment banks.
But then there's that other Trump, the one who has said "the regulation industry is one business I will put an end to."
That's the Trump I'm worried about.
If a betrayal of small investors is in the cards, you'll start to see the Trump administration rolling back tough financial rules and installing his deregulatory brethren in consumer-friendly agencies.
Sadly, those seeds already are being planted.
Consider Trump's vow to dismantle the 2010 Dodd-Frank Wall Street Reform and Consumer Protection Act, the birthplace of the Consumer Financial Protection Bureau. Trump hasn't weighed in specifically on the agency's future, but his fellow-Republicans are going all-out to neuter it.
The CFPB is arguably the most effective financial agency out there -- if you define "effective" as being true to its mission to look out for the public. Most recently, it was behind that $100 million settlement in September with Wells Fargo (WFC) - Get Report , the disgraced bank whose employees opened hundreds of thousands of bogus customer accounts to satisfy sales quotas.
That's "bogus" as in "the customers were clueless that accounts were opened in their names."
Along with big public cases that call banks, credit unions and others to task, the CFPB has infuriated financial companies by publishing more than 600,000 consumer complaints online. Wall Street, the U.S. Chamber of Commerce and Republican lawmakers were so riled by even the notion of a consumer financial agency that attacks against it began before its 2011 launch.
Texas congressman Randy Neugebauer, a vociferous critic, has called the CFPB a "national nanny" and "benevolent financial products dictator." 
Now it turns out that Neugebauer's name is being floated as a possible replacement for the agency's current director, Richard Cordray, according to the Huffington Post.  That would make Trump's life infinitely easier if he decides he wants to take on the legal fight to fire Cordray. With Neugebauer in charge, the 45th president of the United States wouldn't even have to go to the trouble of trying to shut the place down.
And then there is the new, investor-friendly Department of Labor rule that would force stockbrokers giving retirement advice to put their clients' interests ahead of their own, a standard that already applies to investment advisers.
Hedge fund manager and Trump economic adviser Anthony Scaramucci has relentlessly trash-talked the fiduciary duty rule. Borrowing a favorite adjective of the future president, Scaramucci said in a Twitter post  earlier this month that the rule, set to be effective next April, was "disgusting."
Disgusting for Wall Street, anyway. A White House study concluded that investors lose $17 billion a year in their retirement accounts as a result of inflated fees that go to brokers who recommend products with the highest commissions. Brokerage firms don't want to give up that $17 billion a year that they shouldn't have been pocketing in the first place.
In his zeal to paint the rule as immoral, Scaramucci once likened it to the 1857 Supreme Court Dred Scott decision that ruled African-Americans could not be U.S. citizens. (This, apparently, because the DOL rule amounts to discrimination against stockbrokers, a moral affront you may not have considered until now.) He subsequently explained in an Oct. 19 tweet that the analogy was to the "bad governmental decisions" at work in each case. Noted.
Scaramucci has made several public comments that suggest the rule is redundant. He told Yahoo! Finance that professionals in the investment community already are held to a fiduciary standard of putting investors' interests ahead of their own. He similarly tweeted earlier this month that "there are already fiduciary rules in place to protect the client."
His incomplete statements ignore the fact that an army of investment professionals -- the nation's stockbrokers -- are not held to the standards required of investment advisers, a problem that's addressed in the DOL rule.
Scaramucci has suggested that a better idea would be a "self-auditing process" for brokers. He told me in an email that this would amount to "training advisers on a principles-based regulatory framework" and "putting the onus on firms to demonstrate sound compliance processes." Of course, firms already are expected to have sound compliance processes. Ask a victim of broker fraud how well that's been working out in a world where 7% of brokers have at least one black mark on their records.
Asked if Trump agreed with his assessment of the DOL rule, Scaramucci said he couldn't speak for the president-elect.
Barbara Roper, director of investor protection at the Consumer Federation of America, says it's too soon to know whether Trump was sincere in his pledge to make Washington work for average Americans. "Anyone who says they know what to expect in a Trump administration is delusional," she told me.
But she's worried to see that former Securities and Exchange Commissioner Paul S. Atkins is recommending financial regulation policy on Trump's transition team.
If Atkins were to use his position on the team to remake the SEC in his image "that would be bad news indeed for investors," she said. The deregulation-prone Atkins has opposed Dodd-Frank and has spoken out against levying big fines on securities lawbreakers.
You won't find Atkins' name in many sentences that include the phrase "investor advocate." Ditto the Wall Street elitists from Goldman Sachs  (GS) - Get Report , Bear Stearns and various hedge funds who either are advisers to the future president or are landing on his short lists of Cabinet appointees. Will Trump make sure that Wall Street doesn't get away with murder? Shame on you if you believed it to begin with.