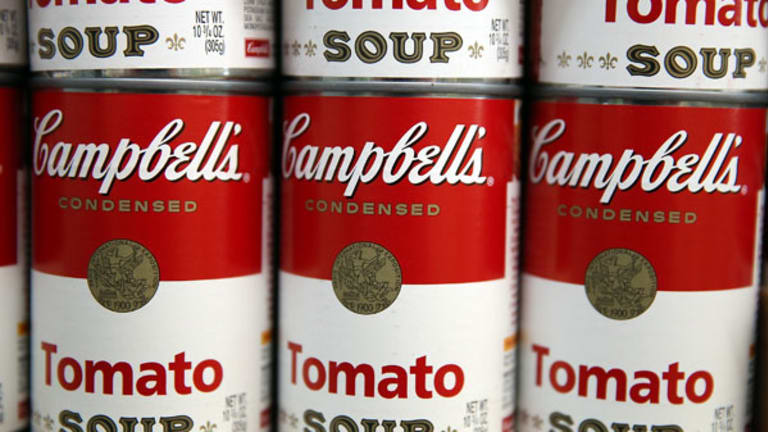 Publish date:
Has Campbell Soup Knocked Over the Saucepan?
Campbell Soup's numbers disappointed market watchers, with core soup sales declining slightly. Is the brand under pressure?
Campbell Soup's numbers disappointed market watchers, with core soup sales declining slightly. Is the brand under pressure?
NEW YORK (TheStreet) -- Campbell Soup (CPB) - Get Campbell Soup Company Reportreported Monday that its U.S. soup sales fell 1% in the latest quarter from a year before.
That was despite what Campbell Soup said was "an increase in the frequency of our promotional activity."
So much for any benefit from a cold winter.
The food company also lowered its forecast for the current fiscal year, saying that revenue is now expected to grow 3% year over year, vs. a previous forecast of 4% to 5% growth. Earnings are now expected "at the lower end of expectations."
If there was a bright side, it was that sales in the U.S. Simple Meals division as well as the Sauces division delivered good sales growth.
This is not the first quarterly earnings setback Campbell Soup has suffered recently. Back in November its shares fell to less than $40 after the company announced a 20% fall in earnings due to "inventory movements" and "weakness in our core business trend" as well as the influence of a late Thanksgiving and just-in-time techniques by retailers.
So is Campbell Soup now a struggling company? Well despite Monday's disappointing earnings release, there are some positive signs. First, on the latest data available, Campbell's retains a "wet soup" market share that is twice the size of all other branded soup companies and more than four times larger than all other private-label soup companies. That is a strong incumbent market position to have.
Second, the soup market seems volatile, but it's not declining relentlessly. Part of the problem on the U.S. soup sales side for the quarterly period just disclosed was that it was faced a tough comparable period. Sales increased 14% in the year-ago period.
And third, as noted above, diversification into other nonsoup areas is giving the company new growth angles, both in the U.S. and overseas. The company may have the word "soup" in its name, but that doesn't means that's the only product it has to sell.
Big-brand consumer businesses with high public recognition levels rarely go wrong forever.
Monday's announcement by the company strikes me as more of a patchy individual quarter of the type that happens in any business.
With the share pricing being pushed down in early trading -- they were down more than 3% at midmorning -- expectations for the stock over the next few quarters will be lowered.
In the meantime the current 2.8% dividend yield looks secure and this should start to act as a support.
If shares can avoid rehitting the November lows over the next few weeks, that should tell investors the Campbell Soup business revitalisation strategy is building.
At the time of publication, Bailey had no positions in stocks mentioned.
This article represents the opinion of a contributor and not necessarily that of TheStreet or its editorial staff.
>>Read More: 3 Stocks Rising on Unusual Volume
>>Read More: Bulls Looking for Tiffany to Shine