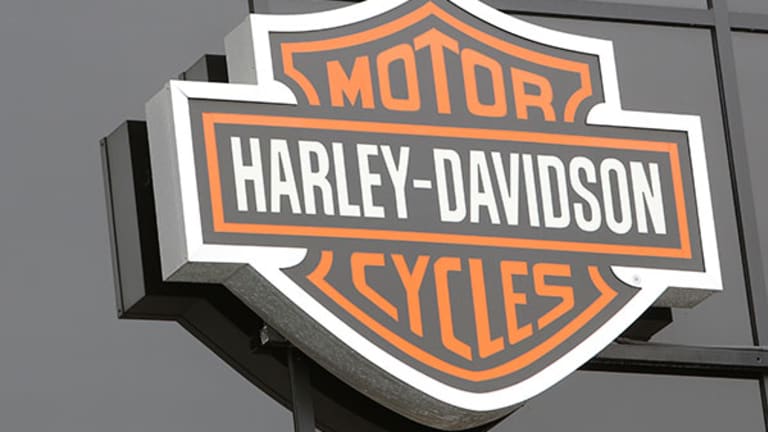 Harley-Davidson Is a Buy Ahead of Second Quarter Report in July
The day Harley-Davidson announced its electric motorcycle, more than 13,000 August $75 calls traded in the range of 98 cents to $1.20 each. Citigroup sees the shares hitting $85.
NEW YORK (TheStreet) -- As more and more consumers switch to electric vehicles from gasoline powered vehicles, Harley-Davidson  (HOG) - Get Harley-Davidson Inc. Report plans on getting into the action. Last Thursday, Harley announced Project LiveWire, the company's' first electric motorcycle that is able to go 0 to 60 miles per hour in 4 seconds.
Although the electric motorcycle won't be for sale anytime soon, the seller of 260,471 motorcycles in 2013 could steal sizable market share in the full size electric motorcycle market share (5,000 total projected in 2014) upon entering the market.
The motorcycle maker beat analysts' first quarter earnings estimates by 12% on April 22, posting $1.21 per share vs. the $1.08 consensus estimate. Revenue came in 3% above what Wall Street was expecting at $1.57 billion. Over the last 10 quarters, Harley has only missed its earnings estimates on one occasion. Second quarter earnings are expected to be released late next month. The stock has moved higher after earnings on four out of the last seven reports (up 6.41% after the strong first quarter report).
Harley trades at a price-to-earnings ratio of 15.58 times (2015 estimates) which is relatively cheap when factoring in the expected 16% EPS growth (PEG ratio of 0.97 times). Revenue growth will remain consistent next year at 8.2% (10.1% this year). The company continues to be shareholder friendly with a 31% dividend increase back in February, bringing the quarterly payout to 27.5 cents per share from 21 cents per share. They also authorized a buyback of an additional 20 million shares on top of the remaining 8.6 million shares left from a pre-existing buyback program. The combination of these could reduce total share count by more than 10% (currently 218.4 million shares outstanding).
The average analyst on Wall Street sees nearly 10% upside in the stock from currently levels with a median price target of $78. In its latest rating, April 24, Citigroup (C) - Get Citigroup Inc. Reportmaintained a buy rating and an $85 price target, making it the highest on the street.
Option Traders Bet on a Strong Second Quarter Report
On the same day as the electric motorcycle announcement, more than 13,000 August $75 calls traded with the majority being purchased for 98 cents to $1.20 each. The call to put ratio was 10:1. Call activity was 29 times the average daily volume. This unusual and bullish options activity sent implied volatility up 12.6% to 21.73. Open interest in the August $75 calls jumped to 10,629 contracts the next day from 2,112 contracts.
Given that the large call buyer has a breakeven point of $76-plus ($75 strike price + the premium paid for the calls) he/she is anticipating a rally of more than 6% in the next two months. Aside from the Project LiveWire announcement which could take a year or more to until translating to sales, second quarter earnings is the only major catalyst in the near-term.
The Technicals Are Signaling Harley Is a Buy Right Now


Harley-Davidson Options Trade Idea
Buy the August $75/$80 call spread for a $1.10 debit or better
(Buy the August $75 call and sell the August $80 call, all in one trade)
Stop loss: None
1st upside target: $2.25
2nd upside target: $3.50
3rd upside target: $4.75
Read More:
Calpine Sees Risk to Geothermal as Green Energy Grows
Time for Nike and Under Armour to Pay College Athletes
Lululemon, eBay and Staples: 3 Retailers United Under a Red Flag
Smith & Wesson and Coach: High Hopes and Low Expectatations

At the time of publication the author is long HOG.
This article represents the opinion of a contributor and not necessarily that of TheStreet or its editorial staff.