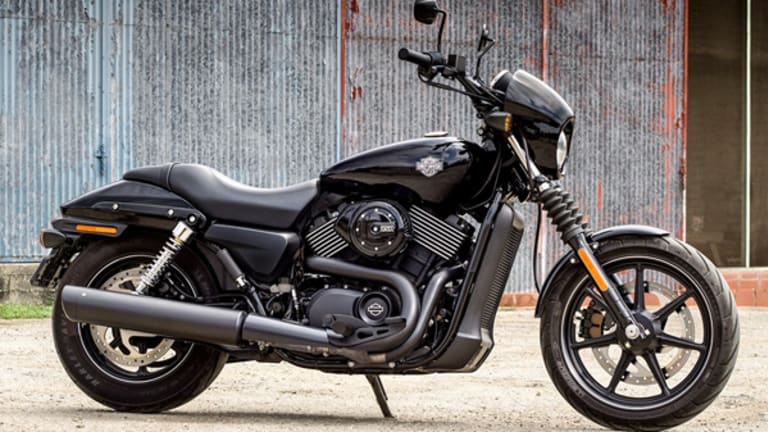 Harley-Davidson CEO: Why We Lowered Our 2016 Shipment Outlook
Harley-Davidson showed signs of being on the comeback trail with better-than-expected fourth quarter earnings and a stabilization in its market share numbers. Still, some challenges lay ahead.
Harley-Davidson (HOG) - Get Report finally showed its investors some get-up-and-go after a challenging year.
On Thursday, the 113-year old bike manufacturer reported earnings of 22 cents a share, beating estimates for 20 cents a share, although total revenue of $1.01 billion fell short of forecasts for $1.03 billion. Importantly, Harley-Davidson said its U.S. market share stood at 51.4%, unchanged compared to the year-ago period. The result marked a turnaround from the third quarter, when market share fell about 3.9 percentage points year-over-year.
Harley credited new products, an increase in marketing and less severe industry discounting compared to the previous year as reasons for the stabilization in market share. Shares of Harley-Davidson rose by as much as 5% on Thursday, but have fallen back to a 1% gain.
Harley's comments on market share also represented a change in tone from much of 2015, when the company saw its market share slide as Japanese bike makers used the strong U.S. dollar to offer intense discounts in the U.S. For instance, Suzuki recently announced its North America sales surged 50% in December to a record, the company's sixth straight month of year-over-year sales gains.
Not helping matters either were inroads made by Polaris' (PII) - Get Report Indian brand. According to Polaris, retail sales of Indian motorcycles increased approximately 80% in 2015, helped by the release of the updated Scout model.
Despite some signs of progress, Harley did also offer up some concerns that piqued the interest of analysts. The company lowered its 2016 shipment growth guidance to 1% to 3% from the 3% to 5% shared on an October earnings call. Meanwhile, inventories ended the year up about 31% from 2014 levels, which the company blamed on a higher amount of finished goods (bikes) and parts, as well as general merchandise inventory.
"While this was clearly a difficult step to take given management's unprecedented decision to provide the 3-5% [shipment] target just three months ago, we absolutely believe that lowering expectations is the right move, especially in light of recent macro-economic developments," said Wedbush analyst James Hardiman in a note.
TheStreet talked with Harley-Davidson president and CEO Matt Levatich about the quarter and outlook for 2016.


Harley-Davidson has stabilized its market share in the U.S.
TheStreet: Last year was challenging for Harley-Davidson in the U.S., but the fourth quarter saw your market share stabilize. How did you pull that off?
Matt Levatich: It's a combination of things. When you look back a year or so, when the U.S. dollar started rapidly strengthening, it gave our competition room to discount. Depending on the manufacturer and what their motives were, some used the opportunity to adjust prices and put money in the retail channel to deal with high levels of inventory.
The Japanese bike makers, in particular, had a lot of inventory, over a year's worth of product sitting in dealerships. All of that money started to go into the market in fourth quarter of 2014, and started the sales pressure we had and the share losses to the tune of about three points in the first three quarters of the year.
We were obviously here trying to figure out how to compete in what had become a rapidly competitive motorcycle market in the U.S. Part of the market share stabilization in the quarter is product oriented and due to the new Street series bikes, we also have the new Sportster 883 and other upgrades to the Street bikes.  We are also starting to lean into our riding academy with the military learn-to ride-for-free program. That program has had an unbelievable adoption rate, three times what we expected.
In the end, some of the things we initiated early in 2015 started to come through in fourth quarter. Interestingly, the competitiveness in the industry hasn't diminished. The U.S. dollar advantage is still there for our competitors, but we have stood up our assets and resources and come to market prepared to win. That's what I attribute it to -- it's what we were after, what we planned to do, it's nice to see and now on we go -- the heat is still on.
We have to learn how to compete in what is a new competitive reality.

Harley-Davidson saw hot sales in China last year, despite the economic slowdown.
TheStreet: You raised prices in Brazil about 20% in the fourth quarter to combat the effects of the strong U.S. dollar. What was the byproduct from that action?
Levatich: We don't like to raise prices, but Brazil is an extreme situation because the dollar versus real rate is even more disconnected than the euro or the yen. Our belief is that we compete in a local market, and we hedge the impact of currency back to the financial statements and we don't jack around in the marketplace -- it's not good for consumers. 
But Brazil is different. It's a big market for us, we couldn't weather those kinds of losses in the interest given the volume we drive. So we had to make that structural adjustment in price. I don't foresee in any other significant market doing anything like we have done on prices in Brazil.
TheStreet: Harley-Davidson has made inroads into China, have you seen a slowdown there?
Levatich: China was our fastest-growing market last year, it's still relatively low volume, but it beat out Mexico with 34% sales growth. Some of that is due to increased distribution, new bikes and growing brand awareness. We haven't seen any immediate slowdown due to China's [economic] situation.
We are cautious, however, on the effects on the broader Asia-Pacific region due to the China situation. That is a factor in us moving from the 3% to 5% shipment growth offered in October to the 1% to 3% we issued today -- that would be what I would call the China effect on the Asia-Pacific region, possibly other global regions.
We haven't seen anything worrying yet, but we would be foolish to not be paying attention to it.
TheStreet: How do you fend off Polaris' Indian brand, which continues to make decent inroads into the bike market.
Levatich: I don't know how you define decent, it's a little hard to assess it when looking into the motorcycle industry data. Polaris talks about market share [gains], but they redefine the size of the market each time they report their results. On their last [earnings] call, it's now the 900cc and above market -- that's not a recognized classification of a market. This, to me, is a lot of noise quite frankly.
We respect Indian, they have sold motorcycles in the U.S. that didn't exist a few years ago. Our belief is that some Harley-Davidson sales went to Indian, but every other bike manufacturer lost sales to Indian, too. This isn't a one-shot deal. And Indian is only in the range of mid-single digit percentage market share, we are at 50%. This is not some sky is falling fear at all. It's respect. It's great for Harley-Davidson and the industry -- it spurs us to raise our game.
And guess what we are doing, we are raising our game. Bring it on. We don't like to lose.


Harley-Davidson reduced its shipment guidance for 2016.
TheStreet: Any update on the progress of your first electric bike called Livewire, which you previewed back in 2014? Polaris just released their first electric bike, Empulse.
Levatich: We are excited about what Livewire means to us. We have invested in in-house capabilities, we have gotten the attention of tech suppliers globally. We have gotten strong customer feedback -- 10,000 people have ridden this bike on real roads, and 10,000 people have said they want one. Those same people have also told us they want more riding range from the battery and would buy one at a certain price point. We know we have got to have stuff come together to make it a viable business not just a great product. But it has to be a great product.
We have put a stake in the ground, and want to show people what's possible in an electric motorcycle from Harley-Davidson because everybody thinks oh, it must be a golf cart, or some sort of anemic thing. Now we have to deliver to those expectations we have set, which are very high. I am excited about it.
I don't know if you could read between the lines -- I am not going to give a specific date -- but we are working hard on it to do the right thing under our brand.
TheStreet: Harley-Davidson repurchased a massive $1.53 billion of its stock in 2015. Will that pace continue in 2016?
Levatich: For various reasons, we felt like we could take on that level of corporate debt to repurchase shares and not jeopardize our credit ratings. We need good credit ratings to have good costs of funds for our finance subsidiary, which is absolutely critical to us lending to those qualified people who want to ride a Harley-Davidson. We don't believe we can take on more corporate debt without starting to jeopardize those credit ratings.
What we have committed to is that our excess cash, we will give it to our shareholders through dividends and share repurchases at a more nominal ongoing rate.