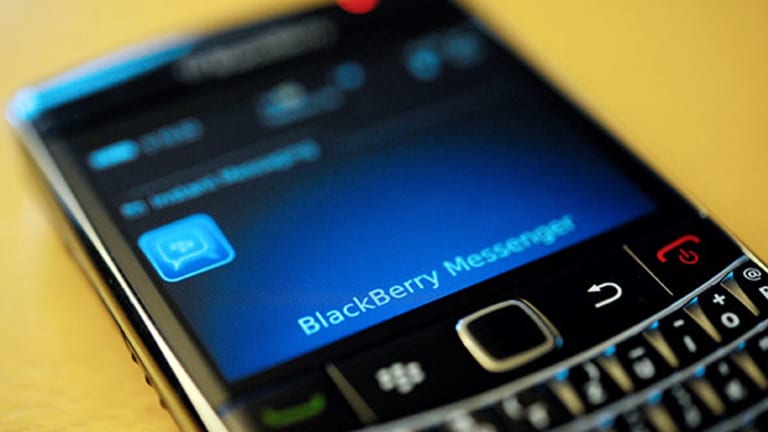 Hang Up on BlackBerry Right Now
It was once cutting-edge but now the smartphone maker has been left in the dust. It reports earnings early Friday.
If you own one of BlackBerry'sundefined devices, you were once on the cutting edge. That changed with the iPhone and Android phones.
BlackBerry reports fiscal 2016 fourth-quarter earnings before Friday's open and it might finally be time to hang up on the company.
Yes, the beleaguered tech giant put up impressive third-quarter numbers, which sent its shares soaring to a six-month high. But it likely won't be able to extend its winning streak.
For the quarter that ended in February, the company is expected to post a 10-cent loss on revenue of $563.18 million, compared to the year-ago quarter when it earned 4 cents per share on revenue of $660 million. This means on a year-over-year basis, BlackBerry's revenue will decline about 15%, while it will reverse a profit from a year ago into a loss.
For the full year, the company is expected to post a wider loss of 33 cents per share, worse than last year's loss of 9 cents per share; revenue of $2.27 billion will mark a year-over-year decline of 32%.
It was good to see the company beat expectations in the last quarter, but things have gone south since then.
In January BlackBerry received permission to more than double its share buyback program, to $27 billion worth of stock from $12 billion. But last week, Facebook (FB) said it was dropping support for BlackBerry 10, the latest operating system.
So any Facebook junkies still using even the newest BlackBerry devices could be out of luck.
Any wonder BlackBerry's stock, at around $8, is down 15% for the year to date and 17% for the past 52 weeks?  
When projecting out to fiscal 2017, the company's full-year loss is expected to widen again, this time to 36 cents per share, while revenue is expected to decline 7.2% to $2.10 billion. 
There is always the hope the company's latest smartphone, the Priv, which runs on the Android system, can change BlackBerry's fortunes. Until recently it was sold only through AT&T (T) but now it is offered byT-Mobile (TMUS) and Verizon  (VZ) , which could open up more sales.
But if you could have one device, which would you want, a BlackBerry or an iPhone? Keep that in mind when you are selling your BlackBerry shares.
This article is commentary by an independent contributor. At the time of publication, the author held no positions in the stocks mentioned.