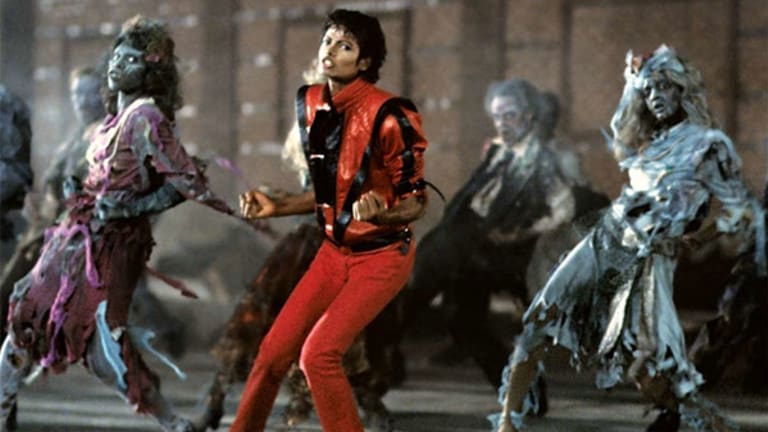 Halloween Novelty Tunes Don't Wear Off
From 'Monster Mash' and MJ to 'Gangnam Style' and Ylvis, niche songs keep the costume party going.
PORTLAND, Ore. (TheStreet) -- Fifty one years ago, a California nightclub singer from Somerville, Mass., did an impression of movie-monster actor Boris Karloff on stage while performing The Diamonds' "Little Darlin'." A bandmate suggested he use that voice through an entire song and the result spawned an entire holiday music industry.
Bobby "Boris" Pickett's single
was released in August 1962 and hit No. 1 in the U.S. on Oct. 20 of that year, cementing its legacy as the go-to song of Halloween and trumpeting the inherent value of the novelty record.
,
,
and
Bruce Springsteen and the E-Street Band
have all covered it.
sang a rendition of it with Bobby Brown on
Jimmy Kimmel Live!
and
-- who turned Halloween into an entire punk catalog of songs like
Skulls,
Ghouls Night Out
and
Horror Business
-- finally caved and performed a rendition of it in 1999.
It's an enduring legacy usually reserved for Christmas songs or other winter-based novelties --
Sleigh Ride
,
Let It Snow
and
Winter Wonderland
come to mind -- but one that's only gained more relevance during the online music era. With apologies to Tracy Morgan's
from recently departed
NBC
(CMCSA) - Get Comcast Corporation Class A Report
sitcom
30 Rock
, a niche holiday single has far more legwork to do in a music industry where visual media plays a huge role in pushing the next big novelty hit.
In the wake of
Monster Mash
, just about everyone wanted a piece of the holiday action. Each Saturday before Halloween, DJ Rex Doane at Jersey City, N.J.-based WFMU reminds listeners and music scholars of this by sifting through his mausoleum of 45s and playing some long-forgotten holiday fare on the station's
show. The playlist for
was dotted with gems including The Fortunes'
The Ghoul In School,
Gene Moss'
Surf Monster
and Velvet Underground alum John Cale's
Shock Hop.
Thrown into the mix were a few tracks more recently released by Brooklyn-based independent and reissue label Norton Records. Co-owned by Cramps drummer and A-Bones singer Miriam Linna, Norton counts songs like T Valentine's
The Vampire
and The Del-Aires'
Zombie Stomp
among a library that includes work by Hasil Adkins, Link Wray, Gene Vincent and Rudy Ray Moore.
That's a firm backbone and a nice bit of nostalgic holiday listening, but it's been more than 30 years since just cutting a single was enough to make a song a must for a holiday playlist. Thank Michael Jackson and director John Landis for that development. While it's tough to think of the title track of a multiplatinum album and pillar of modern pop music as a "novelty," a song ostensibly about horror movies and featuring a Vincent Price spoken word bit about how "grisly ghouls from every tomb are closing in to seal your doom" is only separated from the above 45s by Jackson's talent and the recording's production values.
Thriller
wasn't released until late November of 1982, while Landis'
for the title track featuring scary movies, zombie dance numbers and Jackson as a werecat didn't appear until that December. That didn't stop "Thriller" from becoming a Halloween favorite or, decades after its release, making
highly choreographed "Thriller" zombie flash mobs
a staple of public Halloween events around the world.
Thriller
and Weird Al Yankovic's reaction to it set the standard for novelty songs that exists to this day. Where they were once relegated to radio and specific programs like the
Dr. Demento Show
, novelty recordings could reach a huge audience just by including some visual aids. Even as music migrated off of terrestrial radio and music videos were exiled from
MTV
(VIA) - Get Viacom Inc. Class A Report
, the combination of a goofy single and an equally entertaining video was still enough to get your song a few plays. While Patrice Wilson's trite, train-of-thought earworms of questionable musical merit including Rebecca Black's
Friday,
Nicole Westbrook's
It's Thanksgiving
and Alison Gold's
Chinese Food
made money for ARK Music Factory and Pato Music World, novelty tracks are far more effective when the songs behind them have even a baseline of quality and the videos are worth more than an occasional hate watch.
This is where Psy comes in. There were any number of Halloween costumes -- from suited, sunglasses-clad Psy himself, his would-be garage dance-off partner, his crew of sexy ladies, etc. -- culled from the Korean rapper's horse-dancing, toilet-sitting, car-flashing video for "Gangnam Style." While the song alone isn't really much of a novelty, its beat, its dance and its video's genuine, engrossing weirdness placed it in the U.S. cult canon.
Google
(GOOG) - Get Alphabet Inc. Class C Report
CEO Larry Page called "Gangnam Style" a "glimpse of the future" as Psy was able to make a bonafide bankable hit through a video/download approach that had since been reserved for lesser novelties such as
The Bed Intruder Song
or Rebecca Black's
Friday
. It didn't take airplay or major label backing to be a hit -- it just needed to catch people's attention, hold it and let the $1.2 million he made from YouTube pageview royalties alone roll in.
It also didn't need to strategically drop into U.S. listener consciousness at just the right moment or even be related to Halloween at all to be a holiday hit. Psy one-upped the King Of Pop by sneaking into Halloween without donning a costume any scarier than that worn by a pop star in just about any other video.
This year's Halloween novelty of choice not only draws a direct lineage from
Gangnam Style
, but it owes Psy a tremendous debt. Merge Psy's beat, the mindlessness of the Wilson songs and a costume party that would make the
Monster Mash
writers proud, and you basically have Ylvis'
The Fox (What Does The Fox Say).
Not only has the Norwegian duo's video been seen by roughly 148 million people, but its animal costumes and childhood creature noises are
at Amazon and Spirit Halloween.
The shift from dance-crazed movie monsters to electronic-dance-music-mocking woodland animals over the last half century doesn't seem like a whole lot of growth, but in niche music terms it's just the same fun in more modern costumes. The venue has changed, but the Halloween dance party is still on.
-- Written by Jason Notte in Portland, Ore.
>To contact the writer of this article, click here:
Jason Notte
.
>To follow the writer on Twitter, go to
.
>To submit a news tip, send an email to:
.
RELATED STORIES:
>>Why Tampa Bay Bucked NFL Blackouts
>>Hip-Hop's Golden Age Is A Moving Target
>>The United Playlist Of America
Jason Notte is a reporter for TheStreet. His writing has appeared in The New York Times, The Huffington Post, Esquire.com, Time Out New York, the Boston Herald, the Boston Phoenix, the Metro newspaper and the Colorado Springs Independent. He previously served as the political and global affairs editor for Metro U.S., layout editor for Boston Now, assistant news editor for the Herald News of West Paterson, N.J., editor of Go Out! Magazine in Hoboken, N.J., and copy editor and lifestyle editor at the Jersey Journal in Jersey City, N.J.