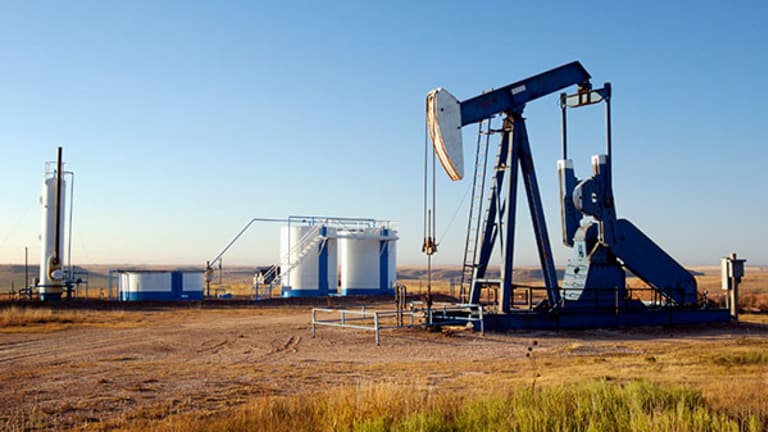 Halliburton Stock Is Not Done Climbing After China Partnership Deal
With this deal, Halliburton immediately becomes more diversified and no longer has to rely on North American production weakness and other parts of the world.
NEW YORK (TheStreet) -- Shares of oil services giant Halliburton (HAL) - Get Report have performed well for investors. After beginning the year with 40% gains in its trailing 12 months, Halliburton has burned non-believers with year-to-date gains of 42%, outperforming the energy sector's 14% gain.
The stock closed Thursday at $70.35, just a few percentage points away from its 52-week high of $71.94. And the stock charged ahead further Friday, to $70.72 as of 11:45 a.m.
With second-quarter earnings due out Monday, investors want to know whether Halliburton has finally reached its ceiling. From where I sit, I don't believe it has.
5 Biggest Amusement Park Chains of Summer 2014
Why For-Profit Education Institutions Should Be Sent to Detention
eBay Is Smartly Treating StubHub Like Uber
White House Push to Stop U.S. Companies Moving Overseas Unlikely to Bear Fruit
In fact, with Halliburton's recent joint venture with Petrotech (Xinjiang) Engineering, a subsidiary of SPT Energy Group, Halliburton shares are now significantly discounted. The company's long-term growth projections now support a fair value of around $82, or 15% higher.
With this deal, Halliburton immediately becomes more diversified and no longer has to rely on North American production weakness. Although North America has drastically improved, Halliburton relied on 50% of its revenue from North America. That left it too susceptible to macro headwinds. With this deal, the story has now changed.
The new combined entity will be called Xinjiang HDTD Oilfield Services. It will conduct hydraulic fracturing and production enhancement operations to benefit from strong oil and gas reserves in Xinjiang, a Chinese province.
Given Petrotech's efficient upstream capabilities, this presents Halliburton with another revenue stream from exploration and production activities. What's more, Petrotech operated the Tarim oilfield for 20 years -- which minimizes the risk of failure.
But there will be challenges. This deal puts Halliburton toe-to-toe against Weatherford International (WFT) - Get Report, a Switzerland-based oilfield service provider that struck a similar deal with China's Sinopec Group.
Although larger rival Schlumberger (SLB) - Get Reporthas its own joint venture with Cameron International (CAM) , Schlumberger may now feel pressured to form a similar partnership to exploit China's willingness to develop unconventional oil reservoirs. Schlumberger has shown it has the technology to do it.
For that matter, Baker Hughes (BHI) shouldn't be far behind, given China's sudden urgency to extract tight oil and shale gas. China is looking to lessen its dependency on coal and duplicate American production success in fracking in areas like the Eagle Ford and Marcellus shale plays.
Halliburton understands that this is a major profit opportunity. And with the company owning 49% of the joint venture (to SPT Energy's 51%), success could help Halliburton catch up with Schlumberger and create more separation between itself and Baker Hughes.
To that end, Halliburton predicts production of around 50 million tons of oil equivalents by 2025. This may seem aggressive, but I think it's doable. The total production output for the Xinjiang province is projected at 100 million tons. That's around a third of the oil production in all of China.
Given Halliburton's drilling capabilities and Petrotech's 20 years in the area, the joint venture is not starting from scratch. And as time goes by, investors should expect these figures to be revised upward to reflect both production and efficiency improvements.
GM Leases Are The Post-Recall Bargain
Why Apple's Technicals Trump the Fundamentals
Here's Why the Roof Hasn't Caved in on Health Insurers Under Obamacare
For investors, it's hard to not like this company, especially with the Halliburton in the midst of a $3.3 billion stock buyback program. All told, there's still plenty of upside left in this stock for investors looking for a strong energy play.
At the time of publication, the author held no position in any of the stocks mentioned.
This article represents the opinion of a contributor and not necessarily that of TheStreet or its editorial staff.