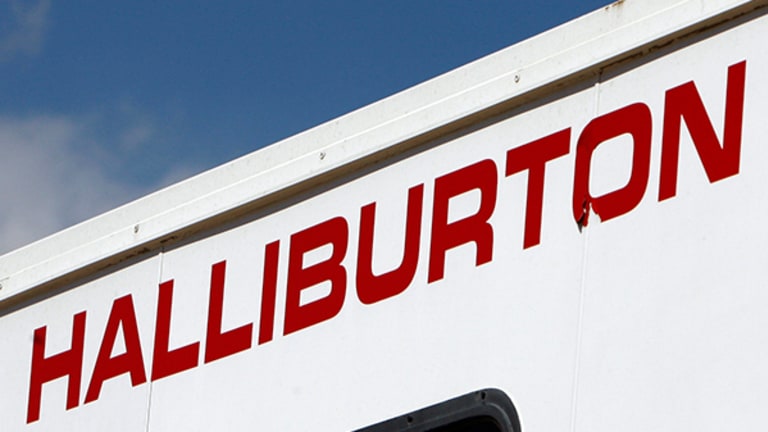 Halliburton Results Delay Portends Baker Hughes Deal Breaking Down
The move could also mean that it's buying time to round up a buyer for some of the companies' assets before the April 30 merger deadline, analysts say.
The delay in the full release of Halliburton (HAL) - Get Halliburton Company (HAL) Report  first-quarter earnings could portend the cancellation of the $35 billion acquisition of Baker Hughes (BHI)  or an asset sale that would appease regulators who are against the deal, analysts said Monday.
Halliburton said Friday after the market closed it postponed its earnings release and conference call until May 3 because of the upcoming April 30 merger deadline, after which time the two companies may continue to seek regulatory approvals or terminate the deal.
Earlier this month, the Justice Department filed a lawsuit challenging the merger of the two Houston oilfield services giants, saying it would result in less competition for 23 products and services and thus higher prices for oil and gas producers. The November 2014 agreement calls for Halliburton to pay Baker Hughes $3.5 billion if it walked away from the deal.
Analysts at Tudor, Pickering, Holt called the earnings postponement a "curve ball," saying they don't think Halliburton would have delayed its first-quarter earnings call until after the April 30 deadline, if it felt good about the likelihood of the merger eventually being consummated. It is also telling, they said, that the company decided to reduce infrastructure previously maintained in anticipation of Baker Hughes acquisition. "This protracted HAL/BHI saga is nearing an end," they said.
Bill Herbert, an analyst at Piper Jaffray unit Simmons & Co. International, agreeds that Halliburton's infrastructure pullback may foreshadow the attempted merger's dissolution. But he notes that the company contends that it doesn't see a scenario currently in which it would need the assets "due to the grossly overcapitalized state of the industry."
Analysts at Seaport Global Securities believe the conference call delay indicates that Halliburton is working to reach a definitive sale agreement with a prospective buyer for the assets it wants to sell to placate regulators' concerns over its proposed Baker Hughes merger. "The market seems to think the odds of completing the merger are low, based on the widening deal spread, but it is not dead yet," they said.
The company did give a glimpse of its first-quarter results, saying sales fell 17% to $4.2 billion, due to disruptive market conditions caused by lower oil prices, noting that U.S. rig counts reached a record low and the worldwide rig count slid 21% to the lowest level since 1999.
Halliburton also said it cut 6,000 jobs in the first quarter, up from its original estimate of 5,000, and that it's taking a $2.1 billion restructuring charge for asset write-offs and severance costs.
"Life has changed in the energy industry, especially in North America, and over the past several quarters we have taken the steps to adapt to that fact," Halliburton chairman and CEO Dave Lesar said in a statement. "Operators globally are under immense pressure and many of our North America customers are fighting to maintain some value for their shareholders. Our goal is to work with those customers to get through these tough times."

Lesar said, while job cuts and reduced infrastructure spending are necessary, they will cause second-half production declines this year.
"But even when operators feel better about the markets, they will still face issues of balance sheet repair and we believe they will be cautious in adding rigs back," he said. "As activity levels recover, we believe there will be a structural shift to lowering cost per barrel of oil equivalent through more collaborative business models with service providers, more aggressive application of our industry-leading technologies and less duplicative costs."

Halliburton also said its head of investor relations, Kelly Youngblood, left after 27 years with the company to become CFO of another company. He's being replaced by Lance Loeffler, who has been vice president of corporate development since 2014.
Simmons' Herbert said Halliburton's pre-released results seem to coalesce around earnings of 4 cents per share, in line with the Street and a penny better than its own 3 cents per share expectation primarily due to materially lower corporate expense. He said Halliburton remains one of its top picks in the oil service sector, although at current oil prices, "one has to embrace an increasingly assertive, but nonetheless tenable, oil price deck in order to commit capital." He said Baker Hughes, on the other hand, is a considerably more "adventuresome stock where the range of outcomes is wide."
Analysts at the KLR Group boosted their first-quarter earnings estimates to 8 cents vs. 3 cents previously (excluding the reported $2.1 billion restructuring charge). They also kept their buy rating on the stock given the company's large size and liquidity; exposure to North America, which should be the first region to increase activity in a recovery; favorable risk/reward at current prices compared with its mid-cycle valuation; recent cost-cutting and streamlining that may lead it to emerge stronger with an upturn in activity; and the possibility that the Baker Hughes deal wouldn't consummate, which would remove uncertainty around the stock.
TPH said the company's North America results in particular -- with sales down 17% and completions activity down less than 10% -- will prove to have fared much better than those of its competitors, reinforcing why the analysts view Halliburton's stock as the easiest way to play the firm's thematic preference for exposure to companies with North American well-completion businesses during the oilfield services industry's next upcycle.