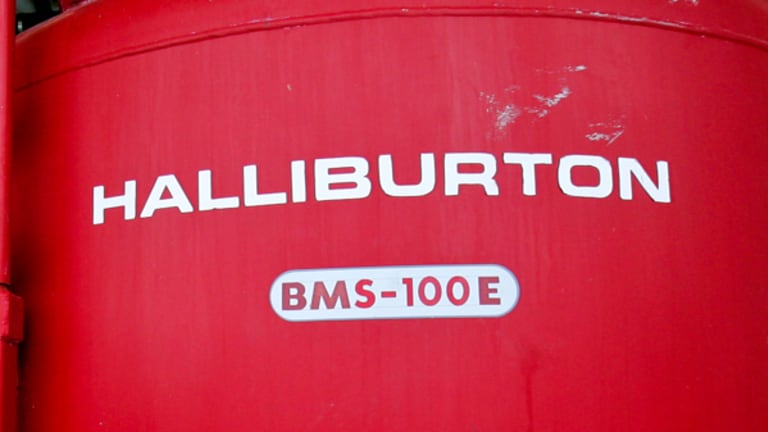 Halliburton Faces Numerous Divestitures to Acquire Baker Hughes
A blockbuster deal between energy companies Halliburton and Baker Hughes may yield sales of revenue-generating assets that may help these companies.
NEW YORK (TheStreet) -- If Halliburton (HAL)  stands any chance of completing its proposed $34.6 billion deal to acquire Baker Hughes (BHI) , it will have to divest assets that generate up to $7.5 billion in revenue, a massive fire sale that could create compelling strategic opportunities for rivals such as Weatherford International (WFT) and General Electric (GE) .
Regulators are likely to force a combined Halliburton-Baker Hughes to divest of some open-hole completion systems, stimulation and formation-evaluation assets thereby ceding space to Dublin-based Weatherford, which already holds considerable market share in artificial lifts and casing and tubular services. 
General Electric could be interested in buying other services and equipment, considering that exploration and production companies need all the operational efficiencies they can get during a down market. 
Lorenzo Simonelli, president of GE Oil & Gas, is a strong advocate for advanced technology equipment and services that serve the oil and gas industry. This could prompt General Electric to vie for those assets that may be divested in order to minimize anti-trust concerns. Those assets will likely come from pressure pumping, cementing and completion sub-groups.
Keep in mind there are many layers to each of these businesses, so asset sales shouldn't be seen as a true exit strategy. That's something which makes regulatory scrutiny even more interesting despite Douglas Baker from Bank of America not seeing potential divestitures as a deal breaker.
Since Halliburton's deal for Baker Hughes deal is not expected to close until the second half of 2015, Schlumberger (SLB) , the leader in the oil services space, may offer investors less share price volatility.
Cost synergies for the deal will take time to realize, but they should not be seen as a slam dunk. This was a sentiment echoed this morning by Wells Fargo energy analyst Judson Bailey.
"When also factoring in the fundamental risk to the oil service sector with the recent decline in oil prices as well as the unknown regulatory risk, we would note that transaction would also provide significant challenges to HAL's management," Bailey said.
On the question of divestitures, Bill Herbert, analyst at Simmons and Company told Bloomberg, "The fracking overlap is going to invite some scrutiny. It's safe to say the Justice Department scrutiny of this deal is going to be pretty deep."
Many remain skeptical that this energy deal could see the light of day, but the large forthcoming divestiture -- and massive $3.5 billion breakup fee due to Baker Hughes if the deal falls apart due to regulatory problems -- shows Halliburton has confidence the transaction will move forward.
Considering Halliburton was meeting with the Department of Justice today, it's sure to be doing whatever is necessary to get the deal done.
That's enough to spook some investors who think they will lose some precious assets during the merger process.
At the time of publication, the author held no positions in any of the stocks mentioned.
Follow @bluephoenixinc
This article is commentary by an independent contributor, separate from TheStreet's regular news coverage.