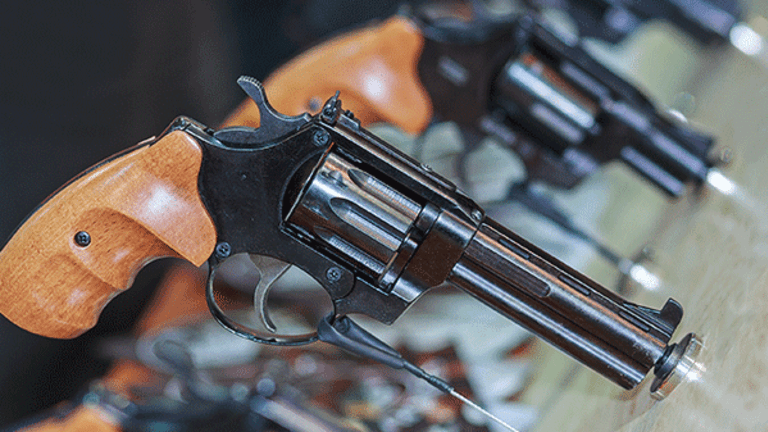 Gun Stocks Plummet on Sales Decline; Insurers Rebound to End the Week - ICYMI
Here's what you need to know now for Friday, September 8.
The week came to a tepid end on Friday as markets closed mixed ahead of Hurricane Irma's landfall this weekend on the continental United States.
While the hurricane remained the dominating headline, a trickle of earnings provided fodder for the diehard investors looking to trade some news. Most notably, and perhaps not surprisingly with a Republican-led White House, American Outdoor Brands Corp. (AOBC) - Get Free Report , formerly Smith & Wesson, tumbled 17% after a disappointing first quarter. The gunmaker saw revenue dip almost 40% and missed estimates by roughly $20 million. Things aren't expected to get better as American Outdoor anticipates sales no higher than $150 million, about $24 million off the mark Wall Street was looking for.
The company said a weaker first quarter "reflected lower than anticipated shipments in our Firearms business, consistent with a softening in wholesaler and retailer orders." Concerns over weak gun demand sent industry peers lower, including Sturm Ruger & Co. (RGR) - Get Free Report , Sportsman's Warehouse Holdings Inc. (SPWH) - Get Free Report  and Vista Outdoor Inc. (VSTO) - Get Free Report .
While gun sales sank the manufacturers, insurance stocks made a comeback on Friday after days of steep losses. Travelers Cos. (TRV) - Get Free Report  was one of the top performers on the Dow after heavy losses earlier in the week. The stock rose nearly 4%. Other property and casualty insurance providers such as American International Group Inc. (AIG) - Get Free Report  and Allstate Corp. (ALL) - Get Free Report  were also higher.
Elsewhere on the insurance front, TheStreet has uncovered a relatively unknown, yet potentially astronomical, deductible for hurricane insurance in 19 states and the District of Columbia. While each individual state and all the insurers have a different set of rules governing when the higher deductible is activated, these states and D.C. may be forced to shell out thousands of dollars before repairs can be made.
This is an excerpt from "In Case You Missed It," a daily newsletter brought to you by TheStreet. Sign up here.

Photo of the day: Are you ready for some football?
 Are you ready for some football? The National Football League kicked off the 2017 season on Thursday evening and a full-slate of games (sans a contest between the Miami Dolphins and Tampa Bay Buccaneers, for obvious reasons) will kick off this Sunday. The major networks, CBS Corp. (CBS) - Get Free Report , Walt Disney Co.'s (DIS) - Get Free Report ABC/ESPN and 21st Century Fox's (FOX.A) Fox will all get a shot to air games, as nontraditional media companies, such as Twitter Inc. (TWTR) - Get Free Report and Facebook Inc. (FB) - Get Free Report also come into the fray. It wasn't always such a crowded space and for the very first Super Bowl in 1967, both ABC and NBC were permitted to simultaneously air the contest, which was held at the Los Angeles Coliseum, the current home of the USC Trojans and at least for now the Los Angeles Rams. Above is a shot from the CBS broadcast booth from the game featuring Jack Whitaker (left) and Frank Gifford.
Read more from "In Case You Missed It." Sign up here.
More of What's Trending on TheStreet:
Working Mothers Shouldn't Feel a Twinge of Guilt
Stick with TheStreet for updated storm coverage as Hurricane Irma moves the market:
Hurricane Irma: What Kind of Insurance Should You Have?
Hurricane Irma Will Make Orange Juice Unaffordable and Destroy Your Grocery Bill
Hurricane Irma: How Floridians Are Using Tech, Apps to Prepare for the Big Storm