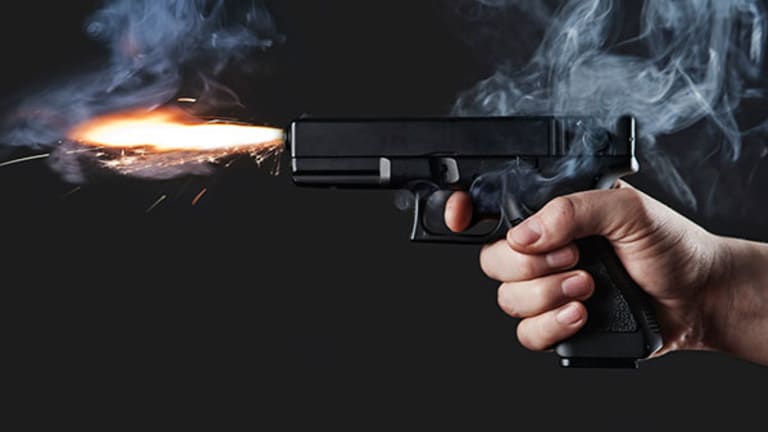 Gun Sales Are Spiking, Thanks in Part to Women
More women are buying firearms, which can explain a recent spike in sales.
More women are buying firearms than ever before, according to industry experts, thanks to an increased interest in self defense, marketing and surprisingly, target shooting.
"Clearly in the last two years there's been a surge in women purchasing firearms," said Jeff McClure, CEO of Freedom Capital Investment Management, a group that McClure said invests in companies that enhance the security and freedom of the United States, including the firearm industry.
"The industry is now marketing to women more," he added. "Both are intertwined. The more people of a certain demographic to purchase a product, the more marketing there is and vice versa."
More women are purchasing guns as a means for self defense, said Michael Bazinet, Director of Public Affairs at The National Shooting Sports Foundation He added that many women are also buying guns for self defense.
These women are part of a larger trend in the United States - as debate surrounding gun violence in the United States has increased, so too have gun sales, according to industry experts. "When elected officials and those seeking office start talking about stricter laws, there is an increase in the public going out and purchasing firearms," Bazinet said. "It's a trend we have seen for a long time."
In addition to marketing and self defense, women are becoming more active in target practice, with some using it for hunting as well.
"The entry of new people into the shooting sports has been on a steady increase for more than a decade now," said Bazinet. "There are increasing numbers of women who enjoy target shooting." According to the foundation, retailers estimated that 20% of their shooting and hunting-related sales were attributed to women, up from 15% in 2010.
"Nowadays most retailers and ranges offer things like ladies night shooting, more firearms instructors who are women," Bazinet said.
McClure agreed.
"Clearly we have seen a surge in firearm purchases when there's a sense that the industry is under regulatory pressure," he said. "When governments try to enact stricter regulations, firearm sales increase."
In the United States, there have been 274 mass shootings - that is, an incident in which four or more people were shot and killed - in 2015 so far, according to the Gun Violence Archive, a group that compiles data on gun violence in the United States.
The largest in recent memory was the Umpqua Community College shooting, on Oct. 1, in which a lone shooter killed 10 people, including himself, and injured nine others.
While most major firearms stocks dipped the next day, they have since bounced back, even as many politicians continue to call for stricter gun control.
According to the Small Arms Survey, there are approximately 2,288 US-based producers of civilian firearms. The largest of these include Sturm, Ruger (RGR) - Get Sturm, Ruger & Company, Inc. Report , Remington Arms Company and Smith & Wesson Holding (SWHC) .
Though Sturm, Ruger saw sales decrease in its second quarter to $277.8 million, down from $323.5 million in the year ago period, other companies have reported financial success in the past year, even as the debate around gun control increases. A representative from Sturm, Ruger declined to comment.
Smith & Wesson, for example, saw fiscal first quarter revenue rise to $147.7 million, up from $131.9 million in the same time frame a year ago.
Olin Corporation (OLN) - Get Olin Corporation Report , which manufactures ammunition among other products, saw a 2015 second quarter earnings increase -- to $42.3 million, up from $36.6 million in 2014. A representative from the company declined to comment.
Even as firearm and ammunition stocks continue to succeed, there is a trend of money managers choosing to invest their money elsewhere.
Calpers, the California agency which manages the benefits of more than 1.6 million public employees in the state, sold its investments in Smith & Wesson and Sturm, Ruger in 2013.
The Campaign to Unload specifically advocates for divestment in the firearms industry. According to the group's site, since launching the campaign, 10 hedge funds and money managers have completely divested in firearm holdings.
"It's caused a lot of investors to inquire if their retirement accounts or their pension funds are invested in firearms," board member Leah Gunn Barrett said. "Right now we're working with University of California to unload their gun stocks from their endowment. If something like that happens, you'll see a snowball effect."
This, according to McClure, is where a group like Freedom Capital has the chance to succeed.
"As managers of money try to steer investments away, it creates opportunities for us to get good deals because not everyone is looking to buy stock in the firearm industry," McClure said. "There's a trend of social investment, those with capital have a mission nowadays. That creates for us a contrarian investment opportunity."
He added that investing in the firearm industry also does some good.
"Remington and other stocks like it keep the boys alive overseas, and we're not the only ones seeing that," McClure said.
Even as companies push to divest, there are certain groups in the U.S. that are buying more firearms. Overall, one third of U.S. households own guns, according to the Pew Research Center. That's down since the 1970's, when approximately 50% of U.S. households owned guns, according to Gunn Barrett.
"It's a smaller percentage of Americans buying them," Gunn Barrett said. "But they're stockpiling them."