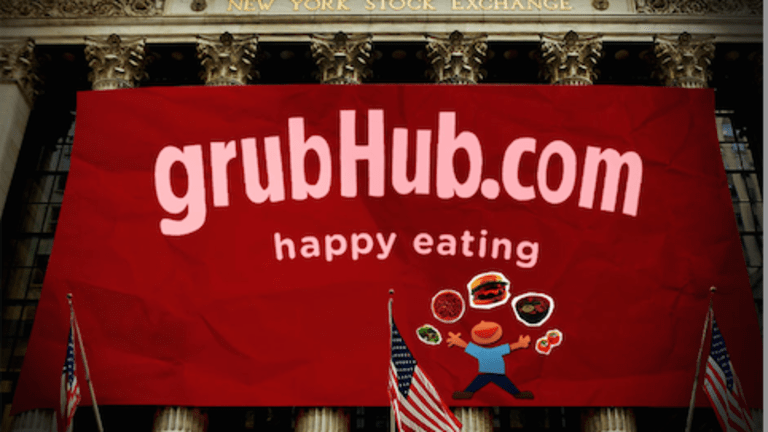 GrubHub Offers Appetizing Opportunity for Bullish Breakout
Online food delivery service is set to deliver you future gains.
NEW YORK (TheStreet) -- Online food delivery service GrubHub (GRUB) - Get Report is near its first-year anniversary as a public company and, based on technical analysis, is approaching a breakout that offers a good risk-reward buying opportunity.
GrubHub debuted on the open market on April 4 at $40. Since that time, the stock has stayed within a range of $29.99 to $45.80. At the close on Wednesday, the stock was at $42.92. It's up about 6% percent over its 11-month trading period.
During that time, the S&P 500 Index Fund, I:GSPC, which tracks 500 large U.S. publicly traded companies and acts as an overall market barometer, has appreciated a similar amount, about 8%. Since December, however, GrubHub has been outperforming the S&P 500, as can be seen on the correlational chart below (the blue arrow indicating the upward momentum of GrubHub versus the S&P 500).
Since the start of this year the broader market has been flat to down, posting almost a 1 percent loss as of Tuesday's close while GrubHub is up almost 18%. 
The chart below is a daily chart of GrubHub from its IPO debut until now. Technical traders view the chart below to be in a bullish (upward) trend based on the 20-day (orange line), 50-day (blue line) and 200-day (yellow line) moving averages all pointing up. A moving average is a mathematical result that is calculated by averaging a number of past data points (in this case, closing prices each day for the last 20, 50 and 200 days respectively). This data point smoothed out on a chart allows technical analysts to view the overall trend of a stock (up, down, sideways) for the given time period they are focused on. On all three time frames below, there is an upward slope to those moving averages.
The stock is only about $3 from its all-time high, where it traded on two separate occasions. Typically, a stock that gets to a significant level more than two times will break that level and go either much higher or lower depending on the direction of the trend. In this case, a break of the all-time highs at $45.80 would be considered a bullish breakout and bring in trend followers seeking more returns, which would send the stock higher. 
Moreover, the lower panel of the the chart above depicts the volume that GrubHub trades on a daily basis. There has been a noticeable increase in volume over the course of the stock's life and larger volume on up days (green bars) versus down days. This is a sign that the stock is under accumulation by institutional funds.
Finally, although the technical thesis for buying GrubHub stock is sound, the company recently posted better-than-expected earnings and acquiring two new competitors have increased its forward guidance. GrubHub is a buy with a stop-loss at $38. 
---
For more information on options trading and education visit SassyOptions.com
This article is commentary by an independent contributor. At the time of publication, the author held was long on September call options for GRUB.