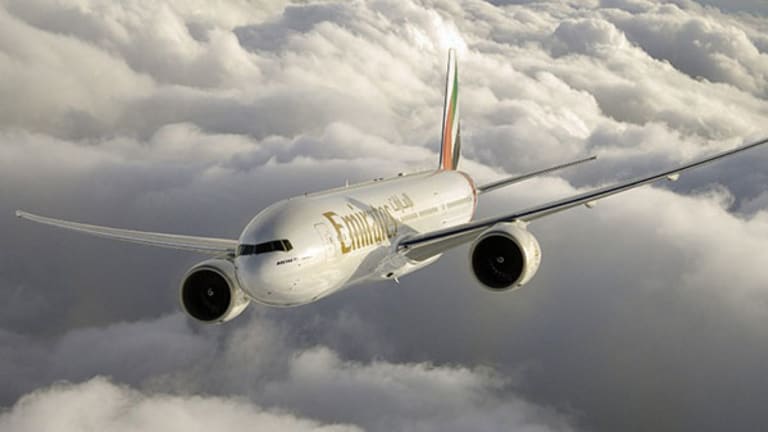 Growth at Emirates Airline Shows Need for US Airways/AA Merger
Emirates Airline's rapid expansion shows the Justice Department is fighting the last war in opposing a US Airways/American merger.
BOSTON (
) -- In its battle to prevent
American
( AAMRQ) and
US Airways
(LCC)
from merging, the Justice Department is fighting the last war.
Want proof? Consider
Emirates' Airline's
recent announcements that it will begin Milan-New York service in October and Dubai-Boston service in March, two more indications of Emirates' breathtaking growth.
The two new flights underscore flaws in U.S. aviation policy, or lack of it, and in particular flaws in the Justice Department's effort to halt the planned merger, which would create a third U.S. carrier able to compete not only with
Delta
(DAL) - Get Delta Air Lines, Inc. Report
and
United
(UAL) - Get United Airlines Holdings, Inc. Report
, but also with expanding international carriers.
The Dubai-based carrier will provide passengers at Boston Logan International Airport with another option to reach dozens of international destinations, a benefit for them. Its Milan-New York service will add a fifth option on a route that appears to have ample service. That may be good for somebody, but it is unclear who.
"Emirates is getting bigger and bigger," said Merrill Lynch analyst Mike Linenberg in an interview. "I look at the growth in China and I see the growth of Middle Eastern carriers, and then I see that the U.S. government has come and said to American 'You guys cannot get any bigger.'"
Read: Our Less Than Robust Bull Market Since May
In a recent report, Linenberg wrote that Emirates likely already carries the most traffic between the U.S. and India, having surpassed the level of connecting traffic enabled by the three alliances -- Oneworld, Skyteam, and Star. Each primarily connects U.S.-India travelers through European hubs.
"Today Emirates is carrying more passengers than U.S. carriers between the U.S. and India," Linenberg said. "They'll soon be No. 1 to Kenya and Malaysia, then No. 1 to Turkey. It starts adding up.
"How does US Airways or even American compete against Emirates or against a bigger China Southern in a three to five years?" he asked. "The rest of the world is running ahead. Delta and United are keeping pace, but we won't allow anyone else to catch up?"
In its objection to the American/US Airways merger, the Justice Department focuses on "more than 1,000" domestic routes where competition would diminish, due primarily to less competition on one-stop flights. The complaint does not even mention international flying, an indication that the department is fighting the last war, not the current one, as U.S. airlines increasingly shift capacity to growing and higher-yield international markets.
Read: Instagram: Facebook's Next Big Money Maker
"Major airline passenger demand has pretty much become segmented between low-yield and high-yield," said aviation consultant Sandy Rederer. "I think the DOJ has a strong case that a lot of low-fare passengers will pay more if the merger is completed, but the market dynamics are different for the high-fare passenger, domestic or international, who wants convenient schedules and good service. Delta and United pretty much dominate that market, where American once was a formidable competitor.
"DOJ may not care about the high-yield sector, but it's a big part of the business," Rederer said. And that is where U.S. carriers must be big enough to take on the likes of Emirates.
Emirates operates the world's largest fleet of
Boeing
(BA) - Get Boeing Company Report
777s, with more than 175 of them. It is the largest
Airbus
A380 operator, with 37 planes. It currently serves 134 destinations including seven in the U.S: Dallas, Houston, Los Angeles, New York, San Francisco, Seattle, and Washington.
On the Milan-New York flight, Emirates will compete with three airlines:
Alitalia
, American and Delta, in addition to United, which flies Milan-Newark. The Dubai-Milan-New York route is made possible by a bilateral treaty between the United Arab Emirates and Italy, and by Italian regulators' agreement to grant Emirates "an extra-bilateral right," to fly the Milan-New York segment, despite objections by Alitalia.
Emirates has various advantages in competing with U.S. carriers. For one, it is backed not only by the Dubai government, its wealthy owner, but also by the U.S. government, which
buy Boeing aircraft with below-market interest rates provided by the Ex-Im Bank. Emirates pays less for Boeing airplanes than U.S. airlines pay, then competes with U.S. airlines for passengers, according to a suit filed by Delta, Hawaiian and the Air Line Pilots Association.
Additionally, the U.S. government has been prone to sign aviation treaties benefiting airlines in other countries more than they benefit U.S. airlines. Aviation consultant Robert Mann said: "For years, we've had an open skies policy that trades away access to the U.S. market for what amounts to nothing, in most cases, because we sign treaties with anyone who gives us open skies, even places with no internal traffic. Now, a couple of fast-growing carriers are maximizing their take, due to open skies."
The combination of open skies treaties, Ex-Im financing, high airline taxation and the approval of three mergers followed by rejection of a fourth shows that "we lack a coordinated air transportation policy," Mann said. "In some cases there is no evidence of any policy, and in other areas there is evidence of a lack of a coordinated policy."
-- Written by Ted Reed in Charlotte, N.C.
>To contact the writer of this article, click here: