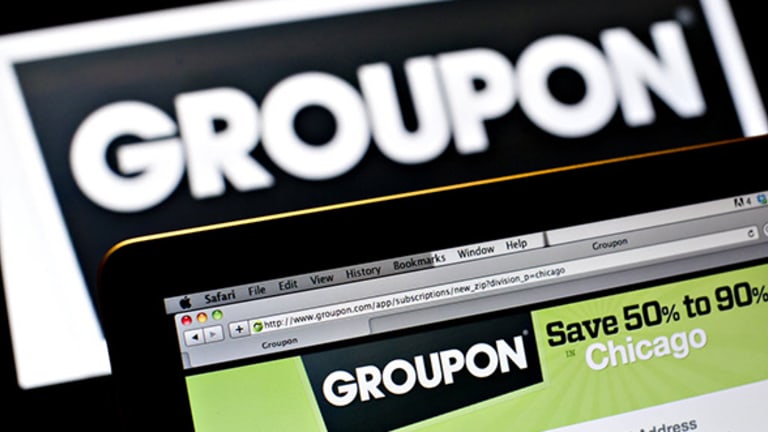 NEW YORK (TheStreet) -- For a company that's supposed to be on its deathbed and still reeling from yet another alarming outlook, Groupon (GRPN) - Get Groupon, Inc. Report is a remarkably successful organization. Sales and income are growing, and are projected to keep doing so. The stock's up more than 40% since as well, and remains in an uptrend. And yet, investors and analysts remain pessimists. That may end up being a big mistake.
It's not something many -- if any -- investors thought would ever be said of Groupon back in 2012, when the stock was crashing in the midst of a day-of-reckoning with a bad business model. Therein lies the bullish rub. The Groupon of today isn't the Groupon of yesteryear. The current business model works, and more importantly, the current business model is one that can be scaled up profitably. That's something that couldn't be said in 2012.
What's really changed other than the replacement of founder and former CEO Andrew Mason?
Groupon has done a miserable job of keeping the investing public abreast of the turnaround efforts under CEO Eric Lefkofsky, who took the helm in June of 2013. But, there is a plan, and it is taking hold, even if few have noticed.
It's three-pronged, consisting of foreign expansion, more mobile advertising, and perhaps most importantly, a stronger focus on sales of physical goods and less of a focus on daily-deal coupons that makes the deals arm of the company more akin to Overstock.com (OSTK) - Get Overstock.com, Inc. Report.
The proof is in the numbers: 
While the trailing and projected results are compelling, pessimists will be quick to point out it was only in February that Groupon warned the current quarter's results would be sub-par.
Specifically, the online-deals outfit expected revenue somewhere between $790 million and $840 million for the first quarter of 2015, versus estimates of $856 million. The profit outlook wasn't exactly thrilling either, with a company's forecasted range from a break-even to two cents per share versus analyst estimates for a profit of two cents per share. An overinflated U.S. dollar was cited as the key reason for the discouraging outlook.
Investors weren't deterred -- and perhaps for good reason.
Groupon warned when it released its third quarter results in late-October that it was only looking to turn a profit of four cents per share in the fourth quarter, versus analysts expectations of seven cents at the time.
The numbers reported in August of last year were also accompanied by a weak outlook. Not only did that quarter's loss widen from one cent per share in the same quarter a year earlier to three cents per share, the company posted an EBITDA outlook of $50 million to $70 million for the next quarter, and a third quarter expectation for a profit of zero cents to two cents.
The fourth quarter's per-share income ended up being much better than the market was led to believe it would be at the end of the third quarter. The third quarter's  EBITDA of $67 million was at the very high end of the expected range, and the company ended up posting a profit of three cents per share.
Translation: Groupon is low-balling expectations.
It will still be a long while before Groupon's results catch up with the stock's price, and the stock's likely advance in the foreseeable future will only push that price-to-value parity further down the road. It doesn't matter. Growth has already materialized, and consistent net profits are in view. Groupon is quietly becoming the all-American turnaround story, and the market loves to reward redemption milestones as they're met.
This article is commentary by an independent contributor. At the time of publication, the author held no positions in the stocks mentioned.