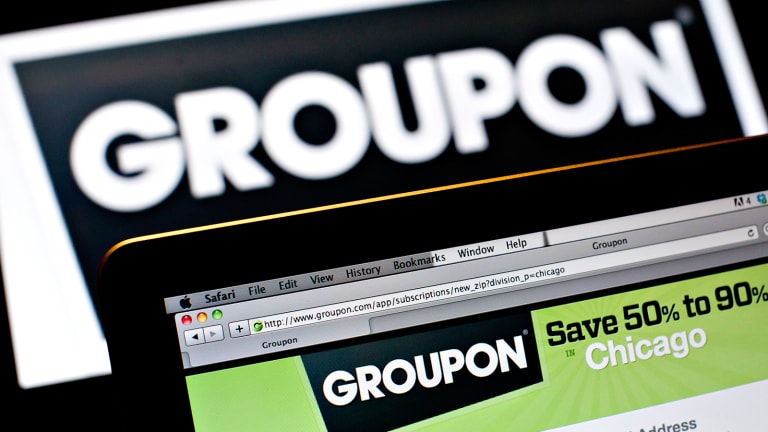 Groupon Stock Is Still a Raw Deal
Groupon's price-to-earnings ratio is still too high, given the restructuring costs the company will likely undertake. It's just too expensive now.
Shares of consumer deals company Groupon (GRPN) - Get Free Report have plummeted some 55% in 2015, including a 48% plunge in the past six months. And Groupon stock has been under pressure for quite some time. Investors who have held Groupon in the past one-year or three-year periods have seen, respectively, 36% and 21% of their investment disappear.
Groupon's third-quarter fiscal 2015 earnings results are due out after the closing bell Tuesday. And the stock is seeing increased interest, climbing 11% over the past month. But I wouldn't touch these shares with a 10-foot pole.
Though Groupon stock may appear attractivev today, things can still get worse, as the Chicago-based company has shown. And the likelihood of a worsening business environment is precisely what management has just signaled by shifting its focus.
To combat plummeting revenue and profits, Groupon in September announced plans to cut 10% of its workforce, which includes discontinuing business in as many as seven countries. It's true that a 10% reduction in headcount, or eliminating about 1,100 jobs, will save Groupon a significant amount in expenses. That could shore up its profits, especially amid periods of weak sales. Exiting underperforming areas -- including Morocco, Panama, the Philippines and Puerto Rico -- will drive long-term growth, Groupon suggested, allowing it to focus on its core businesses.
Long-term growth is the goal, but shrinking the business will likely cause further losses in the quarters ahead. These job cuts will costs the company money in compensation charges and other related payments. Restructuring expenses can be expensive; Groupon is likely to incur those to close these international operations.
This is not the first time Groupon has backed out of an endeavor it once piled money into.
Earlier this year, the company sold its stake in Ticket Monster for some $360 million, and also reached an agreement with Sequoia Capital to sell its Indian arm. And this was after Groupon had already exited Turkey and Greece. Since those transactions, the stock has gone nowhere but down.
What's going to be different this time?
Groupon is seemingly contradicting the international expansion strategy it spent so much money building, and it's making this move at the cost of near-term of profits.
With company earnings per share projected to be 13 and 18 cents, respectively, for fiscal years 2015 and 2016, investors are still paying a hefty premium for a stock despite its struggles. It's too expensive.
Assuming Groupon does earn 13 cents for the fiscal year, ending December, the stock is priced at 28 times forward earnings, 11 points higher than the average stock in the S&P 500undefined index. And if Groupon earned 18 cents in 2016, that price-to-earnings ratio is still 20, or three points higher than S&P 500 average stocks. Groupon's P/E is still too high, given the restructuring costs the company will likely undertake. And once the market realizes this, Groupon stock will be punished.
This article is commentary by an independent contributor. At the time of publication, the author held no positions in the stocks mentioned.