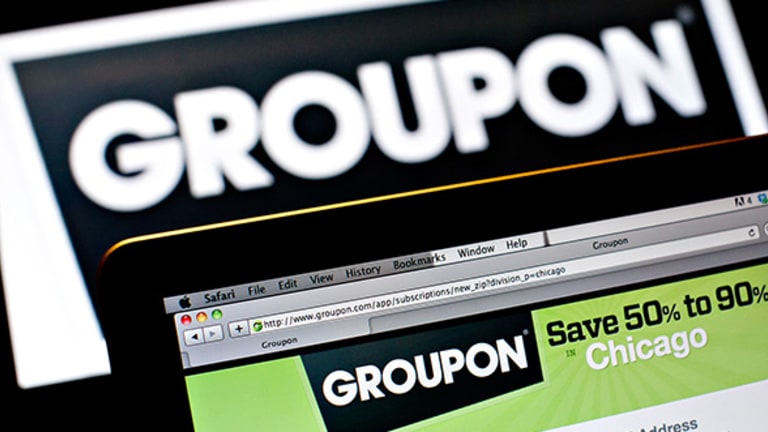 Groupon Can Yield 10% on Solid Earnings
How's this for a deal? Groupon's chart shows a possible short squeeze towards resistance at $4.30, creating a 10% spike on better-than-expected earnings report.
Online deals company Groupon (GRPN) - Get Report will report second-quarter earnings after Wednesday's market close. Unlike in previous quarters, the stock, which has risen more than 24% over the past month, no longer seems like a raw deal. Also, there's likely 10% more premium to be had on solid earnings results.
The company is pending tons of money each quarter to grow internationally and to shore up its core deals business with merchants. This means second quarter profits may not be spectacular. But that won't matter as long as Groupon beats on revenue and issues solid guidance.
Perhaps even more important, Groupon's high short interest level can create the double-digit squeeze investors seem to be betting on. Take a look below, courtesy of TradingView.
Groupon shares trade around $4. The stock has risen 27% year to date but is down 21% over the past year. This compares to 6% year-to-date rise for the S&P 500 (SPX) . But you would be hard pressed to find a hotter stock than Groupon over the past several weeks.
From the chart, you can the see the sharp move the shares have made post-Brexit, skyrocketing some 33% from under $3 per share to an intraday high on Tuesday of $3.96. The 6% quick rise from the 20-day average (blue line) at around $3.50 to $3.71 on July 18, which created a gap, was even more noteworthy because it happened on no news. All of this points to Gropuon's stock having more than 20% of its outstanding shares, or almost 53 million shares, being shorted.
By comparison, online marketplace company Amazon.com (AMZN) - Get Report only has 1.3% of its shares shorted, while eBay (EBAY) - Get Report has 1.8%. Unlike Amazon and eBay, Groupon -- with its shares down 85% in five years -- has been a safe haven for short-sellers. 
But Groupon is not the same company from five years ago or even three years ago. The chart shows a possible short squeeze towards resistance at $4.30, creating a 10% spike on better-than-expected report.
This article is commentary by an independent contributor. At the time of publication, the author held no positions in the stocks mentioned.