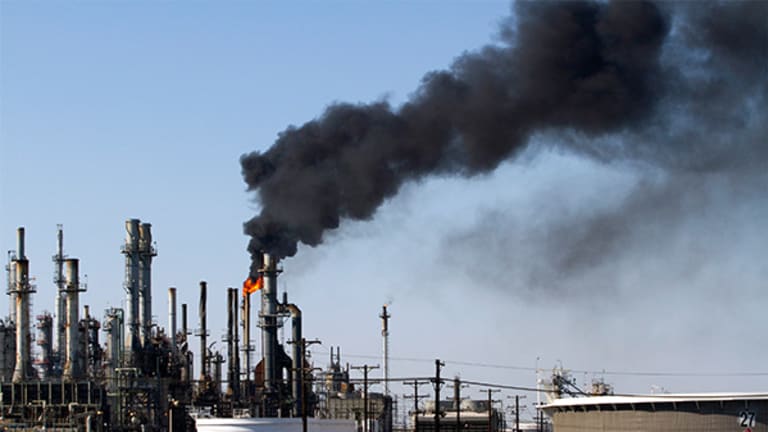 Green Victories Accumulate, Hurting Oil Stocks -- Jim Cramer, Dan Dicker
Several environmental victories alone may not signal much, but together trace out a major change in the political approach to fossil fuels.
A recent flood of victories have seemed to emerge for environmentalists and one wonders whether this is the start of a new push toward a sustainable, renewable global energy policy, or just a side effect of continuing very low oil prices. One thing seems to be sure -- the drumbeat against fossil fuels is growing louder.
First, in Canada, the election of Justin Trudeau to replace Conservative Stephen Harper represents a major blow for the oil sands industry. Trudeau campaigned on ending the progress of the Northern Gateway pipeline, an Enbridge (ENB) - Get Report project to move oil sands toward the east coast of Canada. If Keystone XL had any hope of progress, the election of Trudeau certainly puts the last nail in that coffin.
In Alaska, Shell (RDS.A) came up empty with its exploratory well last month and President Obama took the opportunity to cancel the remaining two auctions for Alaska leases on Wednesday. There'll be no Arctic drilling activity for many years to come.
Third, there is a new effort to start a Congressional inquiry into Exxon's private research about the effects of fossil fuels on climate change -- a "tobacco like" hunt for withholding information that affects public health.
Finally, in Paris, 10 European CEO's -- including from euro majors Total (TOT) - Get Report and BP (BP) - Get Report -- have met in prelude to the upcoming conference on climate change to add their support to arresting the negative effects of carbon.
These environmental victories alone may not signal much, but together trace out a major change in the political approach to fossil fuels -- and the possibility that a new moment of grappling with the long-term effects of carbon may be upon us, even in the midst of an election year.
It's also possible, as noted in my book, that it may be nothing more than an interesting byproduct of low oil prices, when some time and thought in the energy world can be devoted to something other than the fastest way toward expansion, extraction and profitability. Political candidates can be more environmentally attuned when oil company profits are depressed; Hillary Clinton's firm opposition to the Keystone pipeline in the midst of a global oil glut and sub-$50 price is evidence of that.
There is a universal distain for fossil fuels that is emerging and both politicians and oil companies are reacting to it.
It's so far tough to tell whether anything more substantial will be gained to add to these green victories, but one thing is sure: The oil bust that's upon us is likely to last for a lot longer.
This article is commentary by an independent contributor. At the time of publication, the author held no positions in the stocks mentioned.