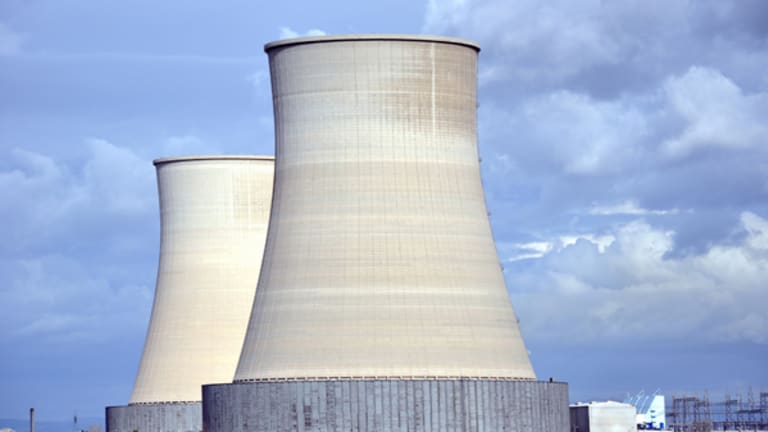 Green Appeal of Nuclear Means Hope for Burned Uranium Shares
There is a growing movement to reduce man-made carbon, something that may cause environmentalists to rethink the potential for this energy source.
NEW YORK (TheStreet) -- In a world struggling to find answers on the causes and effects of climate change, what's old may suddenly be new again in order to save Mother Earth. That could bode well for the nuclear sector especially if environmentalists truly want to win the war on carbon. In fact, if climate scientists are right, advanced nuclear power may very well help thwart a climate catastrophe, a growing reality which may cause the split environmental community on nuclear to rethink the future of this power source.
>>Read More: 5 Companies Warning on Global Warming Risk
With spot prices of uranium trading near the worst levels since the 2011 Fukushima disaster, investing in the space could be tricky. Tricky doesn't mean its necessary to avoid the space though. Rather it actually has me thinking investors need to focus on the uranium miners with the best cost profile and working capital needed to get over this slide in spot uranium prices which can turn on a dime and move higher, something I'm fully expecting. 
Prior to the 2011 Fukushima disaster, an event that was influenced by an earthquake, a tsunami and questionable management action, the price of uranium was trading north of $70 per pound. Since then prices or this power source have slipped on a banana peel and have yet to recover. With prices currently around $29 per pound, the time for this sector to get back on its feet is now. 
Whether it has been the Intergovernmental Panel on Climate Change climate report, the White House's aggressive National Climate Assessment report or a growing focus on West Antartic's inevitable ice sheet collapse, there is a fever pitch of clamors happening to support clean energy and the action needed to reverse global warming. This may bode well for nuclear power since electricity produced from uranium produces no emissions.
So where do we go from here? President Obama has basically declared a war on coal, Congress has for now at least killed to Keystone XL Pipeline, Florida has given state approval for two new reactors at Turkey Point, solar and wind power are still intermittent sources of power and Japan, yes Japan, may be about to finally restart nuclear reactors to avoid further blackouts and electricity price appreciation post the Fukushima nuclear crisis. 
Plus, the outlook for small modular reactors (SMRs) may not be so gloomy as some may suggest despite Babcock' & Wilcox (BWC) cutting its funding for mPower reactors and laying off over 200 workers. NuScale Power, the other company that was granted a cost-sharing agreement to design SMRs with the Department of Energy, isn't cutting back. In fact, NuScale, a Fluor Corp. (FLR) backed company, is actually expanding.
Therefore at a time when growing opposition to man-made carbon is becoming more mainstream, even being featured in Director James Cameron's Showtime documentary Years of Living Dangerously, the bullish case for uranium could be about to form again. This may lead environmentalists to rethink any previous pessimism for tapping nuclear power as a clean energy source. 
A more positive bias toward nuclear power may lead to an increased interest in M&A in the sector considering mining company valuations are down dramatically at a time when longer-term upside looks strong, especially if we truly intend to lower carbon output. 
If that's really the case, patient investors may do very well to check out the Global X Uranium ETF (URA) which is off 22% from the March highs of $19.57. Technically the URA has strong support at $14. Also, investors seeking value plays should consider getting long depressed uranium stocks such as Energy Fuels (UUUU) , a stock off 43% from its 52-week high of $11.85 seen in mid-March.
Mining costs will create a new survival of the fittest for uranium miners during this weaker price environment and that bodes well for Energy Fuels considering the miner, which counts Korea Electric Power and Japan's Sumitomo as strategic partners, has a strong working capital position of roughly $43 million. It's worth noting that Sumitomo seeing the potential for long-term capital gain, kept its 40% JV stake in Energy Fuels' Roca Honda New Mexico project (acquired in Strathmore takeover deal) rather than bail on the project post Fukushima. 
Additionally, Energy Fuels is set nicely to ride out the uranium pricing storm better than many of its rivals considering they presently possess long-term uranium contacts (two U.S. and one South Korean) priced at north of $58 per pound. That's a full 100% more than the spot price.
Consider this, many uranium miners, including Energy Fuels, are simply not looking to enter into new long-term contracts with prices so low. This could lead to a short-squeeze in spot uranium prices since miners may look to more cheaply fulfill utility demand rather than simply sell there valuable uranium assets at fire sale prices. This last point gains even more credibility at a time when global demand for energy is rising dramatically and 72 new nuclear reactors are now under construction around the world. 
Speaking of the spot price, another thought to support a more optimistic view for a rebound in sentiment toward uranium is the surge in student-and-professor-led protests seen in recent weeks against university endowment funds investing in fossil fuel companies. 
It's my belief the power of the human voice to oppose fossil fuel investing is only beginning and the uranium sector could be the unlikely beneficiary of an under the radar asset allocation shift to invest in companies that won't magnify the carbon issue the planet is dealing with. If that's notion gets legs, and I believe it will, the day environmentalists support nuclear power may be much closer than previous thought. 
>>Read More:
Students Put Fossil Fuel Companies to the Test

Is Plug Power Built on Rock or Sand?
At the time of publication, the author owned shares of Energy Fuels but does consult for the company. 
You can follow John on Twitter @bluephoenixinc.
This article represents the opinion of a contributor and not necessarily that of TheStreet or its editorial staff.
John Licata is Chief Energy Strategist of Blue Phoenix Inc.