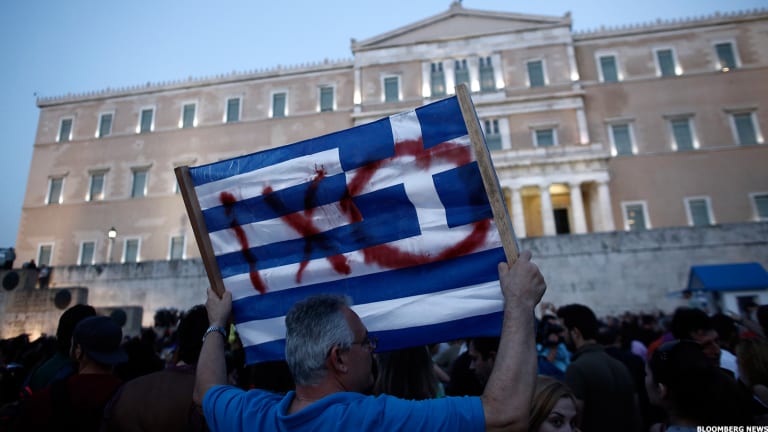 European Officials Show Little Support for Greece's New Bailout Proposal
As Greece, EU work to meet Sunday deadline, concerns about Eurozone volatility linger.
NEW YORK (TheStreet) -- Greece's finance minister was in talks with creditors Saturday in an effort to convince them that the Greek government can deliver on its reform promises in exchange for a financial rescue securing the country's future in the euro.
After persuading the Greek parliament early Saturday to back austerity measures to stave off financial collapse, the Greek government is facing a difficult task getting its European creditors to support its three-year bailout request. Finance ministers and top officials of the eurozone said the same thing as they arrived for a key meeting on Greece's bailout proposals -- we don't fully trust you, The Associated Press reported.
European officials said Greece would need nearly $83 billion in new funding in the coming years, according to  The Wall Street Journal.

Greece's Parliament voted late Friday to back a plan that would offer spending cuts to creditors in exchange for cash to keep its banking system afloat, putting a resolution within reach for a crisis that has threatened to force the debt-laden country from the European Union.
The proposals from Prime Minister Alexis Tsipras, similar to a plan rejected by voters in a referendum last weekend, passed with 84% of the vote. Those abstaining or absent from the vote included prominent governing Syriza party members such as Parliament Speaker Zoe Konstantopoulou, indicating a potentially severe dissent problem for the government's majority.
The plan relies on cuts to pensions and tax increases, and in those respects, is identical to one offered by Greece's European Union creditors before Sunday's referendum. The motion authorizes the government to use the reform proposals as the basis for negotiations with creditors, but the dissatisfaction from Tsipras' own party shows how far removed the proposals are from its original platform.
Before the parliamentary session, former Finance Minister Yanis Varoufakis took to Twitter to offer his support. Varoufakis, who resigned Monday, drew the ire of other EU ministers in negotiations leading up to last weekend's referendum.
Greece now has until the end of the day Sunday to reach a deal with its creditors. To that end, EU officials will meet in Brussels to negotiate a solution before Greece's banks run out of cash, which would likely prompt Greece to leave the Eurozone. 
The Eurogroup, an informal body of ministers from member nations, will review the proposals on Saturday with assessments from Greece's creditors: the European Commission, the European Central Bank and the International Monetary Fund, according to its website.
If the proposal is approved, Greece would get a three-year loan package worth nearly $60 billion (53.5 billion euros) as well as some form of debt relief. That is far more than the 7.2 billion euros left over from Greece's previous bailout that had been at stake in the country's five-month negotiations until last month.
Speaking earlier in the debate that began just before midnight Friday, Tsipras acknowledged the reforms his government has proposed were harsh and include measures far from his party's election pledges, but insisted they were Greece's best chance. Tsipras said his government had made mistakes during his six-month tenure but said he had negotiated as hard as he could.
"There is no doubt that for six months now we've been in a war," he said, adding that his government had fought "difficult battles" and had lost some of them.
"Now I have the feeling we've reached the boundary line. From here on there is a minefield, and I don't have the right to dismiss this or hide it from the Greek people," he said.
Earlier Friday, markets around the world had risen on news of the new initiative. Bourses across Europe traded 2% to 3% higher, and U.S. markets gained between 1.21% and 1.53%.
Should Greece still end up leaving the European Union, the potential fallout is projected to be small, although there are signs that uncertain about the country's future might continue to hurt the bottom lines of U.S. businesses into the second half of 2015.
The performance of many U.S. companies with operations in Europe was hurt during the the first quarter of 2015 as the currency fell to a quarterly average of $1.13 from $1.25 during the last three months of 2014, according to data compiled by Bloomberg.
Now, as the drama surrounding Greece's debt moves into the third quarter, the same companies must anticipate further fluctuations in the currency and try to insulate themselves.
Monetary policy "favors a stronger dollar and a weaker Euro" for the near future, said Win Thin, global head of emerging markets at New York-based Brown Brothers Harriman.
But exactly where the dollar might go against the euro is unclear. Thin said his firm is projecting the euro to fall back to $1.05 by the end of 2015. Estimates from other analysts run the gamut from below parity with the dollar to just above $1.20 -- both still well below a peak of about $1.36 a year ago.
Companies ranging from athletic apparel manufacturer Nike (NKE) to software manufacturer Red Hat (RHT)  have said a stronger dollar hurt earnings this year. Consumer-goods companies saw overseas revenue drop as the currency with which their customers paid declined in value.
Estimates for future orders at Nike compiled from April through June, an indicator of sales for the coming quarter, increased 2% after accounting for changes in currency. Had the dollar not risen against the euro, orders would have been up 13%, according to the company's earnings statement released in June.
Insulating a company from a drop like the one in the first quarter is tough, said Susquehanna International Group analyst Christopher Svezia.
"There's not too much you can do," said Svezia, who covers athletic apparel manufacturers including Nike. "It's just a risk of doing business on a global scale."
The options that are available are fraught with risk. One choice is raising the prices of the goods and services in Europe to make up for lost revenue, though that could make U.S. companies less competitive, Svezia said.
Another choice is locking in rates for euros through hedges, though that depends on the currency reaching -- and, ideally, staying at -- a certain rate.
Whether those bets end up being good ones will depend in part on what agreements EU leaders can reach with the Greek government, Brown Brothers Harriman's Thin said. If Greece leaves the Eurozone, the precedent that sets for other countries might also pull down the currency, contrary to analysts who say a "Grexit" would be a boost to the euro.
"What happens if the anti-austerity [movement] comes in Spain and Italy?" he asked. "If Greece leaves it will be a disaster."
Why the worst may be over for China's stock market;