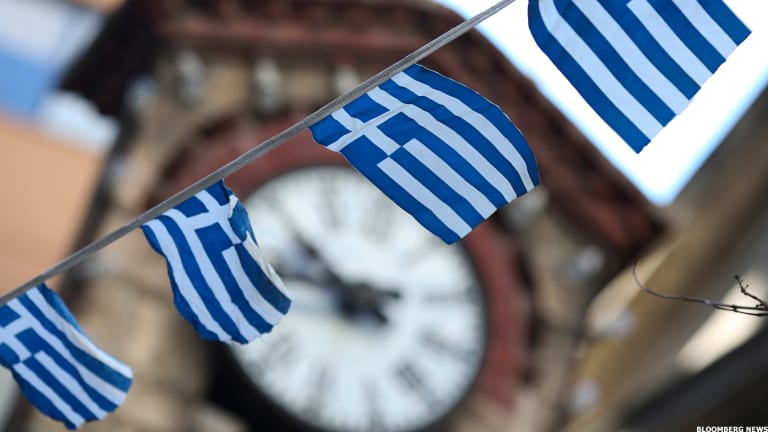 Greek ETF Should Bounce on Oversold Condition
Technical indicators show that traders are becoming more optimistic about Greece.
NEW YORK (TheStreet) -- The first time we ran the situation in Greece through our decision support engine, or DSE, was on July 2, when the country was contemplating a "Grexit," as citizens lined up at ATMs to withdraw money from their frozen bank accounts.
Our analysis anticipated an imminent low in the Global X FTSE Greece 20 ETF (GREK) - Get Report on the expectation of a "relief bounce."
This is the zoomed-in chart we showed in July. Notice how the angles of decline of all three falling blue bars have been lessening, while each occurrence has a diverging higher-low in stochastics. That condition shows the crowd's mood is subtly changing to hope from fear. 
Next, notice how the big red downtrend line that controlled prices since June 2014 was finally broken above in May. The green oval highlights the difference in the crowd's behavior, which is now using the red line as underlying support for barely lower lows in price, rather than overhead rejections points for rally attempts. 
The blue arrows show what is about to happen, regardless of one more lower low, which would find very strong support from the lower Bollinger Band and lower 2 standard-deviation band (which contains 95% of normality). This lines up as a $1 to $1.50 risk vs. the potential reward of $5 to $7. 
The risk-management component of our DSE's algorithm goes on yellow alert when risk/reward setups reach 1:3, and on red alert when they reach 1:4. We are on red alert now for at least a multi-month move toward $15 (a 50% move) where the upper 2 standard-deviation band will meet rallying prices in the coming few months. 
At around $16 +/-$1, prices will also be back into the range of the 38% to 50% Fibonacci retracement level that indicate common exhaustion levels of "corrective" bounces, which this rise will most likely be. The levels also indicate the upper 3 standard-deviation band (which contains 99.7% of normality). 
There is no doubt that DSE will be kicking and screaming into that zone to exit the longs that should be established now, and get out of all Greek exposure, before the final shoe (from an endless closet of shoes) drops GREK below $5, resulting in an actual Grexit, rather than only rumors of another one.
This article is commentary by an independent contributor. At the time of publication, the author held non positions in the fund mentioned.