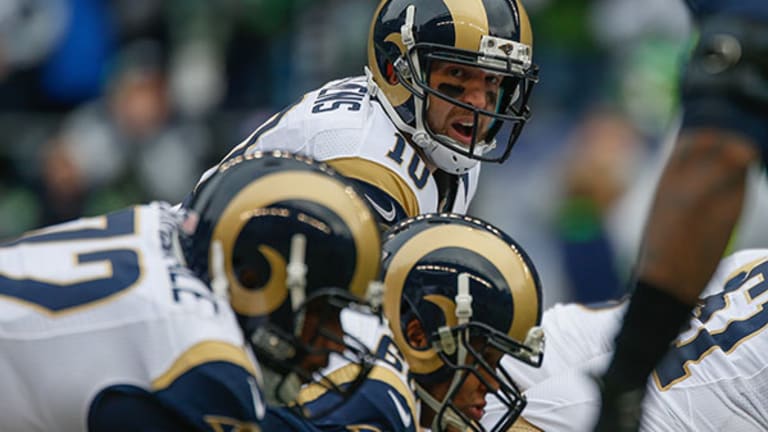 Great Super Bowl, Everyone: Now Let's Abandon St. Louis
St. Louis Rams owner Stan Kroenke bought 60 acres in NFL-deprived Los Angeles on Super Bowl weekend. With the Rams seeking $700 million in stadium upgrades and their host city tapped out, Kroenke's buy looks more like blackmail.
PORTLAND, Ore. (TheStreet) -- Stan Kroenke sure knows how to ruin a Super Bowl party.
Just as the National Football League and its fans were heading into Super Bowl weekend and the last inane predictions were being made about the Denver Broncos' record-setting offense, the Seattle Seahawks' lack of Super Bowl experience and New Jersey Transit's ability to handle a mass-transportation Super Bowl, some strange rumblings were coming out of St. Louis and Los Angeles. As reported by no less than NFL.com, Rams owner Stan Kroenke purchased 60 acres in Inglewood, Calif., between the refurbished Forum and the soon-to-be-demolished Hollywood Park racetrack.
With his league's biggest night coming up, NFL Commissioner Roger Goodell tried to assure fans that, no, this didn't mean the Rams were going to bring an NFL team back to Los Angeles for the first time since the Rams and Raiders left in 1994.
"Stan is a very large developer, on a global basis," Goodell said. "He has land throughout the country and throughout the world. He has kept us informed of it. We're aware of it. There are no plans, to my knowledge, of a stadium development. Anything that would require a stadium development would require multiple votes of the membership."
Rams fans and the city of St. Louis know better. Despite the fact the Rams haven't made the playoffs since 2004 and haven't won more games than they've lost since 2003, Kroenke and the rest of the Rams ownership is looking for $700 million in upgrades to the Edward Jones Dome -- including a roof with a sliding panel, a glass front, luxury boxes, party platforms, new scoreboards, improved concessions and extra offices. Ownership wants the city to make good on its lease's promise to improve the dome into a "first-tier" stadium by 2015, but St. Louis likely didn't foresee the $1 billion-plus stadiums in Dallas, New Jersey and Silicon Valley.
The St. Louis Convention & Visitors Commission balked at the Rams' proposal, saying they and the city "simply don't have the money" to make it happen. The subtext of that admission is that they know full well who has the money to fund such a thing.
Stan Kroenke's net worth was listed at $4 billion by Forbes last year. That's not counting the $6 billion stake in Wal-Mart (WMT) - Get Walmart Inc. Report owned by Kroenke and his wife, Ann Walton Kroenke. He took a 40% stake in the Rams when they moved from L.A. in 1995 and bought the rest of the team in 2010 after majority owner Georgia Frontiere died. He also owns both the Denver Nuggets of the National Basketball Association and Colorado Avalance of the National Hockey League, but had to give control of both franchises to his son Josh to get the NFL's approval to take over the Rams. His majority stake in both of those teams goes away at the end of the 2014.
He also owns Major League Soccer's Colorado Rapids outright and has controlling interest in London-based English Premier League club Arsenal. Those varied holdings make Kroenke appear like a man with no allegiances, but they've only part of his story.
Born in Colombia, Mo., Enos Stanley Kroenke was named after St. Louis Cardinals baseball legends Stan Musial and Enos Slaughter. He received his undergraduate degree, master's and MBA from the University of Missouri. His real estate and development businesses are based in St. Louis, and both the city and the state of Missouri are key to both his initial success and his current identity. He has roots there, and they run deep.
But he's also not a fool. He's consolidating a lot of his U.S. sports investments into the Rams. He knows full well how tricky it can be to balance success in both the NFL and EPL and has seen the Glazer family (which owns the Tampa Bay Buccaneers and Manchester United), Randy Lerner (former Cleveland Browns owner, current Aston Villa owner), Shahid Khan (Jacksonville Jaguars/Fulham) stumble while attempting to do so.
Even if Kroenke has no intention of moving the Rams at this point, he's smart enough to know what buying up land in the middle of an L.A. sports complex implies. He's bought himself a negotiating chip and a sizable reminder for St. Louis officials that their big talk comes with consequences. He's also holding that bargaining chip in Los Angeles, where the city council already approved a stadium plan with no owner and no team -- but a $1.5 billion stadium -- in 2012. That city has made it known that there's public money on the table and that it isn't shy about spending some.
Meanwhile, Kroenke is playing this game as his home state of Missouri pays $12 million a year just to cover the cost of building the former Trans World Dome back in 1995. It's on the hook until 2021, as are St. Louis city and county, which are paying $6 million a year each toward the dome's initial costs.
As the NFL's commissioner notes, there's still a whole lot that needs to happen before Kroenke could even begin moving the team. The Rams' current lease at the Edward Jones Dome runs through 2014 and it would take some time just to break ground on a new stadium in Los Angeles. However, St. Louis is also aware that the NFL already produces $9.5 billion in revenue for its owners and just signed a deal with CBS (CBS) - Get CBS Corporation Class B Report for a Thursday Night Football package that will bring in more than $200 million for just one season alone.
On the strongest weekend of the NFL calendar, the league was once again reminded of one of its greatest weaknesses. Its owners' continued attempts to extort tax dollars out of local governments and persistent ploys to use an open market in Los Angeles as leverage are growing tiresome. Threats that extorted public money out of Minneapolis, Buffalo and Atlanta are meeting resistance in San Diego, Cincinnati and Miami. The league's tax-exempt status and television blackout policy are under scrutiny from Congress. Even its usually world-stopping Super Bowl saw ratings fall and its presence ignored when the game ended in a blowout in a host city that had no use for it.
Kroenke may feel that St. Louis is trying to get a hometown discount out of him, but his latest real estate purchase threatens something far worse. This is a town that already lost its NFL team once during the Super Bowl era, when the Cardinals bolted for Phoenix in 1988 after 28 years in St. Louis. Kroenke played a huge role in keeping football in St. Louis, but if he tears away the Rams over public money and window dressing, he may as well leave town right along with them. Kroenke has a house in Malibu, Calif., not too far from his newest real estate purchase. If he's planning what it looks like he's planning, he should get really familiar with that Malibu address.
-- Written by Jason Notte in Portland, Ore.
>To contact the writer of this article, click here: Jason Notte.
>To follow the writer on Twitter, go to http://twitter.com/notteham.
>To submit a news tip, send an email to: tips@thestreet.com.
RELATED STORIES:
>>Is This The Last Super Bowl For Madden NFL?
>>NFL Sponsorship Is A Thankless Trap
>>Some Craft Beer Resolutions for 2014
Jason Notte is a reporter for TheStreet. His writing has appeared in The New York Times, The Huffington Post, Esquire.com, Time Out New York, the Boston Herald, the Boston Phoenix, the Metro newspaper and the Colorado Springs Independent. He previously served as the political and global affairs editor for Metro U.S., layout editor for Boston Now, assistant news editor for the Herald News of West Paterson, N.J., editor of Go Out! Magazine in Hoboken, N.J., and copy editor and lifestyle editor at the Jersey Journal in Jersey City, N.J.