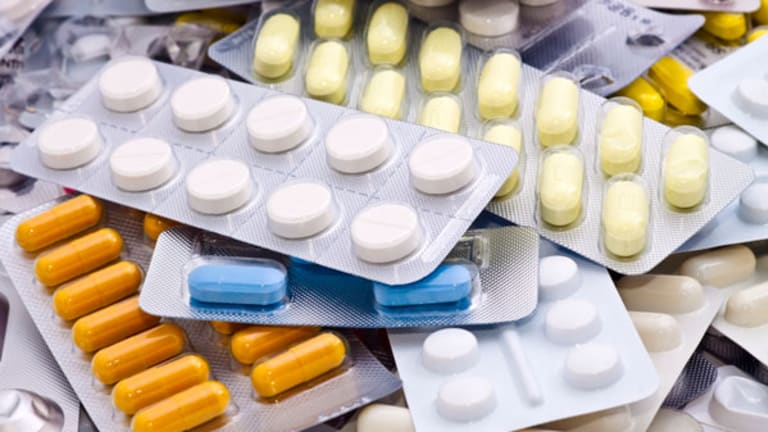 Great Deal! AbbVie Will Buy Shire and Investors Will Be Rewarded
This deal, when completed, will boost Abbvie shares to $70 in the next 12 months from the current $55.
NEW YORK (TheStreet) -- Nothing gets investors riled up like mergers and acquisitions. A great deal can present a company that has tons of cash with instant access to growth, allowing it to conquer new markets that would have otherwise take years to achieve.
Although AbbVie's (ABBV) - Get AbbVie, Inc. Report$51.5 billion offer (upped from $46.5 billion) for drug maker Shire (SHPG) - Get Shire PLC Sponsored ADR Report has been rebuffed on multiple occasions, investors should not get discouraged.
AbbVie, which saw an almost 9% jump in its stock price when the rumors of the deal first emerged two weeks ago, has given back almost all of those gains. With Thursday's close of $55.79, shares are still up almost 6% year to date.
>>Allergan CEO David Pyott Hunting Acquisitions to Fend Off Valeant
>>14 Insanely Important Biotech/Drug Trading Catalysts for the Rest of 2014
These deals take time. Medtronic's (MDT) - Get Medtronic Plc Report$43 billion deal for Covidien (COV) was rumored for almost a year before both companies realized they needed each other. The most recent example is General Electric's (GE) - Get General Electric Company Reporton-again/off-again dance with Alstom (ALSMY) .
Negotiating tactics aside, what I think is most important to remember are the accretive benefits for the acquiring companies. In the case of AbbVie, there are plenty, which should boost the stock towards the $70 level in the next 12 months.
According to Mark Percell, analyst at Barclays, a deal for Shire could yield close to 20% in accretive earnings for AbbVie in the next six years --and that's not even factoring AbbVie's already strong drug business being anchored by its blockbuster arthritis drug Humira.
Humira accounted for close to 60% of AbbVie's total revenue in 2013. AbbVie's management understands that it can't live on Humira indefinitely. This is where Shire comes in.
Shire would make AbbVie immediately more diversified. I believe Shire's ability to unlock incremental value to be the main reason why AbbVie recently upped its offer by 10%.

Purcell believes Shire can boost Humira sales by 22% in the next six years, projecting Humira revenue of $15 billion compared to current estimates of $12.3 billion. But I think those figures are a tad conservative.
Shire, which hasn't been shy about doing its own deals (picked off ViroPharma in 2013), has positioned itself as a respected name in its core market. Shire's management expects the existing drug portfolio to generate roughly $10 billion in sales by 2020. That figure, coupled with AbbVie having just upped its full-year revenue guidance, suggest a much stronger combined performance is possible.
From my vantage point, Shire should be able to contribute anywhere from $6 billion to $8 billion in AbbVie's annual revenue. In 2013 AbbVie posted total revenue of $18.8 billion, which delivered $4.1 billion in profits.
At that rate, I project an AbbVie/Shire union to deliver anywhere from $25 billion to $27 billion, yielding profits of $5.5 billion to $6 billion.
So despite ongoing concerns about AbbVie's pipeline, management continues to deliver on several key initiatives -- not the least of which includes better diversification among the company's drugs and other assets.
With management's confidence to raise guidance, now is not the time to press the panic button. As I said, with shares trading at around $55, the stock is a sure bet to reach $70 in the next 12 months on the basis on long-term revenue and earnings growth.
At the time of publication, the author held no position in any of the stocks mentioned.
This article represents the opinion of a contributor and not necessarily that of TheStreet or its editorial staff.