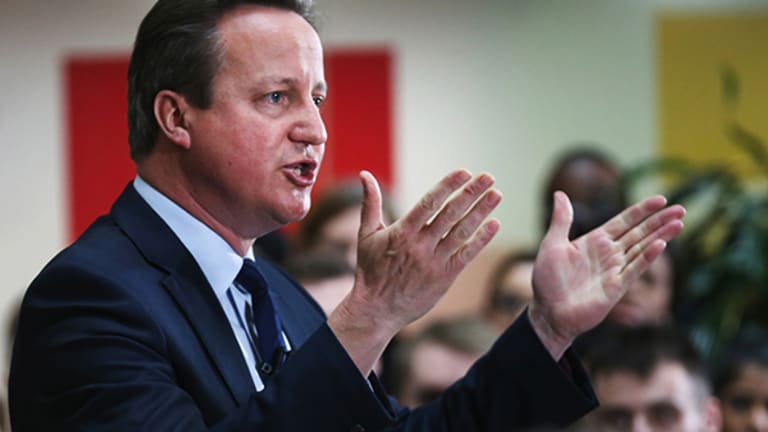 Great Britain's Historic 'Brexit': What Wall Street's Saying
Like almost everyone else, analysts were stunned by the U.K.'s decision to leave the EU and predicted significant and long-lasting consequences for markets.
Updated with additional analyst remarks.
By now, you've heard that they've left. 
On Thursday, Great Britain made a historic decision to leave the European Union in a referendum vote, leading the British pound to drop to a 30-year low and markets around the world to plunge. In the U.S., the Dow Jones Industrial Average plummeted more than 500points at the opening of trading on Friday.
In a statement issued Friday morning, the Federal Reserve said it was prepared to provide the U.K. with dollar liquidity, as it could have "adverse" effects on the U.S. economy.
Here's what some analysts on Wall Street were saying about the dramatic development.
John Normand, J.P. Morgan
"A political regime change of this unexpected and all-encompassing nature has the potential to unleash sizable hedging flows from investors and corporates which could cause an even larger and potentially protracted undershoot in the currency (especially considering that many of these hedges would have been unwound in the past week as optimism about a Remain vote grew). This early in the post-vote process, participants will lack the clarity as to the final political and economic consequences of Brexit to make an accurate assessment about GBP's new equilibrium value, and without that it's hard to see participants rushing to fade the sell-off on the basis that GBP has become 'too cheap'."
Mark Wall, Deutsche Bank Group
"'Leave' opens a period of lasting uncertainty. We think it will be three years before a new UK-EU deal is settled. Politics will determine the long-term cost. A 'leap forward' for European integration is unlikely. Sterling trade-weighted may fall 5-6% on the day. Euro trade-weighted should be little changed. Expect the Stoxx 600 to fall 15% (to 295) in the near term. The Bund yield should trade around -10 to -15bp. Periphery assets will likely be under pressure, especially bank equities. In an orderly sell-off expect the iTraxx Europe (IG) CDS index to widen 25-100bp. The ramifications for the global economy are more limited. 0.2pp off our 2017 global GDP growth estimate to 3.4% still means acceleration next year. There are downside risks. Triggering a European banking crisis is one."
Matthew Walker and Aynsley Lammin, Canaccord
"The travel and leisure sector has underperformed the wider market. The impact of Brexit is likely to be far-reaching for the exchange rate, growth, trade, inflation and even interest rates. The outlook for business is now less clear, and companies planning to invest and grow will do so with much less certainty. Consumers, too, will now fret about their personal financial situation - politicians have spoken at length about the economic risks of Brexit and its impact on the finances of working people. Lastly, as we highlighted last week, a reduction in immigration could see a staffing shortage affecting the leisure sector which is a big employer of young, low paid and often immigrant staff. The sharp fall in the relative value of sterling will feed through immediately into the higher cost of travel and holidays - not good for the tour operators."
Lewis Alexander, Nomura
"This result was not expected and financial markets have responded dramatically. The dollar is up sharply against the sterling and the euro, offset somewhat by the sharp appreciation of the yen. Against major currencies, the dollar is up about 3%. The futures market implies a 4-5% decline in US equity prices. It also seems likely that credit will be hurt in the strong general "risk-off" reaction. Significant declines in Treasury yields should offset, to some degree, the tightening of other aspects of financial conditions. We believe central banks, including the Federal Reserve, are prepared to provide liquidity to the financial system if needed."
Ethan S. Harris, Michelle Meyer, Emanuella Enenajor, Michael S. Hanson, Lisa C. Berlin and Alexander Lin,Bank of America
The decision for the UK to exit the European Union is another in a long string of confidence shocks, hitting an already vulnerable US and global economy. We think Brexit will shave a few tenths off US GDP growth, with the drag showing up as early as next quarter. We are therefore making the following changes to our forecast, but highlight the uncertainties with these estimates:
1. Reducing real GDP growth by an average of 0.2pp over the next 6 quarters. This leaves 2016 annual growth of 1.8% but slices 0.2pp from growth next year, bringing it also to 1.8%
2. Fed will delay rate hikes. We expect the Fed to wait until December to hike followed by two hikes next year in June and December. We are simply pushing out our forecast trajectory by a quarter.
Ellen Zentner, Ted Wieseman, Paula Campbell Roberts, Robert Rosener and Michel Dilmanian, Morgan Stanley
During the initial period of uncertain outcomes, our Base case now flips now to the "medium stress" scenario. Perhaps things will settle down, but the immediate aftermath doesn't look good: TWDI is up almost 2% already, S&P futures down 80 points, IG CDX 10 bp wider, HY index down 2+ points, 10-year inflation breakevens down 13 bp, fed funds/LIBOR spreads blowing out. It does look, as one could expect, that the US is holding on a lot better than Europe is, where they're talking about the ITraxx main at 100 bp after closing at 75 yesterday and crossover at 400 v. 325.
Brian Gardner and Michael Michaud, Keefe, Bruyette & Woods
The knee-jerk reaction is to read the United Kingdom's referendum on European Union as a positive signal for Donald Trump's presidential campaign in the U.S. There is, obviously, a long ways to go before the November election and we think it is a mistake to read too much into the U.K. results and apply the results to the U.S.
See full Brexit coverage here.