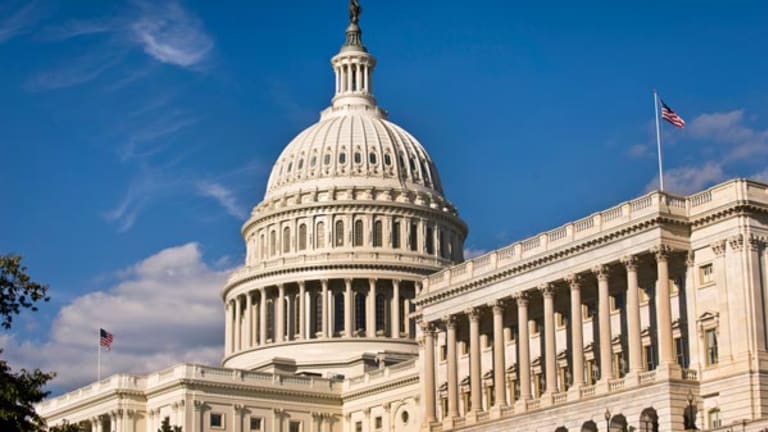 Lockheed Martin, Utilities to Benefit From D.C. Shenanigans
While over for now, the impact of the government shutdown can't be overlooked. Cybersecurity and utilities should benefit. Watch LMT, AEP and more.
By John Licata of Blue Phoenix
data by
NEW YORK (
) -- While over for now, the impact of the government shutdown can't be overlooked. In the aftermath, some areas I'm already looking at to outperform the overall stock market in the coming year include cybersecurity and utilities. Names such as
Lockheed Martin
(LMT)
and
American Electric Power
(AEP)
should be on your radar.
Many analysts have their own thoughts on the recent government shutdown and the ramifications on decision-making, permitting and mortgage approvals. To me, the recent "political plague" that lasted 16 days was a unique Category 5 hurricane (like Andrew in 1992) that shocked our economic system at its very core. More on that later.
The real damage from this shutdown has yet to be calculated and that could make trying to gauge the domestic employment picture as difficult as walking in the forest at night with a broken compass. This means the government stimulus is not ending anytime soon. But
caveat emptor
my friends. It's my belief that the
Fed
staying the course on monthly bond purchases may already be reflected in the stock market, suggesting 2014 will be a true stock pickers' market.
Read: Energy Gush Continues in Tesoro
In the cybersecurity sector, I'm high on Lockheed Martin, which gets roughly 20% of total sales from cyber-related activities. Infrastructure resiliency is going to be a big theme in 2014 for energy companies in my view so Lockheed should be poised for further growth in the cybersecurity space.
Lockheed, a company that does often look to the private sector for partnerships may also benefit from some timely acquisitions if smaller players stumble thanks to new higher borrowing requirements from banks expected next year.
As for utilities, I'm also expecting the sector to gain investor focus from those seeking higher, more stable dividends, especially if the timing of the Fed tapering bond buying becomes less apparent thanks to the repercussions from the government shutdown. Also, I believe utilities are locked and loaded at looking to boost energy efficiency and focus more on the customer experience post Sandy.
Specific names I believe are making strong efforts to embrace modern technologies and become the new standards for utility progress include American Electric Power, a utility led by Nick Akins, a CEO who is adamant about fighting energy cyberterrorism and creating a modern infrastructure system.
Another name is
NRG Energy
(NRG)
, the largest independent power producer in the U.S. and a company focused on the transition to a sustainable, low carbon society through natural gas, electric vehicle infrastructure and enhanced oil recovery technology.
I'm also very interested in
PSEG
(PEG)
, a company bringing its forward-looking resiliency plan to Long Island, N.Y., as LIPA gets privatized. I'm excited about PSEG's development of solar energy and combined heat and power systems, which actually maintained power in areas of New Jersey during Sandy.
Despite calls for a more active 2013 Atlantic hurricane season, there really hasn't been much to report on. But the cost of the recent U.S. government shutdown could rank comparably with Hurricane Andrew, the fifth-costliest Atlantic hurricane on record at $26.5 billion.
A recent
entry stated, "The government shutdown and debt limit brinksmanship have had a substantial negative impact on the economy." To put some numbers behind that ominous comment, Standard & Poor's believes the U.S. took "at least" a $24 billion financial hit from the government shutdown. Moody's believes U.S. GDP will be hit $23 billion.
Read: Apple iPhone Will Take Market Share from Android
Outside of the financial impact of this shutdown, there is a psychological factor that needs to be evaluated since many Americans are simply fed up with politicians (more than ever). This could weigh on consumer confidence, especially since the September figure of 79.7 also included a more pessimistic view of the labor market.
Additionally, a new CNN/ORC International survey showed the general public's view of the economy is at its worst levels since last December, a time when the country was facing the fiscal cliff double whammy of tax increases and spending cuts.
Again, while we can't ignore the true impact of the government shutdown, 2014 will be a true stock-pickers' market.
By John Licata of Blue Phoenix in New York.
At the time of publication, the author had no positions in the stocks mentioned
.
Follow @bluephoenixinc
This article was written by an independent contributor, separate from TheStreet's regular news coverage.
John Licata is the founder & chief energy strategist of New York based independent research company
. He is the author of
¿Lessons from Frankenstorm: Investing for Future Power Disruptions¿.
His ability to cross-pollinate idea generation and analysis of both traditional and unconventional global energy markets has been documented in the global media for north of a decade. Prior to launching Blue Phoenix in 2005, John held research and trading positions at Dow Jones, Salomon Smith Barney, BrokerageAmerica and on the floor of the New York Mercantile Exchange (NYMEX).