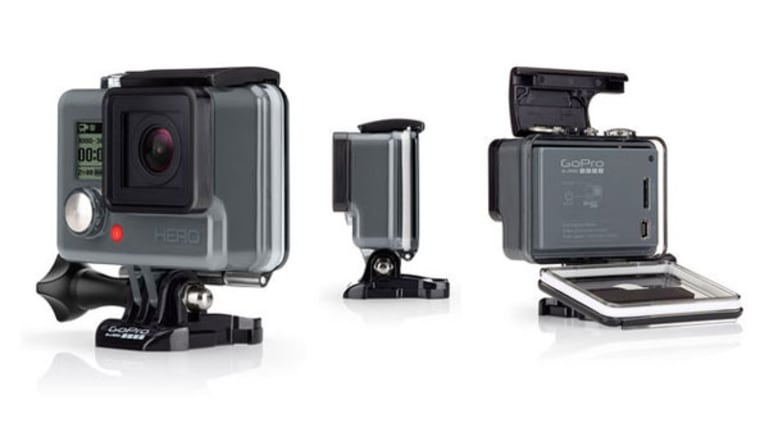 LEXINGTON, Ky. (TheStreet) -- After more than a two-month, 35% drubbing, shares of GoPro (GPRO) - Get GoPro, Inc. Class A Report finally caught a break on Friday, in the form of an upgrade from JP Morgan (JPM) - Get JPMorgan Chase & Co. (JPM) Report . The investment bank's bullish thesis on GoPro may even be on target, for a while. Sooner rather than later, though, GPRO shares are apt to stall due to a combination of a frothy valuation and waning demand for its hands-free action cameras. That deterioration in demand closely mirrors the disappointing sales growth seen with the Apple (AAPL) - Get Apple Inc. (AAPL) Report iPad, and for much the same reason.
Flooding the Market
Much of the pullback from GoPro of late has been attributed to the impending end of a lockup period for a huge number of shares of GPRO. On Dec. 23, many of the original investors will be allowed to sell roughly 15 million shares of the stock, which could increase the size of the current float by more than 40%. Not interested in risking the bearish impact that a sudden surge in supply could have on the stock's price, traders are collectively shedding it now. That selling could have (ironically) already factored in the downside of the lockup's end.
It's after the dust settles following Dec. 23 when things could get bullish, albeit it for a limited time.
Strong Demand ... for Now
Reports of strong demand for GoPro cameras during this holiday shopping season are plausible. Some sellouts (particularly of the Hero 3+ Silver) have been observed, jibing with comments from and about the company that holiday demand was solid. This should spawn equally solid fourth-quarter numbers when the company reports them in late January. As of the last look, analysts collectively expect a profit of 69 cents per share on $568 million in sales. Those are figures that could excite the market, though odds are good any earnings-based buying would start to materialize before the official earnings announcement.
Around the same time, GoPro may finally start to offer some clarity regarding its expansion plans for China.
Details so far on its plans in China have been scant, with CFO Jack Lazar simply explaining the company was close to a product launch there. Knowing the Chinese love technology and gadgets as much as most U.S. consumers do, though, the debut of GoPro products in that market should prove to be another stock-spurring catalyst, perhaps even through the company's first-quarter 2015 report due in late April. After that point though, the stock's apt to run out of catalysts, and sales growth is apt to wither. That's not a popular premise at this point, even with the stock's recent implosion. 
Looking to Apple's iPad Example
One only has to look at the slowdown in sales of the Apple iPad, however, to understand how and why GoPro camera sales are likely to stall.
In simplest terms, unlike the largely subsidized iPhone, the iPad tends to have a longer usage period, as the advances found in next generations of iPads haven't inspired upgrades as often as the famed Apple smartphone has.
To be clear, Apple is still selling iPads, and GoPro is going to continue selling action cameras. The pace of sales growth for the iPad is most definitely slowing, however, with fiscal fourth-quarter 2014's 12.32 million units sold being 12% less than fourth quarter 2013's 14.08 million. The third quarter's iPad sales tally of 13.28 million was 9% weaker than the year-earlier figure of 14.62 million units. That's nowhere near the game-changing sales pace many investors were expecting for the iPad just two years earlier.
While some have excused the weakness of the iPad's sales as merely temporary, investors may soon be forced to concede the iPad simply doesn't have the same upgrade cycle pace as the iPhone. Likewise, GoPro action cameras are also apt to drive a slower-than-expected upgrade cycle among its primary target market.
New Competition
The debut of viable competition could and should slow GoPro's advance.
The iON brand of action cameras may not be as prolific as GoPro yet, but that could change sooner than most might guess. Citigroup analysts have noted the launch of GoPro's Hero4 camera could be the company's proverbial last hurrah before iON becomes a major threat. iON cameras should be available in 10,000 stores by next year, up from only 150 stores last year. The impact of iON's presence should begin to be felt no later than mid-2015, right when the euphoria from GoPro's launch in China begins to fade.
With all of that being said, the valuation of GPRO shares certainly isn't helping to keep the stock's price boosted. GoPro is presently priced at 48.8 times 2015's expected earnings, which projects a 22% increase in this year's bottom line, yet also reflects the anticipated move into China. That's a price traders may be able to justify when growth is red hot, but it's unlikely the stock's price can hold such a valuation when growth finally slows.
The smart-money "play" on the stock, then, may be to wade in after Dec. 23 -- after the volatility of the end of the lockup period has dissipated -- and then wading out sometime before the end of the second in 2015. GoPro should have enough catalysts working in its favor during that time, though competition and market saturation could begin to take a toll by the time the second half of the coming year is underway.
This article is commentary by an independent contributor. At the time of publication, the author held no positions in the stocks mentioned.