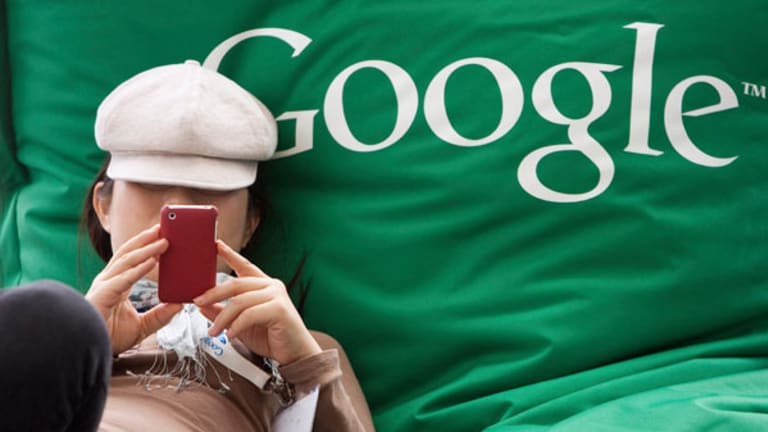 Google's Set on Googling Through Your Home
Giant search engine leader Google tapping into gesture technology to boost home energy efficiency.
NEW YORK (TheStreet) -- There has been a lot of activity in the gesture recognition technology space. From Google recently buying Flutter, to Intel gobbling up Omekover the summer, one thing for sure is: this space is getting a lot of attention.
This has me thinking the gaming world, Microsoft's Kinect-style gesture features, and the motion sensor universe, could collide to play a vital role in how residential lighting and ventilation are utilized. Could that be some of the logic behind the Flutter acquisition?
Google has already invested over $1 billion in alternative energy, so it may be reasonable to think the company could be trying to enter the home energy management world after seeing the recent success of Nest's Learning Thermostat.
Considering Nest (which originated from Tony Fadell -- creator of the Apple iPod and iPhone) is now moving into fire detection, the potential for software in the home is certainly being validated. Google.org did create PowerMeter, a free energy monitoring tool to help people access their personal energy data. The company actually shut down this offering two years ago, but said it would "look forward to what will develop next in this space".
My hypothesis is that Google still sees opportunity to help people save energy, and gesture technology could be a disruptive way to accomplish that goal. Considering Google is supporting kite power, driverless vehicles, wind power, solar power -- and more -- the company could perhaps look at gesture technology as the game-changing innovation that allows them to once again get back into the home energy management market in a big way.
I've been advocating that the future of energy will be led by Big Tech, not Big Oil. Apple hasn't yet entered the gesture market, but TechCrunch recently said rumors are swirling that it may. So while Intel has had a big heads-start in the energy management business, we may be seeing signs that soon read "Google Inside."
Anyway, the gesture move by Google could in fact be aimed solely at Glass and further penetrating a virtual computing experience seen already through Androids facial recognition and gesture search, but I wanted to share my thoughts on the move, especially since there is a growing belief the U.S. home energy management market could be a multibillion dollar business within four years.
-- By John Licata of Blue Phoenix in New York.
At the time of publication, the author had no positions in the stocks mentioned.
This article was written by an independent contributor, separate from TheStreet's regular news coverage.
John Licata is the founder & chief energy strategist of New York based independent research company
. He is the author of
Lessons from Frankenstorm: Investing for Future Power Disruptions.
His ability to cross-pollinate idea generation and analysis of both traditional and unconventional global energy markets has been documented in the global media for north of a decade. Prior to launching Blue Phoenix in 2005, John held research and trading positions at Dow Jones, Salomon Smith Barney, BrokerageAmerica and on the floor of the New York Mercantile Exchange (NYMEX).