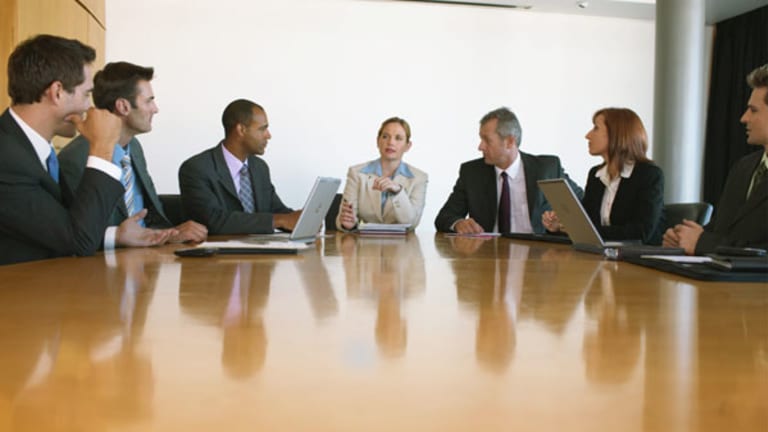 Google's Project Oxygen Pumps Fresh Air Into Management
It's time to make leadership simple again.
NEW YORK (TheStreet) -- Go to Amazon.com and search for books under "leadership." You will find more than 101,000 books -- each with a unique theory. Ironically, too much leadership knowledge often creates confusion.
Maybe it's time to simplify.
As a young PhD student, I read thousands of academic articles on leadership. But one day a friend asked me a simple question on how to coach a struggling manager. I was baffled. I could compare and contrast almost any prominent leadership theory, but I had no idea how to fix the simplest management problem. I realized that I was lost in a sea of knowledge. The more I learned, the less I knew. Maybe you feel the same.
Let's make leadership simple again.
Google's (GOOG) - Get Free Report Project Oxygen was designed to identify what successful Google managers do. Too often, training departments try to help managers improve their competencies -- traits of good managers. But changing traits rarely works. Instead, Google chose to teach managers what to do.
The Project Oxygen team spent one year data-mining performance appraisals, employee surveys, nominations for top manager awards and other sources. The result was more than 10,000 observations of manager behaviors. The research team complemented the quantitative data with qualitative information from interviews.
The interviews produced more than 400 pages of notes, which were coded using standard behavioral science methodologies. The final result was eight behaviors -- things great managers do that make them great. They are, in order of importance:
1. Be a good coach.
2. Empower; don't micromanage.
3. Be interested in direct reports, success and well-being.
4. Don't be a sissy: Be productive and results-oriented.
5. Be a good communicator and listen to your team.
6. Help your employees with career development.
7. Have a clear vision and strategy for the team.
8. Have key technical skills so you can advise the team.
Notice that the behaviors have one thing in common -- a manager who is deeply committed to short- and long-term employee success. As they say in the military, "Love your soldiers."

The Project Oxygen team found that Google's most successful managers invest significant personal time in building individual and team capabilities. As managers, they "show up" every day.
Project Oxygen identified the most important activity for management success as being a good coach. Google breaks down this construct into holding regular one-on-ones, asking questions rather than dictating answers and providing constructive feedback that balances the negative and positive.
There is no leadership activity more effective than regular one-on-ones. It will improve the performance of virtually every employee in every role.
But effective feedback is a bit more challenging. Think of parenting. Maybe for your oldest child negative feedback must be very strong. But that will crush the spirit of your youngest child. Feedback is an art. In all cases, success requires that children/employees know that they are safe and that you are deeply committed to their success and that you truly love your soldiers.
Of Project Oxygen's eight manager behaviors, number eight was technical skills. Ironically, this is where most managers spend their time. In an interview with the New York Times, Laszlo Bock, Google's senior vice president of People Operations, said in regards to manager technical skills, "It turns out that that's absolutely the least important thing. Much more important is just making that connection and being accessible."
Additionally, Project Oxygen found three manager pitfalls:
1. Have trouble making a transition to the team.
2. Lack a consistent approach to performance management.
3. Spend too little time managing and communicating.
All three are common with managers who continue to behave as technical experts -- those who are too busy "doing" to be "managing." A representative behavior was, "Not proactive; waits for the employee to come to them."

What do we learn from Google's research?
The model is nothing new. Is Google's model unique to Google? Certainly not. The model would likely be valid in almost every organization and with every manager.
The model focuses on the basics. Every sports fan knows that a common characteristic of champions is a relentless focus on the basics. The basics are the few core skills necessary for success.
Create and document your own management model with clearly defined "basics." Practice your model obsessively until your behavior changes. You won't get a better performance rating for being well-read. Ask your team to assess your behavior against the model. Ask them to them choose one behavior to practice for a three- to six-month period. Just one. Make progress reports a standing team meeting agenda item. Then schedule a team meeting on June 30 to report your progress and to let your team set your next goal.
Management is not knowledge; management is a skill. The best swimmer does not become the best by reading the most swimming books. He becomes the best by understanding the basics and practicing them for thousands of hours. So clear away the books and ask, "What will be my model of management success?"
Then practice, reflect and practice again.
This article represents the opinion of a contributor and not necessarily that of TheStreet or its editorial staff.
Hall was formerly Senior Vice President of Talent at ABN AMRO Bank in Amsterdam and IBM Asia-Pacific's executive in charge of executive leadership and organization effectiveness. During his tenure, IBM was twice ranked No. 1 in the world in Hewitt/Chief Executive magazine's "Top Company for Leaders." He is the author of
The New Human Capital Strategy
and has been an instructor in Duke Corporate Education's teaching network. Hall completed his Ph.D. in industrial-organizational psychology at Tulane University, with a dissertation on people management practices of Japanese corporations. He current resides in Shenzhen, China.