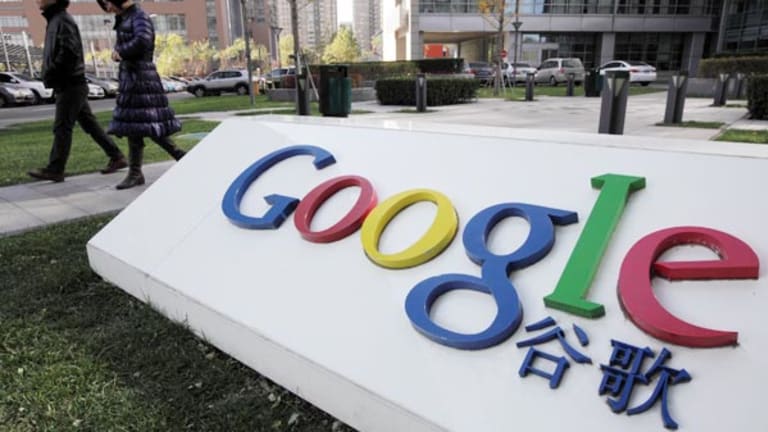 Google's Mystery Barge
Google wants to transform the Internet possibilities of Africa and Asia. Does that involve the mystery barge?
NEW YORK (
) -- Whatever
Google
(GOOG)
is building in San Francisco Bay, it certainly has the media's attention.
From the pictures I've seen, it looks like a giant data center.
Google published a patent on just such a data center in 2009
, which uses sea water for cooling and wave action for power.
This has fired the media's imagination. Reporters fantasize about something like a Pirate Radio, as in the 2009 film
or the old ZZ Top song
.
Ever since the Web was spun, there has been an assumption that the Internet could live outside of the law. That has come to seem naive in recent years, but a floating data barge brings the dream alive in a new way.
There is a more prosaic theory -- that this is a store for Google Glass, turning the mystery into a marketing stunt.
This story comes from Allen Martin of
KPIX
in San Francisco, a
CBS
(CBS)
affiliate, and the idea is that the completed "store"
, and then opened to the public.
But Martin's story debunks itself. He notes that there is no permit on file to put a barge at Fort Mason and that such a move would have to be temporary.
I have another theory, based on past Google practice.
For years now, Google has been putting small data centers into shipping containers for co-location near phone company switches. The data centers carry the results of most common queries. Google can "cache" these results and serve them without the query going back to its headquarters. That means faster service and lower costs.
The facility in San Francisco Bay is obviously much larger. If it does contain shipping containers, with computers and networking inside the shipping containers, there's enough capacity to handle all the data Google usually has.
A second such barge is reportedly under construction in Portland, Maine.
The Portland Press-Herald has a picture
showing what look like 48 units lashed together, the ends of six covered by wood.
To bring such a barge across an ocean would seem to be an impossible task. But if the unit is built and tested here and then taken apart and loaded onto a cargo ship like the Maersk Alabama, subject of the new Tom Hanks movie
, its transport becomes practical.
Even 48 containers would be a small portion of such a ship's cargo. It could be taken off and re-assembled at any main cargo port, giving Google a dominant market share there.
Or, if some of the units can act on their own, they could be trucked inland and deliver services in areas too remote to get service today. You could be looking at a complete high-speed Internet service, with wireless access.
A barge of this size could also include offices. On a recent trip to Europe, I saw containers being used in just this way. Combining containers with offices and computers as a central center, and then adding some that can be off-loaded and linked back wirelessly, could quickly extend the company's reach.
If the system is replicable, it could be transformative.
Google is a member of the
Alliance for an Affordable Internet
and has written on its
about technologies that might bring broadband Internet access to the 5 billion people who presently don't have it.
The Alliance for an Affordable Internet, or A4AI for short, has a number of
corporate, foundation and government-linked members
to help fund such a project.
A center this size would work only with the cooperation of a local government. Such a government would need a certain level of stability to assure Google its investment would not be wasted.
So here's my theory: The Portland center goes to Ghana and the one in San Francisco Bay is off to Vietnam.
At the time of publication, the author was long Google.
This article is commentary by an independent contributor, separate from TheStreet's regular news coverage.
Dana Blankenhorn has been a business journalist since 1978, and a tech reporter since 1982. His specialty has been getting to the future ahead of the crowd, then leaving before success arrived. That meant covering the Internet in 1985, e-commerce in 1994, the Internet of Things in 2005, open source in 2005 and, since 2010, renewable energy. He has written for every medium from newspapers and magazines to Web sites, from books to blogs. He still seeks tomorrow from his Craftsman home in Atlanta.