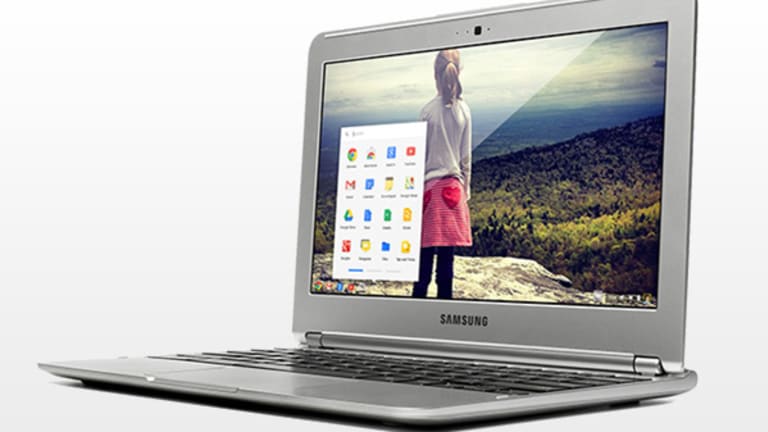 Google's $249 Laptop: Can It Really Hurt Apple?
You can buy four Chromebooks for the price of one Macbook Air. But what does that have to do with anything?
You can buy four Chromebooks for the price of one Macbook Air. But what does that have to do with anything?
NEW YORK (TheStreet) -- TheStreet contributor Anton Wahlman wrote two articles last week on Google's (GOOG) - Get Report new $249 Chromebook laptop.
Google Drops the Neutron Bomb: $249 Laptop
$249 Google Laptop Vs. $499+ Windows 8: Fight!
It's lighter. Thinner. Cheaper. Cooler (temperature-wise). And Wahlman is in love with the thing. I hate to be a party pooper, but I'm here, armed with a wet blanket.
Wahlman calls the Chromebook "revolutionary" because it doesn't have a fan. I call my Macbook Pro with Retina Display revolutionary because I can't tell that it does have a fan; the darn thing is so quiet.
Wahlman repeatedly uses superlatives such as "beautiful" and "superior" to describe Google's laptop.
He noted that you can buy the new Chromebook, along with Google's Nexus 7 tablet, for $51 less than a base model
Microsoft
(MSFT) - Get Report
Surface tablet. With that calculation, Wahlman proclaimed: "Game over."
Wahlman drives home, repeatedly, how much cheaper Google's Chromebook is than
Apple's
(AAPL) - Get Report
Macbook Air.
It retails for 75% less, you can buy four for the price of one entry-level Apple laptop
and
it costs less than the "cheapest" iPad.
The last thing I want to see is Apple, or even Microsoft, slum it in response to what Wahlman considers incredible innovation from Google.
But, that aside, I need to know why Wahlman considers this thing a game changer?
He
if Google just did some marketing and opened up a couple hundred retail outlets, Apple would feel the pressure. Microsoft would be put out of its misery.
His core point revolves around the notion that the $249 Chromebook is really all most people need. That's an insult to "most people."
The
doesn't put it quite so bluntly, but the new Chromebook amounts to a laptop you might buy your parents, grandparents or a young child. Given specs such as 2GB of RAM, I'm not sure it could adequately handle what my nine-year old daughter would throw at it. It's a secondary computer or mid-range tablet at best.
Wahlman never mentions, and Google buries, the whole 2GB of RAM thing. But that's pretty important.
As Wahlman does explain, you will not be able to run programs such as
Skype
and
Photoshop
or any software outside of the Chrome platform on this thing. However, he glosses over these limitations.
Chromebook is a tablet with a keyboard -- nothing more, nothing less. It doesn't "compute" as much as it lets you "surf the Web," check email and process words in Google Docs. Try keeping multiple tabs or windows open while running a
YouTube
video. Luckily, the machine will only cost $249 to replace after you chuck it out your window in frustration.
A
provides what is probably a more realistic take.
CNET
notes, among other things, that the Chromebook's touchpad doesn't come close to Apple's. It also points out that due to "its sluggish performance sometimes," Google's $249 laptop isn't for "power users accustomed to having more than a couple dozen browser tabs open" at one time.
My kid and my 65-year old mother must be power users then!
Amazon.com
(AMZN) - Get Report
gets ripped for breaking even on Kindles. But I can't imagine Google is making mad margins on these low-end laptops. So, what's the point then?
Amazon does what it does to drive hardware buyers to its wide-ranging e-commerce ecosystem. For the time being, Google generates nearly all of its revenue from advertising. This cheap computer will minimally further that cause, if at all.
If this is a humanitarian effort by Google, I appreciate the intent, but it will fizzle on those grounds as well.
I don't see families living in poverty in Los Angeles, let alone, Somalia, running to the Google Website or elsewhere to shell out $249 plus tax for a computer.
Google will not do to Microsoft and Apple what Amazon and
Walmart
(WMT) - Get Report
did to record and bookstores. Nor will it even replicate
Dollar General's
(DG) - Get Report
negligible impact on Walmart.
This focus on price and "copying" Apple's Macbook Air should trigger worry for consumers and investors.
A few days ago, Google Chairman Eric Schmidt
that a recent hallucination he had -- the perceived battle between Apple and Android -- will drive prices down, making things better for us non-millionaire peasant consumers.
That's just what I want to see -- a race to the bottom. Who can produce the cheapest cotton T-shirt that will shrink after one wash?
There's something to be said about paying a premium for a quality product and user experience.
We have two Kindle Fires in our house. The second we entered an iPad into the relationship, our collective use of the Kindles decreased dramatically. It's the tablet one of us uses when somebody else is hogging the iPad.
From an investment perspective, the last thing you want to see is a company such as Apple -- one that makes its money selling hardware -- squeeze margins on the count of some battle it really doesn't need to fight.
That's why a low-priced ($199, for example) iPad Mini concerns me. Why kill your margins and skimp on quality and specs, all in the name of countering Amazon's subpar Kindle? It makes no sense.
Marketshare means nothing if it sacrifices key aspects of your business and/or does not drive revenue for core streams.
Apple recognizes this. And, while Microsoft might pay some attention to Google, I don't expect Apple to suffer. Just because a name such as Google produces the latest low-priced device doesn't mean it's not a cheap knockoff.
At the time of publication, the author held no positions in any of the stocks mentioned in this article
.
This article is commentary by an independent contributor, separate from TheStreet's regular news coverage.
Rocco Pendola is a private investor with nearly 20 years experience in various forms of media, ranging from radio to print. His work has appeared in academic journals as well as dozens of online and offline publications. He uses his broad experience to help inform his coverage of the stock market, primarily in the technology, Internet and new media spaces. He has taken a long-term approach to investing, focusing on dividend-paying stocks, since he opened his first account as a teenager. Pendola, 37, is based in Santa Monica, Calif., where he lives with his wife and child.