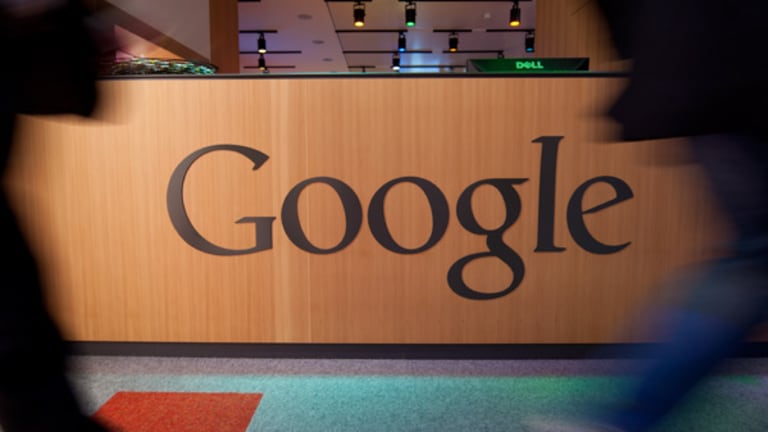 Google's $199 Laptop for a Blue Christmas
If all Google can do to challenge Apple is undercut on price, Silicon Valley has big problems.
NEW YORK (TheStreet) -- TheStreet contributor Anton Wahlman wrote an article -- Google Ups The Ante: $199 Laptop -- on another low-priced piece of Google (GOOG) - Get Report hardware before anybody else even sniffed it coming.
This comes after Wahlman's coverage of
.
For his work, I praise him.
Beyond that, I can't subscribe to the notion that there's anything even remotely encouraging about Google's approach.
In fact, the whole
WalMartization
of tech is bad for the space.
For
as crazy as Microsoft (MSFT) - Get Report CEO Steve Ballmer might be
, you've got to at least credit the guy for not selling out and undercutting
Apple
(AAPL) - Get Report
on price.
Wahlman gleefully lists Google's alleged bargains: A $349 smartphone that's $300 less than an iPhone; the $149 Nexus 7 tablet counters the $329 iPad mini; the 10-inch model is $100 cheaper than iPad 4; and Google's new
Samsung
and
Acer
Chromebook builds come in 60% to 80% less expensive than most new Windows 8 laptops and Apple Macbooks.
If this is what tech has come to the space is in worse shape than I thought.
When it became clear Apple was going to do iPad mini, I feared a $199 product. At least Tim Cook stayed somewhat true to Steve Jobs-form by building a high-quality tablet at a premium price.
If Apple jumped into the low-priced gutter with Google and
Amazon.com
(AMZN) - Get Report
, it would have been akin to saying
we give up
.
There's this flawed notion that if a product is more affordable, its maker accomplished some incredible feat.
From a business perspective, this is not a case of Amazon breaking even on mediocre hardware to drive e-commerce sales. Instead, it's Google "competing" against Apple the only way it can -- on price.
This is Google!
You mean to tell me there's not enough talent in the building, available for hire or at
Motorola
to put together top-of-the-line laptops -- even if in conjunction with Samsung and Acer -- that generate profits, respectable margins and a top-notch user experience?
All Google can do is give us a glorified Web surfer and market it as a spare computer or something that gets knocked around in a hotel lobby?
Wahlman tells us that the $199 Acer/Google Chromebook might fit the bill for "those who do computing-intensive tasks, perhaps gamers."
Really? The
Intel
(INTC) - Get Report
Celeron processor and 2GB of memory will power "computing" intensity for "gamers?" I'm not sure these specs can effectively handle the arcade version of Pac-Man.
This approach shows that Google has no idea why Apple succeeds with consumers, business and educators. It doesn't produce, using Wahlman's words here, "disposable" products. It churns out aspirational ones that serve multiple purposes for a variety of users at several premium price points.
Wahlman already took care of your holiday shopping list for you: "For Christmas this year, why not buy half a dozen? It's only $1,200 or $1,500 depending on the version. One for each child and relative."
Each "child" or "relative" who receives a $199 or $249 Google Chromebook will respectfully hide the disappointment so many of us fear on Christmas morning when our Moms, Dads, Grandparents, wives or girlfriends fail miserably.
You're more likely to find consumers saving up between now and December so they can buy an iPad and an iPhone or a Macbook.
Somebody who can drop a thousand bucks or more on a device absolutely does not enter the marketplace with the convoluted mindset of buying 12 of the same hardly-sought-after thing. More is not necessarily better; often, it's much worse.
It would be like backing
McDonalds
(MCD) - Get Report
over
Chipotle
(CMG) - Get Report
because somebody with $10 can buy 10 hamburgers for every one loaded barbacoa burrito.
People who have the $10 to spare go for quality, wide-ranging utility and social status. They don't slum it.
This isn't fast food. It's not discount retail. Pardon my French, but the entire strategy sucks. It's bad for tech.
And Google can do better. Much better. That's what's makes this even more annoying to watch.
At the time of publication, the author was long AAPL
.
This article is commentary by an independent contributor, separate from TheStreet's regular news coverage.
Rocco Pendola is
TheStreet's
Director of Social Media. Pendola's daily contributions to
TheStreet
frequently appear on
CNBC
and at various top online properties, such as
Forbes
.