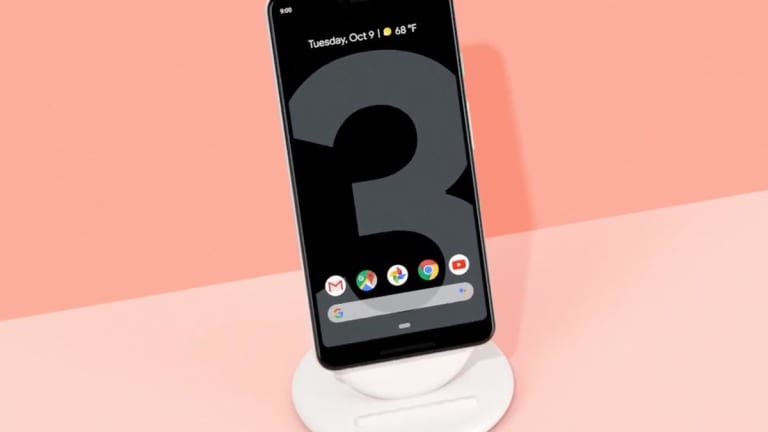 Google Unveils the Pixel 3 and More: 7 Key Takeaways
The tech giant showed off innovative AI-powered features for its newest smartphones, as well an aggressively-priced smart display.
Software and cloud services once more got a lot of attention at a Google smartphone event.
This time around, a smart display and a tablet also got airtime. And while the tablet looks like a niche product, the smart display's pricing and feature set could yield a hit.
At a New York event held on Tuesday morning, Alphabet/Google (GOOGL) - Get Alphabet Inc. Class A Report unveiled its Pixel 3 and Pixel 3 XL phones. The Pixel 3 has a 5.5-inch display and starts at $799, while the Pixel 3 XL has a 6.3-inch display with an iPhone-like top notch and starts at $899.
Also revealed: The Google Home Hub, a 7-inch, $149, smart display that runs Google Assistant, and the Pixel Slate, a 12.3-inch Chrome OS tablet with optional keyboard and stylus accessories that starts at $599.
Here are some takeaways from the various hardware, software and services announcements made at Google's event.
1. The Pixel 3 Delivers Notable Hardware Improvements...But One Hardware Choice Looks Questionable
As rumored, The Pixel 3 and Pixel 3 XL have slimmer bezels and larger OLED displays than their predecessors. And judging by initial reactions, display quality (a common point of criticism for the Pixel 2) is much-improved.
Also as expected, there's a Qualcomm (QCOM) - Get Qualcomm Inc Report Snapdragon 845 system-on-chip (SoC) inside of the devices (the Pixel 2 uses the Snapdragon 835). The phones also now have glass backs with a matte finish, wireless charging support and two front cameras instead of just one (one of them has a wide-angle lens). Google has also created the Pixel Stand, a $79 "intelligent" wireless charger for the phones that can act as a photo frame and adjust a phone's user interface when it's time for bed.
One thing that hasn't changed: The phones still only have one rear camera. At a time when most high-end phones have two rear cameras, and firms like Huawei and LG are launching devices with three of them, this feels like an anachronism, even after accounting for some of the AI-powered camera features that allow the sole rear camera to do things that other phones need two cameras for.
Among other things, having a second camera allows one of the cameras to be used for wide-angle shots, and for the two to be used in tandem to enable features such as background blur (bokeh) and optical zoom.
2. Some Head-Turning AI Features Were Shown Off
Getting a lot of applause from the event audience: An automated call-response service known as Call Screen. It allows a user to tap a "screen call" button in response to a call that he or she doesn't want to answer, after which Google delivers an automated voice response to the caller and a real-time transcription of the call. The user can then choose to do things such as tell the caller the call will be returned, or report the call as spam. Telemarketers obviously won't like this.
Google also announced that (like some other Android phones) its Google Lens object-detection tech will be built into the Pixel 3's camera app. It added that Lens will now be able to detect products seen in the real-world and provide relevant product listings (Google Shopping advertisers should be pleased).
A slew of AI-related camera features were also revealed. These included:
HDR shooting improvements to deliver shots with better dynamic range and detail.
The ability to change depth-of-field and background blur after a portrait shot has been taken (echoes of Apple's iPhone XS and XR).
Top Shot, a feature that takes a series of photos in succession and recommends what it considers the best photo of the bunch (e.g., ones where subjects' eyes are open, people are smiling, etc).
Super Res Zoom, a feature that enhances photos for which digital zoom is engaged. It's pitched as an alternative to the optical zoom features found on phones with two or more rear cameras.
Night Shot, which promises to deliver high-quality low-light shots in the absence of a flash. The sample shots Google showed for this feature were impressive; the feature won't be available until November, though, via a software update.
3. Improved Availability and Relatively Aggressive Pricing Should Boost Sales
Unlike the Pixel 2, the Pixel 3 and 3 XL will be available in France, Ireland, India, Japan and Taiwan. Together with existing Pixel markets such as the U.S., the U.K., Germany, Canada, Italy and Spain, that spells a healthy international footprint, albeit one that still lacks China and several other large markets.
Price-wise, the phones are more expensive than their predecessors: Whereas the Pixel 2 and 2 XL started at $649 and $849, respectively, the 3 and 3 XL start at $799 and $899. However, that still makes the phones $200 cheaper, respectively, than the iPhone XS and XS Max. It also makes the Pixel 3 XL $100 cheaper than the Galaxy Note 9, Samsung's (SSNLF)  latest high-end phone.
4. Limited Carrier Distribution Might Remain a Handicap
Much like the Pixel and Pixel 2, it looks like Verizon (VZ) - Get Verizon Communications Inc. Report will be the only major U.S. carrier to sell the Pixel 3 and 3 XL within its stores, although its peers will support the phones on their networks.
Distribution does appear improved in the U.K., however. Whereas EE was the only British carrier to sell the Pixel 2, Three and Sky Mobile will also be selling the Pixel 3. We should know more soon about distribution in other major international markets.
5. The Google Home Hub Manages to Impress
With a price of $149, the Home Hub is cheaper than Amazon.com's (AMZN) - Get Amazon.com, Inc. Report $229 Echo Show smart display, as well as Facebook's (FB) - Get Meta Platforms Inc. Class A Reportjust-unveiled Portal and Portal+ smart displays, which cost $199 and $349, respectively. Buyers also get six months of free access to YouTube Premium, which normally costs $12 per month and provides the YouTube Music service, ad-free YouTube viewing and access to YouTube Red originals.
Google also showed off a slew of impressive features for the Home Hub. These included a Home View mode for managing multiple smart home devices, tight YouTube integration, a Google Photos-powered photo frame mode and the ability to detect a user's voice and personalize his or her experience in response. Support for popular Google apps and services should be a key selling point for both Home Hub and third-party, Google Assistant-powered, smart displays.
Also, Unlike Facebook's smart displays, whose video chat features are strongly emphasized, the Home Hub doesn't feature a camera. In addition to a sensitivity to privacy concerns, Google's decision may have been driven by a recognition that many consumers like to move around the house while doing a video chat and/or might want to have one somewhere other than where the smart display is located.
6. The Pixel Slate Might Struggle to Gain a Large Following
Hardware-wise, the Pixel Slate is a solid device. It has a high-res display, powerful speakers and front and rear AI-enhanced cameras and supportshigh-end Intel  (INTC) - Get Intel Corporation Report CPUs. However, its $599 starting price easily makes it more expensive than many of the Chromebooks sold by OEMs such as Dell, HP and Samsung -- and that's before tacking on $199 for the external keyboard and $99 for the stylus.
Getting a powerful CPU will also cost extra: The $599 Slate model features an Intel Celeron CPU. Getting a model with an Intel Core CPU will cost anywhere from $200 to $1,000 more.
The Slate's pricing pits it against Microsoft's (MSFT) - Get Microsoft Corporation Report Surface Pro and Apple's iPad Pro in a way that cheaper Chromebooks don't. And for all their success at lower price points, winning over Surface Pro and iPad Pro users isn't something that Chromebooks appear to have done to any large degree.
Alphabet, Apple, Facebook, Amazon.com and Microsoft are holdings in Jim Cramer's Action Alerts PLUS member club. Want to be alerted before Jim Cramer buys or sells GOOGL, AAPL, FB, AMZN or MSFT? Learn more now.
7. A Few Interesting Stats Were Shared
Nine months after pulling out all the stops to promote Google Assistant at CES, Google disclosed its Google Home daily active user (DAU) base has risen five-fold over the last year, and that the number of queries handled by Google Home devices are up by a similar amount.
Also mentioned : 74% of time spent within the G Suite (formerly Google Apps) involves multi-user collaboration. The G Suite's collaboration features have long been a key selling point in its fight against Microsoft's Office 365.
The Street's Eric Jhonsa and Nelson Wang previously covered Google's Pixel 3 event through a live blog.