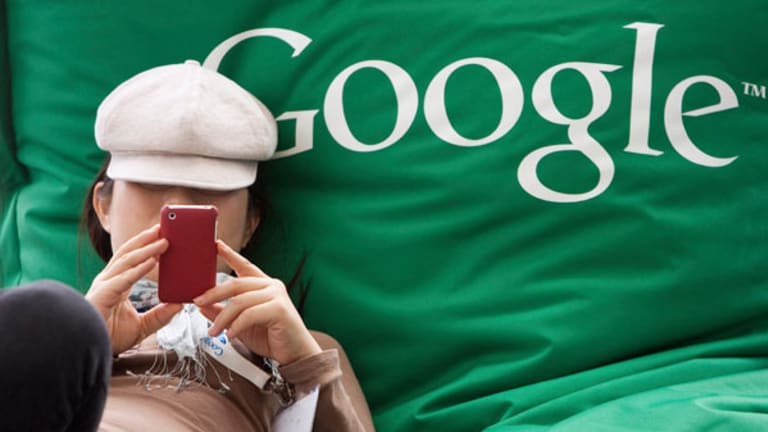 Google to $2,000 in 2014
Don't let Apple bias or a slowdown in revenue growth cloud your judgement on Google.
NEW YORK (TheStreet) -- Google (GOOG) - Get Alphabet Inc. Class C Report runs a company the way I would like to live my life.
It has a core source of revenue that more than takes care of its basic needs. In fact, it so owns the digital advertising space it can live like a rockstar on the dollars billions of clicks (and taps) produce. Everything else it does exists to power that turbine and, maybe more importantly, keep risk taking, dreaming and innovation alive in Silicon Valley.
I LOL'd when I read the boilerplate Google used in its latest 10-Q under the Trends in Our Business section:
Advertising transactions continue to shift from offline to online as the digital economy evolves. This has contributed to the rapid growth of our business since inception, resulting in substantially increased revenues, and we expect that our business will continue to grow.
That's modest when you consider Google invented this trend.
However, our revenue growth rate has generally declined over time, and it could do so in the future as a result of a number of factors, including increasing competition, our investments in new business strategies, products, services, and technologies, changes in our product mix, query growth rates and how users make queries, challenges in maintaining our growth rate as our revenues increase to higher levels, and the evolution of the online advertising market, including the increasing variety of online platforms for advertising, and other markets in which we participate.
2014 will remain the year of tech- and data-driven companies, even if revenue growth rates slow down here or there. In Google's case, it's almost impossible for them to not to moderate just a little. And, as has been the case withPandora (P) and other high flyers, management anticipates slowdowns in growth.
If they know it's coming, why should investors worry when it arrives?
It's sort of like the way some of us psych ourselves up (and out) when we fly. When the pilot predicts turbulence, we're less concerned when the flight gets bumpy. When the "fasten seat belt" sign goes off and, seconds later, things get choppy, we wonder if it's a bad sign because, presumably, the cats in the cockpit didn't know what was coming.
That's the thing about Google. They know what's coming because Google is what's coming.
For years now, the company has designed almost everything it does to serve its advertising core. It's a bit like another stock I expect to double in 2014 -- Amazon.com (AMZN) - Get Amazon.com, Inc. Report.
Amazon does e-readers and tablets, not to make money on hardware, but to make money on e-commerce sales. Similarly, Google licenses Android and dabbles in hardware, not to generate profit, but to further strengthen its mammoth foundation. And while I might not be on board with how it produces its hardware, that really doesn't matter. You can't allow your reaction there -- which, let's face it, is steeped Apple (AAPL) - Get Apple Inc. Report-bias -- to sidetrack you.
Where Facebook (FB) - Get Meta Platforms Inc. Class A Report, Pandora and Twitter (TWTR) - Get Twitter, Inc. Report will continue to emerge and remain major players in mobile advertising, Google will dominate them all. In fact, you can combine what everybody else does and Google still would have nothing to worry about.
That's the investment case for GOOG going forward. Sometimes it doesn't need to be any more complicated. Google owns its space.
Sure, with the exception of YouTube (which is a multi-billion dollar business on its own), it's not going to be as sexy or even grab as many headlines as Facebook (video ads, "oh-ah!"), Twitter (more media partnerships) or Pandora (even more highly-targeted, very lucrative Pandora Presents-type events). And it's never going to compete with Apple on hardware. But it runs its core business as good as, if not better than any other company in the world.
The game really changes, however, when one of those infamous Google side projects turns into another massive revenue generator distinct from search and advertising. If that ever comes to, $2,000 might be a conservative price prediction.
--Written by Rocco Pendola in the air, at 35,000 feet, somewhere over the Rockies
Rocco Pendola is a columnist for
TheStreet
. Pendola makes frequent appearances on national television networks such as
CNN
and
CNBC
as well as
TheStreet TV
. Whenever possible, Pendola uses hockey, Springsteen or Southern California references in his work. He lives in Santa Monica.