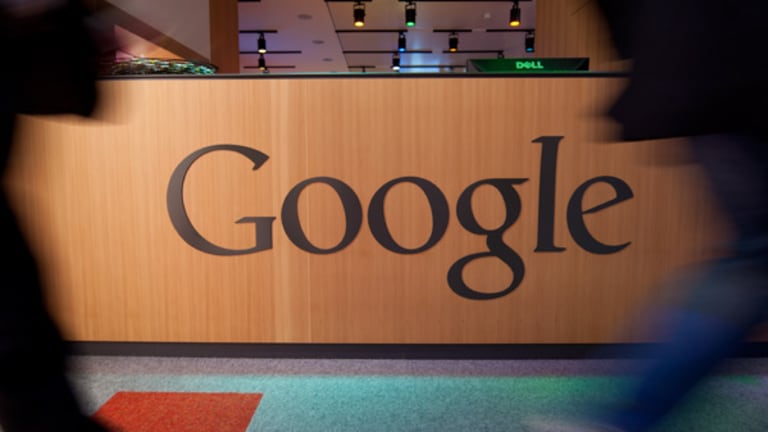 Google's 'Sneak Attack' Could Devastate 'Software Companies' Apple and Microsoft
Wake up, Tim Cook. Google is at the door and it wants to do more than talk.
NEW YORK (TheStreet) -- Sounds crazy. Feels crazy to say it. But Google (GOOG) - Get Alphabet Inc. Class C Report is about to break out in a major way.
Google is a social search and software company.
Microsoft
(MSFT) - Get Microsoft Corporation (MSFT) Report
is a software company that, outside of Xbox, has done a horrendous job both producing its own hardware and outsourcing such efforts.
Apple
(AAPL) - Get Apple Inc. (AAPL) Report
, for all it does right,
.
To review -- and to extend that train of thought:
Google is a software/services company.
Microsoft is a software/services company that does some hardware, will probably do more, but has only been successful once.
Apple is a hardware company that does software/services well, but not well enough.
All three companies ultimately do both. They all need to be better in both areas.
In this article, I focus on software/services. I lump the two together to mean operating systems as they drive productivity suites as actual software products (Office, iWork), entertainment and consumer platforms (Google Play, iTunes, App Store) and, increasingly, as cloud services (iCloud, Google Docs) and vice versa.
A while back, I established that
Apple should beef up its productivity applications
-- Pages, Keynote, Numbers -- and move to put Microsoft out of business in the enterprise. If it was able to annihilate the
BlackBerry
undefined
and trigger the BYOD (bring your own device) craze, it could certainly do more than ding Microsoft's corporate software/services dominance.
But, as I was noodling along that line, I admittedly took Google too lightly. What a bonehead oversight by me. Mea freaking culpa.
I use Pages every day. I love Apple's software. I only wish it would do more with it. That's one of the many reasons why I can't call Apple a "software company" -- too many areas exist in software/services where it could be so much better than it is -- iWork, iTunes, its laughable bookstore, etc. And, increasingly, I have moved away from using
Yahoo!
(YHOO)
as a source for everything, choosing
and Google for so many utilitarian, work-related, social and even news-gathering tasks.
Across the board, Google platforms continue to get better. They're nailing it with just about everything.
We all know about its superior Maps application
, but, look out, here comes everything from Google Plus to Google Now to its cloud and entertainment-related pushes.
YouTube
is about to bust out for real. It's all coming together -- a seamless integration like we've never seen before.
One of Google's few stumbling blocks?
teaming with has-beens and never-will-bes such as Hewlett Packard (HPQ) - Get HP Inc. (HPQ) Report to build hardware
. But, for Google's sake, I hope it can execute better than Microsoft has.
In any event, we are no longer early on in this process. I call myself out when need be -- I was asleep at the wheel on this. No longer. But I'm afraid Tim Cook needs to wake the sleeping giant in Apple. Google is at the door and it wants to do more than talk.
-- Written by Rocco Pendola in Santa Monica, Calif.
Rocco Pendola is
TheStreet's
Director of Social Media. Pendola's daily contributions to
TheStreet
frequently appear on
CNBC
and at various top online properties, such as
Forbes
.