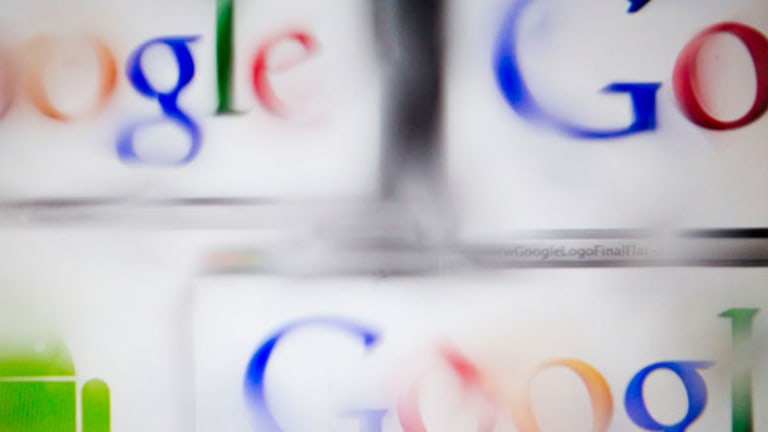 Google Slumps After Founders Issue Non-Voting Shares
Google's co-founders Larry Page and Sergey Brin wanted to split the Class A voting shares, but were reluctant to expose themselves to undue shareholder influence. But are investors happy?
NEW YORK (TheStreet) -- Google (GOOGL)  co-founders Larry Page and Sergey Brin must have been scared of losing control of what has become one of the Internet's most powerful companies to split the company's stock the way they did. At first glance, the split Thursday of Google's Class A stock, which had gone under the ticker (GOOG) since its initial public offering over a decade ago, looks like a traditional 2-for-1 split, meaning that the share price for the stock was roughly cut in half. This pushed the Class A stock which had been trading around $1,100 a share to the mid-$500 range.
But look closer. The devil is in the details.
Page and Brin also created a new category of nonvoting Class C stock. This new Class C stock inherited the popular GOOG ticker, while the Class A will now go by GOOGL. A third class of shares, the non-trading Class B stock with extra voting powers, is the private domain of Google CEO Page and Brin, the executive behind Google's experimental projects.
The new C class comes with a risk to the company. If there is a spread between the trading prices of Google's Class A and Class C share prices in the first year of trading, Google will have to pay to make up the difference -- a gamble of an estimated $300 million to $7.5 billion.
So, why would Page and Brin, who have insisted previously that they had little interest in splitting Google stock, take on such a risk? Control.
Google has issued more stock to fund its many acquisitions and experimental ventures continually since its debut. Page and Brin had created Class B stock to be able to raise public capital while not risking control of the company. A straight split of Class A voting shares would have helped jeopardize that control, making them more vulnerable to the influence of shareholders. 
Class B stock, which is owned almost in its entirety by Page and Brin, is made up of 46.7 million shares and gives the pair 56% of the voting power -- a lead which could erode very quickly if the co-founders decided to sell any Class B stock or issue any new Class A shares.
Adding over 330 million Class C shares provides a way for Page and Brin to raise additional capital without risking losing control of the company they built.
The move is not unprecedented -- Facebook (FB)  and LinkedIn (LNKD)  have each issued non-voting shares -- and a similar structure already exists at Comcast ( (CMCSA) ) -- but that doesn't mean the deal is favored by everyone. In fact, two shareholders, the Brockton Retirement Board and Philip Skidmore, filed a class action suit to try to block the split.
And then there is the bigger question -- are shareholders unhappy with Page and Brin? Investors seem to think so. Google Class A stock hit a high of $588 on Thursday after the split became official and has been falling since. Shares are currently trading at $557.50, down 2.5% since market open.
Disclosure: The writer holds no positions in any of the companies mentioned.
Follow @ReneeAnnButler
This article was written by an independent contributor, separate from TheStreet's regular news coverage.