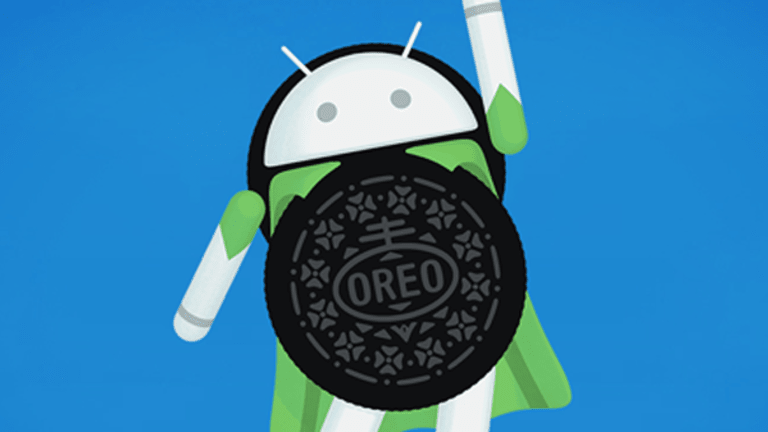 Why Google's Android Oreo Doesn't Push the Envelope as Much as Apple's iOS 11
Google's latest mobile OS delivers plenty of improvements. But...
As it gradually becomes available for popular Android devices in the coming months, Alphabet Inc./Google's (GOOGL) - Get Alphabet Inc. Class A Report Android 8.0 (Oreo) should be popular with Android users unhappy about battery life, notification overload, boot times and other nuts-and-bolts issues. Nonetheless, in light of what Apple Inc. (AAPL) - Get Apple Inc. (AAPL) Report has baked into iOS 11, Google might eventually wish it took a more aggressive approach to revamping its mobile OS.
This column originally appeared on Real Money, our premium site for active traders. Click here to get great columns like this.
Five months after unveiling a developer preview of Android 8.0, Google officially launched the OS at an NYC event. Some of its noteworthy features:
Battery life and performance are improved by restricting what apps running in the background can do. This includes setting limits on how often they use a phone's GPS radio to get location updates.
Boot times are significantly lowered. Google claims a 2x improvement for Pixel phones.
Different types of notifications from an app are collapsed and grouped into "channels." By pressing and holding a notification or visiting the Settings menu, users can control how a particular channel acts, including whether notifications appear on the lock screen, produce sound, or lead a phone to vibrate. They can also fully block a channel's notifications, or snooze them for a certain amount of time.
"Notification dots" can appear on an app's home screen icon. By tapping on the dots, users can see new content from an app (for example, new e-mails or news feed posts) without having to fully open it.
An autofill programming interface (API) lets users quickly enter saved login info for an app.
A picture-in-picture mode (long an iOS staple) allows a video to continue playing while a user checks out the home screen or another app.
Apps can support AAudio, a new API that improves audio performance for apps requiring low latency (for example, voice and video calls).
Google also used its event to tout some new Android features that aren't restricted to 8.0. These include Instant Apps, which lets a user almost immediately start using some of an app's features without installing it (they can install later if they want to). As well as Google Play Protect, a set of mobile security services that does things such as scan/verify apps, secure mobile browsers and remotely locate a device. Mobile security software firms such as AVG Technologies and Lookout probably aren't thrilled to see Play Protect.
Alphabet and Apple are holdings in Jim Cramer's Action Alerts PLUS Charitable Trust Portfolio. Want to be alerted before Cramer buys or sells GOOGL or AAPL? Learn more now.
Much like prior Android updates, 8.0 will take a few months to roll out to popular phones, due to the time needed by OEMs and carriers to prepare updates that include their own apps (often derided as bloatware) and custom interfaces -- Apple, which is solely responsible for rolling out its OS updates, doesn't have the same problem. Google is, however, promising updates will arrive faster starting with 8.0, thanks to the arrival of a new modular Android code architecture.
In a vacuum, Android 8.0 is a pretty solid update. Perhaps more impressive on the whole than Android 7.0 (Nougat), which brought with it features such as a split-screen app view, a Data Saver mode and (for some devices) support for Google's Daydream virtual reality platform. The only problem is that Apple is hardly standing still either.
More of What's Trending on TheStreet:
Like Android 8.0, iOS 11, which should roll out in September as new iPhones arrive, has plenty of nuts-and-bolts improvements. These include Siri enhancements, a revamped and customizable Control Center interface for accessing key settings, the ability to record whatever is appearing on a phone's screen (with audio), an overhauled App Store interface, a Do Not Disturb While Driving mode and improvements to the Notes, Maps and Messages apps.
But Apple also made a serious push to give iPads running iOS 11 PC-like multitasking features. A persistent app dock can be pulled up while an iPad app is in use and be used to launch apps in Slide Over or Split View mode; users can drag and drop content between two apps running in Split View mode; three apps can simultaneously appear on the screen instead of two; and users can take in a birds-eye view of opened apps to quickly jump from one to another. In addition, iOS 11 comes with a Files app that provides a common view of one's local and cloud-hosted files.
All of this doesn't guarantee that Apple's multi-year push to get consumers to look at iPad Pros as notebook replacement is set to hit an inflection point. As The Verge observed while testing iOS 11 in June, it can take a while to get the hang of all the multitasking features, and an interface relying on human fingers still can't match one relying on a mouse for high-precision control. But for those fond of the simplicity, security and portability a tablet provides, iOS 11, together with the new iPad Pros models Apple unveiled in June, does improve Apple's sales pitch a lot. And for now, Google, though working to make Android apps available on Chromebooks, can't make a similar pitch for Android tablets.
Facebook Losing Teens to Snapchat but Instagram Once Again Saves the Day
iOS 11 also brings with it Apple's ARKit API, which lets developers add augmented reality features to apps that can run on iOS 11 device. Developers are already using ARKit to prep apps that can do things such as measure a room's dimensions for a home improvement project, create animated pencil sketches of people dancing to a song, play a naval game in which the "battle" takes place on one's home/apartment floor and view a 3D map of a major city laid out on a table, with a user's Foursquare check-ins highlighted on the map.
The possibilities are endless, and for now, Apple has a major lead on Google. Though Google's Tango AR platform is even more powerful than ARKit in some respects, it requires specialized camera and sensor components, and is thus available on only two relatively low-volume Android phones (The Lenovo Phab 2 Pro and the Asus ZenFone AR). Until far more phones meet Tango's hardware requirements, or until Google eases those requirements, its developer support will pale relative to ARKit's.
Throw in the fact that Apple is planning its biggest iPhone refresh since the iPhone 6 -- among other things, the iPhone 8 is expected to feature a curved OLED display, support wireless charging and contain front and rear cameras that can handle 3D depth-sensing for AR applications -- and Apple will have some pretty strong selling points for its iOS hardware lineup this fall. The fact that high-end Android customer loyalty is (like iPhone/iPad loyalty) pretty high should limit the damage Google and its hardware partners will see, but the combo of iOS 11's feature set and the iPhone 8's reported specs do position Apple well to take some share.