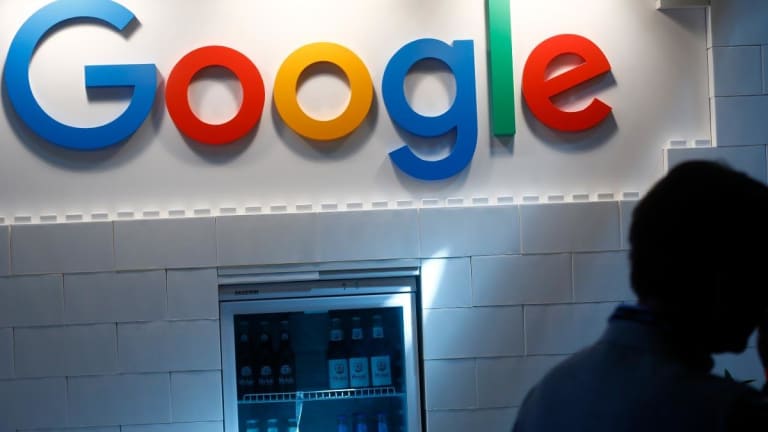 Why Google Getting Search Into China Could Be a Big Deal
The web giant is reportedly prepping a Chinese search app that complies with local censorship rules. And if search gets in, so might other popular Google products.
Should Alphabet Inc./Google (GOOGL) - Get Report once again launch a censored version of its search engine in China, there will naturally be a backlash among those who feel Google is compromising its principles.
At the same time, should such a move signal a broader detente between Google and Beijing, one under which a variety of Google products and services are allowed into China in return for a commitment to abide by local censorship and data-storage rules, that opens up a lot of new revenue opportunities. And indirectly, it could help make Google's offerings more competitive in other regions.
Citing sources and internal documents, The Intercept reports Google has had a project underway since the spring of 2017 to launch a censored version of Google Search in China. An Android search app that will "automatically identify and filter websites blocked by the Great Firewall," as well as "blacklist sensitive queries," could reportedly launch in six to nine months, provided Chinese officials approve it.
The Intercept adds that trade tensions between Washington and Beijing could get in Google's way for now. When asked by The Verge about the report, a Google spokesperson said the company doesn't "comment on speculation about future plans."
Alphabet shares, which popped last week following a strong Q2 report, are up slightly in Wednesday trading. Shares of Chinese search leader Baidu (BIDU) - Get Report , meanwhile, are down over 7%, after having risen in after-hours trading yesterday following the company's posting of a Q2 beat and in-line Q3 revenue guidance. Shares of the number two Chinese search player Sogou  (SOGO) - Get Report  are up over 1%.
Creating a censored version of Google Search for China would represent quite the about-face for Google, given that the company shuttered its mainland Chinese search engine in 2010 over an unwillingness to continue censoring its results. Today, though Google has R&D and sales offices in China and sells ads to Chinese businesses looking to reach overseas customers, the vast majority of its consumer apps and services remain unavailable in the Middle Kingdom -- at least unless someone is able to bypass the Great Firewall with the help of a VPN app.
Likewise, Google hasn't launched hardware products such as its Pixel phones and Google Home smart speakers in China. And whereas Amazon.com (AMZN) - Get Report , Microsoft (MSFT) - Get Report  and IBM (IBM) - Get Report have (with the help of local partners) made their public cloud platforms available in China, the Google Cloud Platform (GCP) remains absent.
However, there have recently been signs of improving ties between Google and Chinese authorities. The company has managed to launch a version of Google Translate in China, as well as a file-management app there called FilesGo. And in June, Google announced -- in a deal that presumably needed a go-ahead from Beijing -- it's partnering with and taking a $550 million stake in #2 Chinese e-commerce firm JD.com (JD) - Get Report .
The Chinese search ad market is huge -- Baidu alone is expected to do $12.7 billion in online ad sales this year, and a big chunk of that is expected to be search-related. However, if Google does re-enter the Chinese search market, it shouldn't be assumed that the company will quickly take a ton of market share.
Even before announcing plans to exit the Chinese search market in 2010, Google's local search share was only around 35%. And since then, Baidu and its rivals have certainly done plenty to strengthen their local search offerings.
That said, Google has continued running popular Chinese-language search engines in Hong Kong and Taiwan since 2010, and could lean on its investments there to hit the ground running in  mainland China. That, along with all of the search-related technologies, data and best practices that have generally helped Google achieve search dominance in dozens of markets, give it a good shot of at least being a competitive player on the mainland if let back in.
Just as importantly, much as Apple  (AAPL) - Get Report has been given a wide berth to make its hardware, software and services available in China, it's not far-fetched to imagine other popular Google offerings being allowed within the country if complying with censorship and data rules isn't a concern. Possibilities run the gamut from consumer hardware, to popular consumer services such as YouTube and Maps, to Waymo's autonomous driving technology, to business offerings such as GCP and the G Suite.
Alphabet, Amazon.com, Microsoft and Apple are holdings in Jim Cramer's Action Alerts PLUS member club. Want to be alerted before Jim Cramer buys or sells AAPL or GOOGL? Learn more now.
As is the case for search, the presence of well-entrenched local players could limit how much progress that offerings such as YouTube, Maps, Chrome, Pixel phones and GCP make in China. And certainly, given the challenges involved in censoring services featuring user-generated content (for example, YouTube and Gmail), and the fact that some of Beijing's moves to block foreign tech players have arguably been about protectionism in addition to security concerns, it's not a given that all of Google's other popular offerings will be allowed into China, even if Google Search is.
Still, even getting, say, half of them approved to launch in the world's second-largest economy would mean quite a lot for Google. And not just because of the revenue that they could directly produce.
China had an estimated 772 million internet users at the end of 2017, and nearly as many smartphone users. Getting some meaningful fraction of them to use Google services would serve to provide Google with mountains of additional user data that it could leverage to enhance its products and services -- including ones leaning on machine learning algorithms that feed on massive datasets -- globally.
In addition, given how advanced China's Internet and mobile ecosystem has become in fields such as e-commerce, payments, gaming, video and messaging, Google could probably learn a lot from running consumer services in the country on a large scale. Indeed, one of the key benefits that Google, which is now partnering with many U.S. retailers trying to fight off Amazon, stands to get from its recent alliance with JD.com is the chance to tap into JD's commerce and logistics expertise.
We should know more by year's end about just how much of an opening Google is set to have in China. In the near-term, both trade tensions and a potential domestic backlash -- including, conceivably, from upset Google employees -- might stand in the way.
However, from a long-term perspective, it's easy to see how big of a move this could end up being for Google.